Greetings, Kia ora, Kia orana, Talofa, Mālō e lelei,  Namaste, Ni Hao, Bula, Hola, Kumusta
Dear Families
Nau mai Haere mai to Term 2! It was lovely to see all the children returning to school this Wednesday – looking rested, relaxed and re-energised after the holidays and 'ready to go' for another term of striving to live out our school vision statement of learn ka ako, love ka aroha, serve ka manaaki in the name of the Father and the Son and the Holy Spirit!
We especially extend a warm welcome to our new students and their families. It is always an honour to welcome new members to our Holy Trinity community with a whakatau which encapsulates karakia, haka, mihi, waiata and hariru – a sharing of our stories … of the land we reside on, our mana whenua story, our catholic story and our school story. A big thank you to Mr Valisto, Luis' dad for his mihi/speech on behalf of the manuhiri/visitors – once we share hariru together at the end of the whakatau, we then become one people, one family, tangata whenua and this is what makes us Holy Trinity whānau/family!
We also celebrated the recent achievements of our teachers/kaitiaki by presenting certificates awarded to those who had received leadership endorsements for Catholic Special Character and for kaitiaki who had successfully completed their 'Having Life to the Full' study papers. Well Done kaitiaki – we are very proud of you for showing the school Gospel value of hiranga/excellence!
An Easter Season Blessing
Easter is a celebration of life and love. We give thanks to God for the gift of new life and we renew our commitment to follow Jesus, the Risen Lord, wherever he leads us. May the hope and joy of Easter fill our hearts and lives!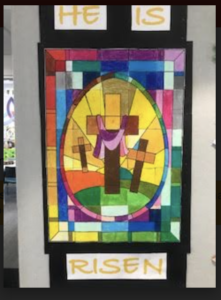 Twilight Market 'THANK YOU' – Ngā mihi nui!
Thank you so much Holy Trinity whānau for contributing to and participating in such a happy, fun and fantastic Twilight Market yesterday afternoon! It was great! We are so appreciative of all of the wonderful support we receive from our hard working PTFA team, committed School Board members, our incredible staff and our wonderful tamariki and whānau!
We have raised over $9,000 for the school's sacred space /prayer garden!!!! What an amazing result for our community. It is an achievement to be very proud of and means we can now move ahead in finalising the design and construction of the garden. Ka mau te wehi – you are amazing! Thank you Thank you Thank you.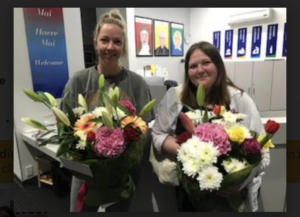 A special and heartfelt thanks to Michelle Porter and Laura Cooper, our Co-Chairs of the PTFA team – these two young mums and their families have been heavily involved in organising, co-ordinating, finding sponsorship for raffles, designing posters, preparing and so much more for the Twilight Market – we are very fortunate to have them both leading our PTFA with such skill, enthusiasm and wairua/spirit.
Thank you to our PTFA Team who have put their hands up for so many of the tasks such a community event entails – thank you for running stalls and providing your knowledge and wisdom and your practical support – you are champions!
Thank you to our wonderful parent/community stallholders – WOW! Your contribution to the success of the Twilight Market is so greatly appreciated. From our cultural food stalls to our baking and making and selling and the generous contributions to a truly happy, fun community event! We are so proud of you all!
Thank you to our School Board members who took on roles and responsibilities to help make this a great event and to our wonderful staff who planned and ran exciting stalls and games with and for the children – it certainly is an 'all hands on board' type of event and with everyone contributing in such a positive way, that sense of belonging, unity and community is what makes us Holy Trinity Whānau! THANK YOU all!
Here's some beaut photos of our wonderful community event – kotahitanga/unity at its best!
DRS Report
Easter Season
Easter begins with the Easter Vigil and ends after evening prayer on the Solemnity of Pentecost. Easter Sunday is to the year what Sunday is to the week! We live, as God's kingdom has already come – because it has. We put aside our fasting for feasting and celebration. We bless ourselves with baptismal water to remind us of our share in Jesus' passion, death and resurrection. "Alleluia" is our song which we sung on Wednesday morning as we gathered together as a school community, ready to commence another term! We delight in our Risen Lord and we give thanks for his love and sacrifice.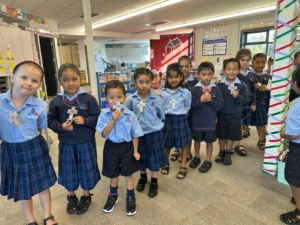 Mothers Day Celebration
On Sunday 14 May, we celebrate Mothers Day in New Zealand and as tradition, our school celebrates Mothers Day the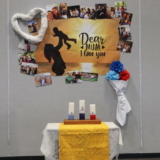 Friday before. So, we invite all our families and school friends to come along and honour all our mums and mother figures in our lives with a special liturgy prepared and led by the kaitiaki and tamariki of Aubert Whānau and Patrick Dunn Whānau. Our Liturgy will be held on Friday 12th May in Taamaua/school hall at 1:45pm. We look forward to seeing you and celebrating all our awesome 'mothers'.
Pasifika Families Fono – School Community Event

Kia Orana, Ni sa bula, Noa'ia e Mauri, Fakaalofa lahi atu, Talofa lava, Fakafeiloaki, Malo e lelei and warm pacific greetings to you all.
We invite you to a time of gathering and sharing food as Pasifika families of Holy Trinity Catholic Primary School.
Our Pasifika fono is on Wednesday, 3rd May from 5.30pm to 7.00pm. We kindly ask, if you can please bring a plate of food to share.
We want to share some school information and plan for upcoming language weeks. For example, Samoan, Tongan, Rotuman, Fijian, Kiribati, Cook Island, Niue etc
See you all next Wednesday everyone!
Curriculum News
Nest Consultant Parent Evening
This term our senior students in Learning Communities Maunga and Ngahere will be having a day spent with Nest Consultants who are one of the largest providers for health and wellbeing curriculum support in New Zealand schools. A Nest educator will come along to school and together, with the support of our kaitiaki, teach and discuss 'Understanding Changes at Puberty' with our students. There will be an information evening on Monday 15 May at 6:30pm for whānau of students in Years 5-8 to attend, to find out more about the programme in school. We strongly encourage all our senior students' families/ whānau to attend this session for your own information.
Term 2 Concept Learning: Discovery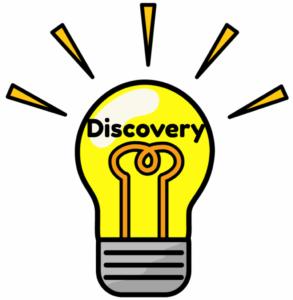 Our Term 2 concept of Discovery will continue to support ways that we can help to Strengthen Communities, our 2023 overarching concept. The learning areas that we will focus on are Science and The Arts.
We want our learners to independently use their scientific investigation skills, to make discoveries about how people lived in the past and use these to make a difference that can strengthen our communities today.
The essential questions that will help us to unpack the big ideas are:
Why seek to discover new ideas?
How can discovery inspire and strengthen communities?
Learning Community News
Learning Communities Maunga & Ngahere
Mamma Mia Production
On Wednesday 10 May, our senior students from Learning Communities Maunga and Ngahere will be joining other schools to witness the entertaining performing arts of 'Mamma Mia' production presented by the students of Sancta Maria College. Both Learning Communities will travel to Sancta Maria College to enjoy the music and drama shared by the college students who have worked hard in the last term to put this together.
National Young Leaders Day
On Thursday 11 May, our 12 Whānau student leaders from Learning Community Ngahere, will be travelling to Due Drop Events Centre, Manukau, to join with the other hundreds of student leaders from across Auckland Primary and Intermediate schools. This is an awesome annual leadership event with motivational speakers from different backgrounds and experiences that will share stories of empowerment and growth to inspire our student leaders of today.
Caught Being Good!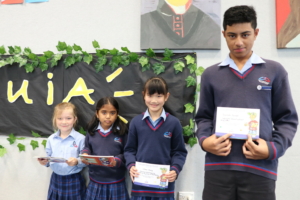 Kia ora whānau
We continue to celebrate our learners who show the school Gospel values in action through our "Caught Being Good" award. Congratulations to our latest winners of a certificate and book for doing their part to share God's love.
Ngā mihi,
Ms Kirstie Gill
Duffy and Book Club Coordinator
2023 Attendance Dues Payments
Term 2 2023 Attendance Dues are now needed to be paid. Updated Attendance Dues 2023 statements will be sent electronically to families this coming week. For those families who have already paid the full amount of Attendance Dues, please disregard the statement.
Please note that there are 3 options for payment of the Attendance Dues and Catholic Special Character Contribution
Full amount paid by Internet Banking to ASB school account – details for payment are on the statement.

Automatic Payment to be set up via internet banking to ASB school account

Payment can be made at the school office – cash or Eftpos
Many of our families choose the AP (Automatic Payment) option to make a small payment each week or fortnight which helps families to manage their financial budget for the year. This is a very good option and one that is encouraged by our school. For those families paying by Automatic Payment (AP), please note that 2023 payments must all be completed by 1st December 2023.
Please see Carmel Stewart (Office Administrator) or Peta Lindstrom (Principal) in the strictest confidence if you have any concerns or questions regarding the payment of Attendance Dues.
Financial Assistance is available for payment of Attendance Dues.
School Enrolments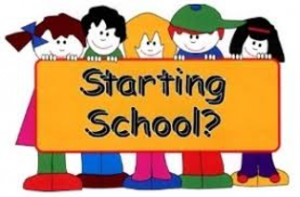 It is really important that we know of all younger brothers and sisters that are commencing schooling with us in 2024. If you have little ones at home, please contact the school office to make a time to meet with Miss Lindstrom so they can be assured of a placement at Holy Trinity School for when they are ready to start in 2024.
School enrolments for 2024 CLOSE by 31st August 2023 and
placements for 2024 will be confirmed by 30th September 2023.
sKids Before and After School Care Providers
We hope you've had a lovely school holiday break, and spent quality time with your family before the school routines begin again!
Our team has been actively engaged in our April Holidays Adventure, helping children build their confidence, foster their imagination, and explore new horizons! We celebrated the International Day of Human Space Travel with "The Force" day. The children designed and launched rockets, underwent Jedi Training, and participated in thrilling Star Wars-themed team challenges.
We had an incredible time, and we invite you to check out some of our adventures on our Instagram page! Please visit www.instagram.com/sKidsnewzealand.

From sports and games to arts and crafts, our sKids After School Care programme is designed to spark your child's imagination and help them develop new skills. And with our MSD-approved childcare services, you could be eligible for the OSCAR Subsidy that can make out of school care very affordable. Visit www.sKids.co.nz/holy_trinity to learn more!
Significant changes to the WINZ OSCAR Subsidy have been implemented since the beginning of April. This has resulted in a greater number of families now qualifying for subsidised care, making sKids more affordable.

Here's a breakdown of families that are now eligible for subsidised care:

Families with 1 child

earn a maximum of $111,000 p.a.

2 Children

earn a maximum of $127,000 p.a.

3 or more children

earn a maximum of $143,000 p.a.
To assist families, we have provided information on our website about the OSCAR Subsidy, including a simple calculator to help determine eligibility. We encourage you to share this resource with families to streamline the application process and make accessing the subsidy easier. Try it out yourself on our website: www.sKids.co.nz/OSCAR
Upcoming School Events
Pasifika Families Fono Gathering
Wednesday 3rd May @ 5:30pm-7:00pm in Taamaua/school hall (shared meal)
Community School Police Officer Visiting – Constable Kelly Davys
Thursday 4th May 
School Liturgy and Assembly – led by Learning Community Ngahere
Monday 8th May @ 9:15am in Taamaua/school hall
Rotuman Island Language Week
Monday 8th – Friday 12th May
New Zealand Sign Language Week
Monday 8th – Friday 12th May
Sancta Maria College 'Mamma Mia' Production – Learning Communities Maunga & Ngahere
Wednesday 10th May @ Sancta Maria College
Auckland Catholic Primary Principals Conference – Miss Lindstrom to attend
Wednesday 10th – Friday 12th May @ Waitangi
National Young leaders Day – Whānau Student leaders to attend
Thursday 11th May @ Due Drop Events Centre, Manukau
Mothers Day Liturgy
Friday 12th May @ 1:45pm in Taamaua/school hall
Parent Meeting for Year 5-8 students – Positive Puberty Programme
Monday 15th May @ 6:30pm in Taamaua/school hall
Indian Families Gathering
Friday 19th May @ 3:15pm – 4:30pm in Learning Community Awa 
School Liturgy and Assembly – led by Learning Community Awa
Monday 22nd May @ 9:15am in Taamaua/school hall
Māori Whānau Hui
Wednesday 24th May @ 5:30pm – 7:00pm in Taamaua/school hall
Term 2 Concludes at 2:50pm 
Friday 30th June
Term 3 Commences at 8:50am
Monday 17th July
Upcoming Community Events
Papakura StreetFEST event happening on Saturday 6 May 2023
It would be wonderful to have all our community come in and enjoy this family free fun day!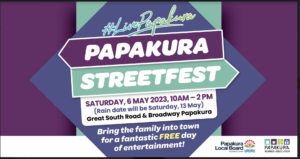 Print or Save this Post