Greetings, Kia ora, Kia orana, Talofa, Mālō e lelei,  Namaste, Ni Hao, Bula, Hola, Kumusta
Dear Families
We received a lovely and most welcome surprise at our school weekly assembly last Monday … Cathy Mei and the Team from Ray White Takanini, presented our school with a very big and very generous donation of $1,100 to support the final fundraising for our Prayer Garden/Sacred Space!
It was very special to have Cathy and her team here at school to share this great news. We are incredibly grateful to the Ray White Team for the wonderful sponsorship of the school on the Twilight Market evening – providing free coffees and hot chocolates for the adults and also for the time given to 'strengthen community' connections. I know Cathy and her team were absolutely delighted by the success of the Market and their presence and support was a wonderful contribution to this achievement. To have this support from our local community businesses is awesome and we are extremely appreciative.
Once agin a BIG Thank You to our PTFA who work hard to build these community connections and relationships on our behalf so that our school can benefit through this kotahitanga/unity. The Twilight Market was a truly lovely community night – the photos are great and really reflect the spirit of the evening. Together we achieved an amazing result from an amazing community night.
Reflection of Mother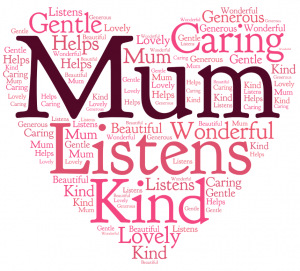 Today, I looked in the mirror;
Curious as to what I would see.
I expected to see my reflection
Staring back at me.
But as I looked, I saw something more
In the face that was there.
I saw the reflection of my mother;
A woman filled with care.
Each year is another year closer.
To looking like my Mother.
I see her in my reflection
In one way or another.
May I not only look like her
But, reflect her heart as well.
For it's full of love and kindness;
God's goodness in a nutshell.
Another year closer to looking like mum.
That only makes me glad
For I love my beautiful Mother.
She's the best reflection I've ever had.
Author: Kirsten M Saccardi
DRS Report
Mothers Day Liturgy
On Friday afternoon, our school gathered to celebrate our mums, grandmothers, godmothers and all the special people who are mother figures in our lives with a special liturgy in Taamaua/school hall. Our students and kaitiaki from Aubert Whānau and Patrick Dunn Whānau planned and led this liturgy. We wish all our Holy Trinity 'mums' a wonderful Mothers Day this coming Sunday. May God continue to bless you always.
Holy Trinity School Feast Day Mass
As tradition, our school always celebrates our Trinity Feast Day on the Friday before Trinity Sunday.
This year, we will have our own special Mass in Taamaua/school hall led by Father James Mulligan at 9:30am on Friday 2 June. You are all welcome to attend and celebrate our special Mass with us. Students and kaitiaki from Pompallier Whānau and MacKillop Whānau are leading this Mass. This is also a great way to celebrate Samoan Language Week by encouraging our learners to come dressed in their Samoan cultural clothes.
Holy Trinity School Community Meetings/Gatherings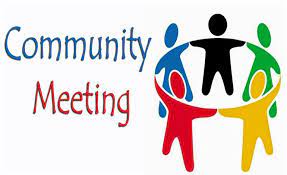 Across Terms 2 and 3 we are providing opportunities for our school families/whānau to gather together in their ethnic communities to get to know each other a little better – to build whanaungatanga/relationships, to share and help plan for school language weeks, to share information about our current school Health Curriculum programmes and to gather whānau voice about health issues and concerns for our tamariki children.
It is always lovely to begin our time together with a shared meal, afternoon tea etc. Please keep an eye out for our invitations on HERO, Facebook and printed copies home to our families inviting you to join with us at each of the different occasions.  We value this time together in getting to know our families, your stories, your desires for your children and your desires for our school. Please come along and share in this special time!
THANK YOU to our Pasifika aiga who joined us recently for a shared meal and who also shared a huge wealth of ideas for the planning of school activities and learning for the upcoming Language Weeks. We also presented school information about our current Health Curriculum programmes. We appreciated the discussions around this curriculum and the possible teaching and learning programmes families were keen for us to provide for our ākonga/learners.
It was so heartwarming to see our children with their mum and dads and family members, contributing and talking about what they wanted to learn about their culture, language and identity, having discussions, sharing ideas and being so excited about the possibilities – ka mau te wehi – you are amazing!
Student News
'Caught Being Good' Awards
We continue to celebrate our learners who are living out the school Gospel values in their everyday lives. Here are our latest 'Caught Being Good' award winners. Congratulations to these tāmariki for following in Jesus's footsteps!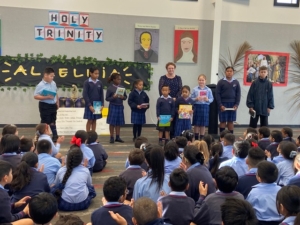 Sancta Maria College's 'Mamma Mia' Production
On Wednesday 10 May, Learning Communities Maunga and Ngahere went on a bus to Sancta Maria College to watch the Mamma Mia production.  At first, I was nervous because I thought other schools were going to be there too but when we went in, someone told us that it was just Holy Trinity School in the hall.  Maunga went in groups followed by Ngahere.
I saw a big giant cross in front of the hall.  After the first hour, we had a break for like 10 minutes.  After another hour, we had time for questions and then we went on the bus.
The show was about a girl, called Sophie, that was going to have a wedding and the adventure she had to find her dad.  The show even had songs and one of the songs was 'Mamma Mia'.  I knew some of the songs and sang along.  I loved what we saw.
By Minuli M.
National Young Leaders Day
On Thursday, our student whānau leaders attended one of the biggest annual youth leadership events in Auckland. They joined hundreds of other students at the Due Drop Events Centre and listened to key speakers who shared their experiences and stories of success and growth in leadership. Our student leaders were empowered by the stories from different speakers … the story of resilience with Brad Smeele, a former professional wakeboarder who had an accident leaving him a quadriplegic … the unexpected story of Graci Kim, a New Zealand diplomat, who turned into an inspiring author, having her Korean mythology-inspired trilogy chosen for a Disney channel series that is now being translated into multiple languages.
Our whānau leaders came away inspired, empowered and motivated in their own growth as young people on their leadership journey.
NYLD 2023
We, as Whānau leaders, went to The National Young Leaders Day, also known as N.Y.L.D. We had 6 speakers talk to us about how to be a great leader and sharing their own stories. Our speakers were: Brad Smeele, Julia Grace, Graci Kim, DJ. Forbes and lastly Georgia Lines.
Each Speaker talked about different things but all led up to the same topic … "how to be a better leader by leading ourselves and taking on the things that come with leadership!". We heard about ways of owning who we are and the importance of our mental health, our self worth, having curiosity and discovering our passions and reasons to get up in the morning. DJ Forbes talked about "P.A.D.S"
P stands for our PASSIONS, our reasons to get up in the mornings to just get out there!
A stands for our ATTITUDES and how our attitudes can affect not only ourselves but others around them.
D stands for DISCIPLES. As a leader, we sometimes tend to fail and instead of letting that change us and give up, we learn from our mistakes and continue on until we get it right.
S stands for SACRIFICE. Sometimes to be a leader we have to make sacrifices like sacrificing time to be with others or our whānau to do what we need to do.
Part of life is going through ups and downs. Like Brad Smeele said, "Failure is part of success and so failure is a necessity!" Brad's story really inspired us all to celebrate our journey no matter what happens. It was an awesome experience!
By Simone P.
Learning Community News
Learning Community Whenua
In  Learning Community Whenua, as part of our Discovery concept, our learners have been investigating what happens when we mix primary colours together. They were able to hypothesise, experiment and discuss their findings. Their conclusion was that from 3 primary colours, many others colours can be created. 
The challenge was to make brown. After experimenting with many combinations, one child came up with a colour that was close to brown. The question that arose was: How do we make black? We are currently working on getting the correct mix to make black!
This excited the children and they decided to experiment with crayons to make the various colours. The conclusion they came up with was that because crayons are solid, it is harder to get the same results that they got with paint. The next step in this experimentation  process is to make a rainbow with the 3 primary colours, using dye. We are looking forward to much fun while experimenting with dye to see what we discover!
Learning Community Awa
In Learning Community Awa we have been discovering more about the land on which Holy Trinity is built.We have learned more about wetlands and have been on Discovery walks to learn more about this.
We have integrated  our Discovery learning into Writing and  Religious Education over the past few weeks. Kaitiaki and tamariki enjoyed listening to the parable stories told by Father John and especially the story about the little man, Zaccheus who climbed the sycamore tree because he so desperately wanted to see Jesus. Zaccheus changed his life, so just like Zaccheus, children want to do special things for Mother's Day.
We also learned about our special heavenly mother, Mother Mary, and how she is so similar to our own mothers. In Awa we created poems (haiku and lune) for our mums.
Learning Community Moana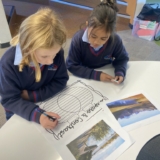 In Learning Community Moana we have been using our scientific thinking skills to carry out an inquiry on water preservation. Learners asked many interesting questions about ways we can preserve our bodies of freshwater. We are working in small groups to carry out research on the scientific discoveries of marine animals, plants and bugs. We are learning about how these discoveries have helped preserve fresh water and how we can use these discoveries to help us preserve our awa /waterways today.
We have also been looking at different landscape arts focussing on the local bodies of water and have been discussing our perspective on the visual artwork. We have used collaborative skills to compare and contrast the artwork.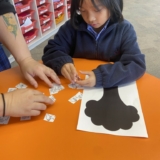 This week we have had so much fun learning and celebrating sign language. We have been working on a piece of sign language visual art and have been focussing on learning to sign the alphabet. 
Learning Community Maunga
In LC Maunga, we have been practising and discovering the meaning behind the Papakura haka and the school haka. We have been exploring the pepeha of the Papakura haka and have learned about how Ngāti Tamaoho iwi found their way to this area, what the Manukau Harbour's original name was, and the special places that are mentioned in the pepeha. We are now exploring places special to us before moving on to why we need to look after our special places and how the special places around our school were looked after both in the past and now.
Gasav Ne Fäeag Rotuạm Ta – Rotuman Language Week
The student Cultural Leaders team introduced Rotuman Language week at Assembly on Monday. They shared the theme of this Language Week – "Sustaining our Language and Culture". A google slide presentation with information about Rotuman, greetings and phrases we could speak, was shared with whole school. We appreciate the wonderful support that Isaiah from Learning Community Moana and his family gave us especially creating language videos to help us speak Rotuman during the week. Here is one of the video's created by Isaiah and he is sharing how they are continuing to keep their Rotuman language and culture alive at home.                Fạiȧkseˈea Isaiah!
Sports Dates for Years 5-8 Students
Wednesday 7 June– North Counties Years 5-8 Netball (Save Day: Friday 9 June)
Wednesday 21 June – HTCPS and St Mary's to host the North Counties Years 5-78 Rippa Rugby. If you are able to help out with refereeing Rippa sport please get in contact with Mrs Biggar rbiggar@holytrinity.school.nz or Mrs Silva asilva@holytrinity.school.nz.
Wednesday 28 June – Holy Trinity Whole School Cross Country here at school!
Bullying-Free New Zealand Week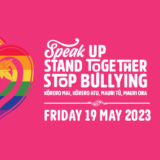 Kia Ora Whānau,
Next week is Bullying-Free NZ Week where we raise awareness about bullying.
Sometimes we may encounter someone who says something mean to us. Although mean comments are not ok, it is important to understand what the term 'bullying' means. Bullying has specific features that make it more serious and harmful.
• Bullying is deliberate – harming another person intentionally
• Bullying involves a misuse of power in a relationship
• Bullying is usually not a one-off – it is repeated, or has the potential to be repeated over time
• Bullying involves behaviour that can cause harm – it is not a normal part of growing up
On Friday 19th May our school will be joining the "Pink Shirt Day" Movement to take a stand against bullying and to create a kind environment in which everyone feels safe and included.
We will be holding a 'PINK' Mufti Day at school – It would be great to see all our learners wearing a pink item! This is a free Mufti Day –  children do not need to bring any money to school.
Celebrate Vaiaso o le Gagana Samoa

Samoan Language Week
Sunday 28 May – Saturday 3 June
The theme for Vaiaso o le Gagana Samoa – Samoan Language Week 2023 is 'Mitamita i lau gagana, maua'a lou fa'asinomaga' which means 'Be proud of your language and grounded in your identity'.
This year's theme focuses on the importance of the Samoan language and identity. It impresses on us the need not only to understand the Samoan language, but to also use it as much as possible. When you are proud of your language and can speak it, you will also be more grounded in your identity as a Samoan.
Mitamita i lau gagana, maua'a lou fa'asinomaga encourages Samoan language pride in four key areas:
Be proud of your ancestral language – Be proud of your language that was created and grown by our ancestors.
Be proud of your spiritual language – Church plays an important role in ensuring the Samoan language thrives, and that Samoan people are proud of their language.
Be proud of your language in your families – Pride in the Samoan language begins in the home. The family is the first classroom for Samoans. We are first taught in our homes how to speak and show respect to elders and others. You learn how to invite people to eat, as well as know how to acknowledge gifts of food that people bring with them.
Be proud of your written language – We are now seeing that our Samoan language is needing to adapt and change. Our written language is valued in many areas of our lives. Therefore, we must be able to read, understand, speak and write Samoan. Be proud of your written language.
Travelwise News
ROAD SAFETY WEEK – May 15 – 21
It is Road Safety Week next week and the student Travelwise Leaders have planned activities with a focus on keeping safe in and around school while driving around the carpark and bus bay area. As well as the importance of being a safe pedestrian whether it is walking, riding a scooter or bike.
We would like to encourage everyone to help us reduce traffic by parking either on Kapowai BLVD, Amokura Ave or Matata Drive. If you live nearby try walking or riding your bike or scooter to school on fine days.
Speed Around Schools!
Did you know that the maximum speed once you drive into school is 20 km/h.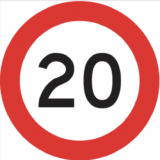 Safe parking around the school 
It is illegal to park on the dotted yellow lines, even for a short time.

It is not safe to park on the corners just after the pedestrian crossing.

Do not stop on the pedestrian crossing – please keep clear at all times.

Make sure your child is safe when getting in or out of the car by stopping at the bus bay area or car park only.  

Check that your speed is at 

20 km/h until you are no longer at school.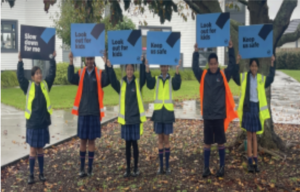 Here is our student Travelwise Leaders team with our  messages to remind our whānau to SLOW  DOWN, LOOK OUT FOR KIDS and KEEP US  SAFE during drop off and pick up times.
Scooter Skills Session for Learning Community Whenua
Friday 19 May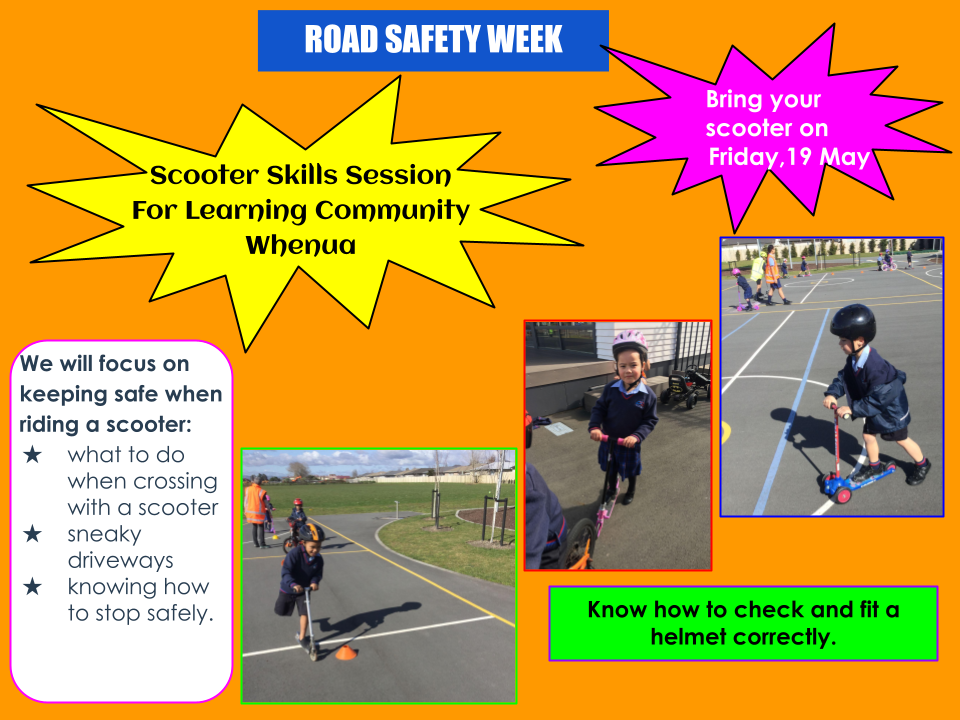 Upcoming School Events
Mental Health Week
Monday 15th May – Friday 19th May
Bullying-Free New Zealand Week
Monday 15th May – Friday 19th May
Road Safety Week
Monday 15th May – Friday 19th May
School Welcome to Visiting Author (Years 3-8)
Monday 15th May @ 9:30am in Taamaua/school hall
Parent Meeting for Year 5-8 students – Positive Puberty Plus Programme
Monday 15th May @ 6:30pm-7:30pm in Taamaua/school hall
Positive Puberty Plus Programme Sessions for LC Ngahere students
Wednesday 17th May
Positive Puberty Plus Programme Sessions for LC Maunga students
Thursday 18th May
PINK Shirt Day – whole school (Bullying-Free NZ event)
Friday 19th May

Travelwise Scooter Skills Day for LC Whenua students
Friday 19th May at school 
Indian Families Gathering
Friday 19th May @ 3:15pm – 4:30pm in Learning Community Awa (shared afternoon tea)
School Liturgy and Assembly – led by Learning Community Awa
Monday 22nd May @ 9:15am in Taamaua/school hall
Māori Whānau Hui
Wednesday 24th May @ 5:30pm – 7:00pm in Taamaua/school hall
Monthly School Board Meeting
Wednesday 24th May @ 7:00pm in the school staffroom
Samoan Language Week
Monday 29th May – Friday 2nd June
Holy Trinity School Feast Day Mass
Friday 2nd June @9:30am with Father James in Taamaua/school hall
Holy Trinity School Cross Country Day
Wednesday 28th June
Term 2 Concludes at 2:50pm 
Friday 30th June
Term 3 Commences at 8:50am
Monday 17th July
Upcoming Community Events
Child and Infant First Aid Courses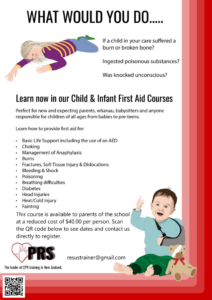 We would like to offer the parents of your School the opportunity to brush up on their First Aid awareness.
Our Child Infant First Aid course is the perfect way to gain the knowledge, skills and confidence to act should something go wrong.
In the course, parents will learn on the following topics:
Basic Life Support including the use of an AED
Management of Choking
Management of Anaphylaxis
Bleeding & Shock
Fractures and Soft Tissue Injury
Burns
Poisoning
Asthma & Diabetes
Seizure & Environmental Conditions
We have the following dates scheduled across Auckland that the parents are welcome to attend:
Sunday 7th May, 12.30 – 4.30, Mama Maternity Sandringham
Thursday 1st June, 9:30 – 1:30 Te Atatu Peninsula Community Centre
Saturday 10th June, 9:30 – 1:30 Te Atatu Peninsula Community Centre
Wednesday 5th July, 9:30 – 1:30 Due Drop Events Centre Manukau
Sunday 27th August, 12.30 – 4.30, Mama Maternity Sandringham
Monday 26th August, 9:30 – 1:30 Takaanini Community Hub
Wednesday 6th September, 9:30 – 1:30 Due Drop Events Centre Manukau
Sunday 1st October, 12.30 – 4.30, Mama Maternity Sandringham
Wednesday 11th October,  9:30 – 1:30 Takaanini Community Hub
Sunday 3rd December, 12.30 – 4.30, Mama Maternity Sandringham
We would love to offer this course to the parents for $40.00 per person (Our regular price is $60.00 per person).
If you have any parents interested in taking up this opportunity, please have them contact us directly to this email address – resustrainer@gmail.com
Professional Resuscitation Services

Print or Save this Post