Greetings, Kia ora, Kia orana, Talofa, Mālō e lelei,  Namaste, Ni Hao, Bula, Hola, Kumusta
Dear Families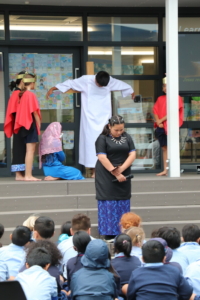 During these next few days, we have the opportunity to pause, reflect and reconnect with our God through the various Holy Week and Easter liturgies, Masses and services happening in our parish communities. We hope you are able to take time to celebrate this very special time in the Church year with your families as we welcome the gift of love and hope that is our Christian faith.
On Good Friday, we pray for all those "nailed" into hopeless situations, that through our concern and efforts, hope will dawn for all again. On Easter Saturday and Easter Sunday, we pray that we joyfully proclaim the good news of the resurrection through our own lives.
A Family Easter prayer to pray together …
Let us pray,
God of all, continue to walk with us as we journey through this Easter Triduum.
Help us to keep you in our hearts as we remember Jesus' dying and rising again.
Help our own hearts to burn and overflow with joy and love.
Help us to be a living family, alive with faith, joy and service of being your disciples.
Help us to love you more and more each day so that everyone else will love you too.
In the name of the Father and of the Son and of the Holy Spirit
Amen
Holy Week Services and Easter Masses
Church services have been disrupted due to Covid the last couple of years.  Our Bishops are encouraging people to come back to Church this Easter.  We invite our staff, students and our families to join our Holy Week Services and Easter Masses.
Find locations and times for Holy Week services and Easter Masses at parishes across the Auckland Diocese here: https://www.aucklandcatholic.org.nz/holy-week/
Please join us at Church this Easter.  Who might you invite back to Church this Easter?
THANK YOU Holy Trinity Whānau!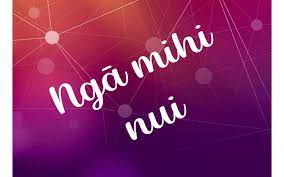 Once again, we have raced through another term of busy school life and now find ourselves fast approaching Term 2 but not until after the well deserved April holidays! So as we do go on holiday, we pause to give thanks to God for all that has been achieved as a school community. We give thanks to God for our staff and the dedication they show in working with each child as they grow in their learning and personal development. We give thanks to God for our children who take on the opportunities and challenges of school life with willingness and positive attitudes. We give thanks to God for our families/whānau who continue to support their child and school in the many shared activities and events AND we give thanks to God for all those who lead and support our school through governance (our School Board), prayer and spiritual life (our Parish Priest), fundraising and social events (our PTFA) – may we all be blessed for the work we do to nurture and grow this special school community in learning ka ako, loving ka aroha and serving ka manaaki.
DRS Report
Our Holy Week Journey
This week, our tamariki and their home group kaitiaki have planned a special liturgy for each day of the week to share and commemorate the significant events of Holy Week that began with Palm Sunday that was celebrated on Monday morning. Palm or Passion Sunday is the triumphant entry of Jesus into Jerusalem when people greeted him as he entered the city by waving palms in the air, laying garments on the road and shouting, "Hosanna! Blessed is He who comes in the name of the Lord!"
The Washing of the Feet liturgy was shared on Tuesday with our tamariki re-enacting the simple act of service that Jesus shared in the washing of the feet of his disciples. Jesus asked his disciples to do the same for each other and we are reminded of the call for us all to serve each other as we continue to strengthen whanaungatanga in our community.
On Wednesday, we gathered to commemorate Jesus' final passover meal with his disciples which we know as The Last Supper. It is here that he establishes the Sacrament of Eucharist by breaking bread and saying, "This is my Body, which is given for you. Do this in memory of me." Then he passed the cup filled with wine and said, "This is my Blood, poured out for you. Do this in memory of me." Jesus invites us to enter into his life, death and resurrection – the whole mystery of Christ's redemption and salvation, known as the Paschal Mystery. Every Sunday we hear these same words uttered by our Parish priests during the liturgy of the Eucharist and we are invited to truly share in Christ's sacrifice.
Finally, our Holy Week journey ended on Holy Thursday with our students sharing the story of the Passion of Christ through the Stations of the Cross, also known as Via Dolorosa – The Way of Pain. The final journey of Jesus' suffering after his betrayal by Judas. Falling three times along the way, Jesus carried his cross to Calvary, consoling the women of Jerusalem, getting help by Simon of Cyrene to carry his cross, having Veronica wipe his face and all the while with the angry mob laughing and condemning him. Jesus died on the cross for us and for the next three days, we mourn and await his joyful resurrection on Easter Sunday.
School Board News …
Greetings, Kia ora, Kia orana, Talofa, Mālō e lelei,  Namaste, Ni Hao, Bula, Hola, Kumusta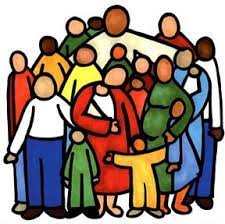 With the first term drawing to a close, as presiding member of the School Board, I would like to thank our principal, Peta Lindstrom and the staff, children, our school families, our Parish Priest and our wider school community for another successful term. Considering the unsettled start we had, having to delay our start to the school year because of Cyclone Gabrielle, a lot has been achieved as a result of the strong commitment we all have to the life and work of our school.  Together we make a great team and it is encouraging to hear many positive comments about Holy Trinity Catholic Primary School out in the community.
We certainly work hard to live up to our school vision- TO LEARN Ka Ako,  LOVE Ka Aroha and SERVE Ka Manaaki, in the name of THE FATHER, THE SON and THE HOLY SPIRIT.
THANK YOU one and all for the contribution in making this vision a living reality.
Easter Season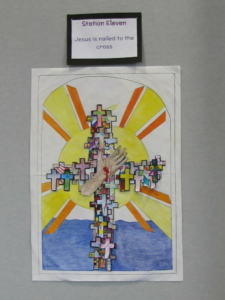 Easter is almost upon us and the Easter story brings many challenges relating to our faith and the attitudes with which we face our lives. Over Easter, Christians celebrate the belief that Jesus died and rose from the dead. If we have faith in the resurrection of Christ, what does it mean for the way we live our lives? Life has its challenges for all of us-if we believe in the resurrection and are grounded in our FAITH, we can tackle those challenges and overcome them.
Holy Trinity Catholic Primary School is a place of faith, where we encounter the living God, who in Jesus Christ reveals his transforming love and truth, grow in knowledge and understanding of Christ's teaching and be Christian witnesses to one another.
Road Safety and Car-parking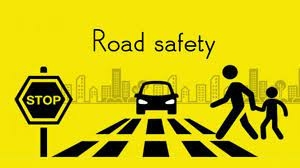 This continues to be one of the Board's  responsibilities, and we are ever mindful of the on-going challenge this continues to be.
While we cannot control the traffic flow along Airfield Road, there are some things we can all do to try and make the entry and exit points of the school, particularly at the beginning and the end of the school day.
It is great to see:
People adhering to the carpark speed limit of 20kmph
People delaying their after school pick up time by a few minutes which helps to reduce the 2.45-2.55pm congestion.
Drivers continuing up Airfield Road to go around the traffic island at Mill Road and coming back down Airfield Road and entering the school from the left, rather than making a right hand turn into the school from the centre of Airfield Road.
More of our families, parking in the neighbouring streets and walking in and out of the school, thus reducing the amount of congestion out on the road waiting to turn into the school.
An increasing number of people using Kapowai Boulevard, adjacent to the school, as a parking area and walking into school to collect their children. Well done!.
GOOD NEWS! Last week we had our Property Manager from the Catholic Diocese of Auckland visit  school to discuss a variety of property matters.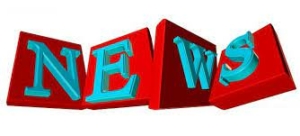 We can confirm that the Diocese has agreed for the school to fund and to carry out the work to put a pedestrian gate coming into the school from Kapowai Boulevard pathway, down by the beginning of the school field. This is great news, as it will minimize the hazard of people having to walk out the front of the school where our school traffic is entering the carpark, to get into Kapowai Boulevard where their cars are parked. We will be expecting all families parking in Kapowai Boulevard to use this gate.
We look forward to seeing this gate in the near future.
THANK YOU for your patience, understanding and for practising safe road use, as we continue to make our school and surrounding area as safe as we can for all
Conclusion
On behalf of the Board, thank you again to our parents, whānau and friends of the school, for your on-going support, as together we work in the best interests of our children's education.
May we all be blessed by the Holy Trinity this Easter season and may the love of God continue to strengthen us in all that we do.
Easter Blessings to you all
Philip Cortesi
Presiding Member of the Board
Teacher Only Day Monday 24th April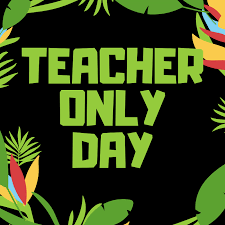 School will be closed for students on Monday 24th April – the first day of Term 2.
Teachers and Support Staff will be involved in a professional development and learning day about the newly released New Zealand Curriculum Refresh. The Ministry of Education has granted this time/day to schools to allow teachers to work with the new document – to understand why changes have been made and to plan for the implication for our current Holy Trinity localised curriculum teaching and learning programme.
Please make alternative arrangements for your child/ren for this day – Monday 24th April.
sKids will be open for the day – visit skids.co.nz/Holy_Trinity/ to book.

Tuesday 25th April is ANZAC Day therefore a Public Holiday – school will be closed.
Term 2 commences for children on Wednesday 26th April 2023.
Twilight Market!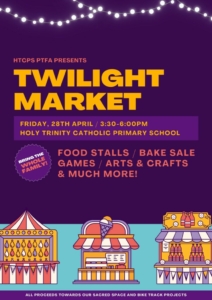 Holy Trinity Catholic Primary School are excited to invite our wider community to our Twilight Market event on Friday 28th April from 3:30pm – 6:00pm.
We have some amazing stalls including cultural food stalls, a bake sale, games, arts and crafts, plants, raffles and much more!
All proceeds from the Twilight Market will go towards our Prayer Garden/Sacred Space and student bike track projects.
Holy Trinity Catholic Primary School
Parent, Teacher & Friends Association
Winter Uniform
From Term 2, all students are expected to be in the correct school winter uniform.
Girls Uniform: tartan skort, blue long sleeved monogrammed shirt, navy knee school socks, black school shoe
Boys Uniform: navy shorts, blue long sleeved monogrammed shirt, navy knee school socks, black school shoe
A short sleeved monogrammed shirt may also be worn as long as no other long sleeved item is worn underneath.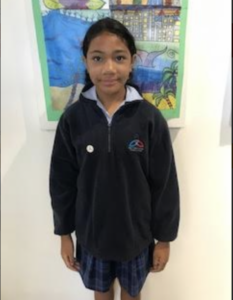 The navy monogrammed school polar fleece or the navy monogrammed school jersey or the optional school monogrammed waterproof jacket may also be worn during the winter months. The waterproof jackets are outside clothing only.
Students are to wear black school shoes only. These may be purchased from other stockists e.g. The Warehouse, Hannahs, Number 1 Shoes.
Please clearly label all clothing items with your child's name so all misplaced uniforms can be returned to the correct owners.
Thank you for continuing to support our school uniform guidelines by  ensuring your child/ren wear the correct school uniform with pride and care. This is a fantastic way to demonstrate our school Gospel  value of respect/manaakitia.
NZ Uniforms are the stockists of  our school uniform and are located at Unit 5 20 Lambie Drive, Manukau. NZ Uniform's phone number and email address  ph: 09 950 6747 and email: manukau@nzuniforms.com.
Duffy Books in Homes Programme Survey
Kia ora,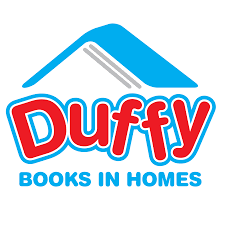 Our names are Jacinta and Shengnan. We are researchers at the University of Auckland, Faculty of Education and Social Work. We would like to collect some information about your experiences with Duffy Books in Homes programme.
These surveys will help the University of Auckland research team to better understand your experiences with Duffy books in homes. They are voluntary and confidential and are your chance to have your say, give feedback and suggest ways to improve the overall experience.
We are inviting parents to complete an online anonymous parents survey which takes about 5-10 minutes to complete. All completed parent surveys go into the draw for 1 of 20 $50 Prezzy vouchers.
Parents also have the option to complete, with their child, the online anonymous student survey. All completed student surveys go into the draw for 1 of 20 $20 Prezzy vouchers.
If you are interested, we invite you to read the   Participant Information Sheet for more information about the study.
Completing this survey is voluntary. Submission of the online survey is taken as consent to participate.
Enter the survey using either the link below:
Parent survey https://auckland.au1.qualtrics.com/jfe/form/SV_elcbzrB0GMxhcsS
Year 1-3 student survey https://auckland.au1.qualtrics.com/jfe/form/SV_6WptBGrUAX4AaCq
Year 4-6 student survey https://auckland.au1.qualtrics.com/jfe/form/SV_eJK7Il5FbuEnYVM
School Enrolments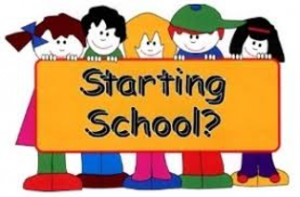 It is really important that we know of all younger brothers and sisters that are commencing schooling with us in 2024. If you have little ones at home, please contact the school office to make a time to meet with Miss Lindstrom so they can be assured of a placement at Holy Trinity School for when they are ready to start in 2024.
School enrolments for 2024 CLOSE by 31st August 2023 and
placements for 2024 will be confirmed by 30th September 2023.
sKids School Holiday Programme
As the school holiday approaches, we are excited to announce our April Holidays Adventure. We would like to take this opportunity to extend our invitation to the school community. 
It's time for us to take the students on a journey of discovery, creativity, and fun. Each day will be filled with action-packed activities and games that will keep them entertained all day long. Our activities are designed to encourage their imagination, inspire creativity, and allow them to explore their passions and challenges.
Adventure awaits these April School Holidays! sKids are inviting our students to join their April Holidays Adventure, visit skids.co.nz/Holy_Trinity/ to book now!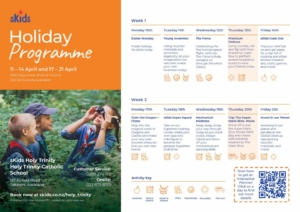 School Term Dates 2023
Term One    10 weeks     Thursday 2nd February – Thursday 6th April
Term Two     10 weeks     Monday 24th April  – Friday 30th June
Term Three   10 weeks     Monday 17th July – Friday 22nd September
Term Four     10 weeks     Monday 9th October – Monday 18th December
Job Vacancies at the Catholic Diocese of Auckland
University Ministry Coordinator – Catholic Diocese of Auckland
Are you a self-motivated relationship-builder who can be the driving force behind a new project? We're looking for someone who answers "Yes!" to become our full-time University Ministry Coordinator. You'll be part of a tight-knit team implementing a bold new strategy for ministry to young people in the Diocese of Auckland. For more information, please visit: www.aucklandcatholic.org.nz/staff-vacancies/
Local Youth Ministry and Administration Support – Catholic Diocese of Auckland
Are you a self-motivated relationship-builder who wants to make a meaningful positive impact in the lives of young people? The Diocese of Auckland want someone to join our team in the role of Local Ministry and Administration Support. You'll be part of a tight-knit team implementing a bold new strategy for ministry to young people in the Diocese of Auckland. For more information, please visit: www.aucklandcatholic.org.nz/staff-vacancies/
Upcoming School Events
Term 2 Commences – TEACHER/STAFF ONLY DAY
Monday 24th April
ANZAC Day – Public Holiday – school closed
Tuesday 25th April
Term 2 Commences for the Children 
Wednesday 26th April
School Whakatau/Welcome for New Families
Wednesday 26th April @ 9:15am in Taamaua/school hall

School Liturgy and Assembly – led by the Senior Leadership Team
Wednesday 26th April @ 9:30am in Taamaua/school hall
School Board Monthly Meeting
Wednesday 26th April @ 7:00pm in the staffroom
PTFA Twilight Market 
Friday 28th April @ 3:30pm-6:00pm at school
Pasifika Families Fono
Wednesday 3rd May @ 5:30pm – 7:30pm in Taamaua/school hall
Mothers Day Liturgy
Friday 12th May @ 1:30pm in Taamaua/school hall
Māori Whānau Hui
Wednesday 24th May @ 5:30pm – 7:30pm in Taamaua/school hall
Term 2 Concludes at 2:50pm 
Friday 30th June
Term 3 Commences at 8:50am
Monday 17th July
Other Schools
Open Day at Sacred Heart College Hostel
Sacred Heart College provides a foundation of faith and aspiration to succeed at the highest level in personal and professional life. Places are available for boarding in 2024 and we welcome you and your family to our Open Day on Friday 12 May, starting at 11.30am. Please register your attendance: www.sacredheart.school.nz/hostelopenday.  For further information, visit our website www.sacredheart.school.nz ; or contact us on enrolments@sacredheart.school.nz or phone 09 529 3660 ext 714.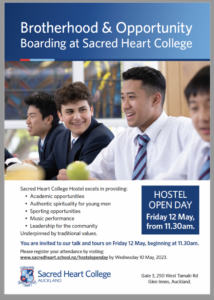 Sustainable Papakura Events & Activities
Attached is our Activities Calendar for April 2023 – Activities Calendar – April 2023
We're really excited to be starting our Beginner Knitting again! We will also be having a one-off Introduction to Sewing for people wanting to learn the basics of using a sewing machine. Our activities for the School Holidays will include a Tamariiki Learn to Sew workshop, learn to make Reusable Beeswax Wraps – great for school lunches, and a Beginner Macrame workshop. Our popular Beginner Crochet workshops will continue again at the end of the month, after the School Holidays.
Our regular working bees will continue in April – Awhio Mai Peke Sewing Bee where we make the shopping bags which you will have seen for shoppers in the Papakura Town Centre, and the Creators Working Bee, where our volunteers create items to sell in our Sustainable Shop.
Some workshops have limited spaces, so get in quick if you're interested!
Email admin@sustainablepapakura.co.nz
Upcoming Community Events
Free Community Event Ki-O-Rahi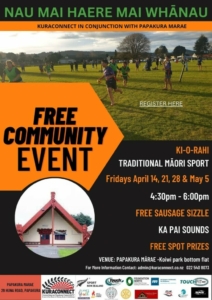 Southern Districts Hockey Club Muster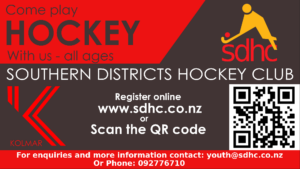 The HOCKEY season is fast approaching – and we at Southern Districts have the following muster days at Kolmar in Papatoetoe your students can attend at no cost.  We have very affordable fees and are very keen to welcome new players.
Thanks so much
Nic Norris
Junior Committee – Southern Districts Hockey Club
Open Day Muster for all ages groups Saturday 01 April
Years 1- 6: 9.00am – 10.30am
Years 7- 8 & Youth (Years 9-13): 10.30am -12.00pm
Junior – Years 7 – 8
Monday 3rd April Trials 5.30pm – 6.45pm
Junior – Years 5 – 6 and Years 1-4
Thursday 13 th April Musters 5.30pm – 6.45pm
*Training times for individual teams will be given once teams are named.
Tots to Teens Magazine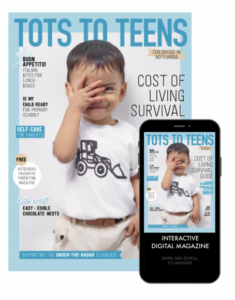 Easter and school holidays are coming up, and our latest issue is jam-packed with content to help Kiwi parents
https://issue2304.totstoteens.co.nz/
What's in this issue for parents?
» Is my child ready for Primary School?
» Do you have an under-the-radar child?
» Parents guide to: Surviving the cost of living
» Fun stuff for the holidays
» Delizioso italian recipes. Yum!
» Parents are people too… Self-care (is more than a hot bath)
» How to plan a holiday, and involve the kids
» Debate: How much sport is too much?
» Craft: An easy and edible Easter nest
+ $3,000 of EPIC GIVEAWAYS
Ask your tamariki to find this issue's Te Reo Māori words including taonga tākaro, mene, mātauranga, whakangā, tuku awhikiri and hākinakina
Thank you to everyone for supporting our digital magazine, it means we are able to share our magazine with more kiwi parents and whānau, in a format that is super visual and user friendly (75% of your parents will be reading on their phone!).

Print or Save this Post