Nau Mai, Haere Mai!
Welcome to our Virtual Assembly page. As we continue at Level 2, we understand that the Ministry have relaxed a few restrictions with schools in general.
With social distancing and constant sanitising routines well in place, we're also mindful of the spaces that we have and the number of students to accommodate those spaces. For that reason we've decided to continue with our pre-recorded assemblies.
Every Monday from 9am, we will upload our latest assembly for all to access.
Our Distance Learning Google Site is still available to access. See the link below.
To access the Google Learning Site, click HERE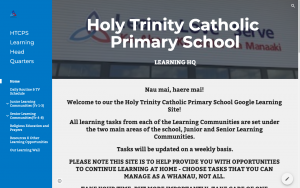 Below is this weeks Virtual Assembly for Holy Trinity Catholic Primary
Week 6 of Term 2
Below are our previous Assemblies