Dear Families
Warm greetings to you all!
Term 4 is upon us and although Auckland schools remain closed, we are certainly ready to go with our distance/home learning programmes for the children. From Monday 18th October, we will publish the HTCPS Home Learning google site which has been updated for Week 1, Term 4.  Once you have accessed the site, you can click on the Junior or Senior Learning pages and the individual Learning Community pages will drop down – then click on the learning community page that is right for your child/ren. The site can be found HERE.
Kaitiaki/teachers will be meeting with students for teaching/instruction and social time online either by "zoom or google meet." The Kaitiaki/teachers will send links out to families by HERO posts or by email – please keep an eye out for them!
We know and understand how difficult and challenging it is to be working from home whilst trying to support your children's learning (our very own teachers/kaitiaki are also doing this with their own families at home – working, studying and doing schoolwork!!). Thank you for the great learning work that you do with the children. Remember to do just what is right for you and your family and your circumstances!
We recommend you ONLY choose 2-3 learning activities a day (in total) from the HTCPS Home Learning site, for the children to do.
It is really important that as part of your whānau's home learning "rhythm" for each day, that you also include in your day, time for –
prayer time

exercise time

play time

family/whānau time

reading together time

TV time – especially the new educational TV programmes
Live and on-demand educational television
Home Learning | Papa Kāinga TV on television weekdays between 9am–1pm. Duke+1 (Freeview channel 18). Those households who have Sky can also access Duke +1 on channel 504. For households who have internet connectivity they can access the lessons through TVNZ On Demand. Schedules are published on Learning from Home.
Mauri Reo, Mauri Ora Kōanga 2021 screens on Te Reo channel every weekday from 9am to 12pm. Programmes are also available online on the Māori TV website and on the Māori+ app.
Remember CHOOSE what is right for your whanau's learning at home! We want you to share all your great home learning with us so please do keep posting to your child's HERO 'Our Learning Wall'.
WE ARE MISSING YOU! Therefore our Teachers/Kaitikai will endeavour to make contact with you throughout this time to see how you all are at home and how we can support further with home learning. And our Teachers/Kaitiaki are available to answer any email queries you may have – we will endeavour to respond on the same day SO do make contact with us so we can help out.
Holy Trinity is a strong and resilient community and together in kotahitanga/unity, we will continue to make this a very successful, positive and happy learning time for all.
Every Blessing
Peta Lindstrom
Principal

Please see NZ Government information below in regards to accessing food or essential items …
We all need food and essential items such as medicine through COVID-19 lockdowns, so please don't try to go without. This fact sheet has information about the many ways of getting food and other essential items to you. This fact sheet has information for all New Zealanders about:
Food delivery

If you can't get food delivered

Staying safe when getting food delivered

Financial help to buy food

Foodbanks
Food delivery: If you are sick, or can't leave home to buy food or essential supplies, you can ask family, whānau, friends or neighbours to drop off goods and groceries for you. Talk to your support networks like family, whānau, friends, and neighbours to see if they could deliver essential items to you.
Try food delivery such as supermarket home delivery, food parcels, frozen pre-prepared meals, subscription food boxes or any other whole-food delivery service:
For subscription food boxes go to: My Food Bag OR Hello Fresh

For supermarket delivery go to: Countdown OR New World.
You can also use your supermarket's click and collect service, and ask a local friend, family member or neighbour to drop off groceries for you.
Contact your local supermarket or dairy to find out if they are delivering groceries and how to order. Your supermarket may have reserved some priority slots for people who need to use online shopping.
Staying safe when getting food delivered: Deliveries should be contactless and kept local. If you are delivering supplies, remember to stay 2 metres apart and wear a face covering.
If you get your supplies delivered, remember to stay 2 metres away from those delivering them, wear a face covering and wash and sanitise your hands after you have put the supplies away.
Go to: https://covid19.govt.nz/about-this-site/contact-and-support/
Financial help to buy food: If you need financial help to buy food, Work and Income may be able to help.
Visit the Work and Income website for urgent financial support and ongoing needs.

You can apply for a main benefit online and check your eligibility for food assistance.

You can also use the COVID-19 financial support tool on the Unite Against COVID-19 website to see what support is available to you.
Go to:
Foodbanks: If you need food urgently (eg if you need food in the next 24 to 48 hours), your local foodbank may be able to help.
You can find your local foodbank by searching on the Family Services Directory website:
Family Services Directory website
If you can't get food delivered: If you have tried and can't access support through any of the options above, contact your local Civil Defence and Emergency Management (CDEM) Group.
Go to: http://www.civildefence.govt.nz/find-your-civil-defence-group/
Please don't hesitate to contact school at any time if you are in need of food or essential items. We are here to care and look after our families!
Keeping you in our prayers and in our hearts as we ask for God's Blessings on us all, especially during this period of time.
Peta Lindstrom
Principal
Peta Lindstrom
Greetings, Kia ora, Kia orana, Talofa, Mālō e lelei,  Namaste, Ni Hao, Bula, Hola, Kumusta Dear Families Welcome to Term 4! Although not the way we had hoped to begin our school term, we are hugely encouraged and inspired by our students, our families and our staff for their continued [...]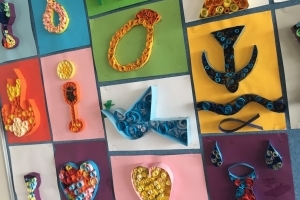 Welcome to Holy Trinity Catholic Primary School
Our school is a full primary Year 0 – Year 8 serving the Catholic community of the Takanini area.  Holy Trinity Catholic Primary School is in partnership with the Parish of  St Mary's, Papakura.
We offer Catholic education based on respect and dignity for each person, community participation and belonging, a commitment to christian tradition and Gospel teachings and a deep appreciation of learning. We are a school community that provides quality teaching and learning practices and programmes in an innovative and collaborative environment. We are a culturally diverse community with significant growth due to local housing development.