Greetings, Kia ora, Kia orana, Talofa, Mālō e lelei,  Namaste, Ni Hao, Bula, Hola, Kumusta
Dear Families
Our Church season moves into the 5th Sunday of Lent this weekend and it is not long now before our Lenten journey will be coming to an end.  Then we take time to prepare to celebrate Holy Week and the Easter Triduum. This year, each child will be involved in contributing to the Whanaungatanga Holy Week liturgies to be celebrated each day of Week 10 – we are hoping our whānau will join with us for these community prayer times as together we walk towards Easter holiness!
We know that Lent is a time of fasting, prayer and alms giving so it has been especially heartwarming to be able to put these actions of Lent into practice this past month. As a staff, Board and PTFA through generous gifting of members, we have been able to support the Bishop's Caring Foundation Cyclone Relief Appeal with monetary donations.  And as a school, we have also been able to reach out to a sister Catholic school in Gisborne, St Mary's, to support them in their time of need and to lift them up through prayer and alms giving – with each of the St Mary's students receiving their own specially made prayer badge.
You can read their beautiful notes of gratitude below. Ka mau to wehi Holy Trinity – you are amazing Holy Trinity community, in the active way you have reached out to give service to others and to 'be the Face of Christ' to those who are suffering.
Thank You to Holy Trinity Community …
Dear Peta and the amazing students of Holy Trinity Primary,
Thank you so much for your generous support of Bishop Steve's Cyclone Relief Appeal through the Catholic Caring Foundation.
We've all seen the devastation that Cyclone Gabrielle has wrecked across the North Island.
Lives have been lost, livelihoods ruined, homes destroyed, and communities are still reeling from the devastation.
But thanks to wonderfully compassionate donors like you, from all over New Zealand and the globe, your donations are already helping people and communities affected by Cyclone Gabrielle in the Hawkes Bay region and Gisborne/Tairāwhiti. Cyclone Gabrielle is the seventh major weather event to hit the Gisborne/Tairāwhiti area, and the diocesan team in Hamilton are hearing of the psychological impact that this is having on even the most resilient.
Thank you for helping our sisters and brothers in such challenging times throughout the dioceses of Palmerston North and Hamilton.
We look forward to sending you more updates on where your donation has made a difference.
Ma te Atua koe e manaaki i ngā wā katoa.
May God bless you always,
Ann-Marie Parker
Manager
Catholic Caring Foundation
Thank You from St Mary's Catholic School in Gisborne
Kia Ora Peta & the wonderful staff and students at Holy Trinity School,
Our students and staff were really touched by your kindness in keeping us in your prayers and for writing letters, making cards and badges.
Our students proudly wore these yesterday and really loved that each note or badge was personalized for them and referred to them by name.
Thank you for standing in solidarity with us – in Christ we are one.
Ngā manaakitanga,
Helen & the team at St. Mary's
Kia ora,
Thank you for the letters and badges that you made for us. We
really appreciate the gift and thank you for thinking of us during
this challenging time for our region.
Thank you for your prayers and support. We were very lucky that
Cyclone Gabrielle didn't cause too much damage to our kura.
However, lots of homes and businesses were flooded and covered
in silt which is really sad.
Ngā mihi nui,
Pompallier 1
DRS Report
Mufti Outreach on St Patrick's Feast Day
Last week on Friday 17 March, our school had a special mufti day to celebrate the Feast of St Patrick and to donate a gold coin for Caritas Aotearoa New Zealand. The focus country for Caritas Aotearoa New Zealand for 2023 is Fiji. Over the past few years, as in New Zealand, life has been extremely hard for the people of Fiji. Not only have they had to contend with the impact of Covid19 but also the devastation caused by the recent weather conditions, primarily tropical cyclones. Our tamariki and staff raised $376.90 to go towards this worthy cause. We thank our school families for their support as we could not have done it without them.
Thank You!
Last week our tamariki came home to share their Religious Education learning with you at home. It's been wonderful to read all the different positive and uplifting comments from our whānau to encourage our learners to continue to deepen their knowledge of the Catholic faith.
Whanaungatanga Transfer Task
During Holy Week, our kaitiaki and the tamariki in their home group will be sharing their liturgies for the whole school and parent community. We will be having special liturgies throughout Holy Week, each one commemorates the significant events which lead up to the death of Jesus on the cross. The kaitiaki have been working with their liturgy teams and students to create ways to share and present these significant events in Jesus' life and strengthen whanaungatanga in our school faith community. You are all welcome to come along and journey with us through this Holy Week. Our tamariki and kaitiaki will look forward to having you witness their prayer and reflection.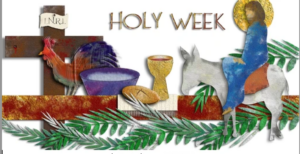 Monday 3 April – Passion/Palm Sunday
9:30am in Taamaua/school hall
Mrs Champion, Mrs Griffiths, Mrs Davies and Mrs Kaur (Whenua, Moana and Ngahere)
Tuesday 4 April – The Washing of the Feet
9:30am in Taamaua/school hall
Miss Gaynor, Ms Gill and Mrs Clarivette (Moana, Maunga and Awa)
Wednesday 5 April – The Last Supper
9:30am in Taamaua/school hall
Mrs Chung, Mrs Malgas and Mrs Rhodè (Awa and Maunga)
Thursday 6 April – The Stations of the Cross
11:30am outside of Learning Community Whenua
Mrs Biggar, Mrs Cortez, Mrs Fernandes and Mrs Silva (Ngahere, Awa and Moana)
Baptism at St Mary's Parish, Papakura
Baptism will be celebrated every SECOND SUNDAY of the month after the 10:30am Mass. Please note that there will be a monthly group baptismal preparation course in the Ryder Room next to the Church on the FOURTH Thursday of the month at 7:00pm. Please contact the Parish Office at (09) 299 6056 to inquire about the preparation classes and what you need to bring.
Sacramental Programme at St Anne's Manurewa
The Sacramental Programme at St Anne's Parish in Manurewa is now open. This is to prepare our children with their First Reconciliation, First Holy Communion, Confirmation and if necessary, Baptism. All registrations are online just by typing this link into your browser: shorturl.at/sxVW2
On Saturday 25 and Sunday 26 March, we will be at the 5:30pm, 8:00am, 10:00am and 5:30pm Masses to help you register if you don't have any internet access at home. Email stannesacrament@gmail.com for more information.
Teacher Only Day Monday 24th April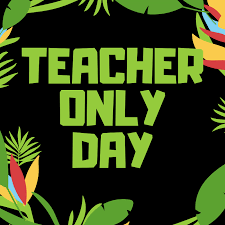 School will be closed for students on Monday 24th April – the first day of Term 2.
Teachers and Support Staff will be involved in a professional development and learning day about the newly released New Zealand Curriculum Refresh. The Ministry of Education has granted this time/day to schools to allow teachers to work with the new document – to understand why changes have been made and to plan for the implication for our current Holy Trinity localised curriculum teaching and learning programme.
Please make alternative arrangements for your child/ren for this day – Monday 24th April.
Tuesday 25th April is ANZAC Day therefore a Public Holiday – school will be closed.
Term 2 commences for children on Wednesday 26th April 2023.
Digital HERO Online Reporting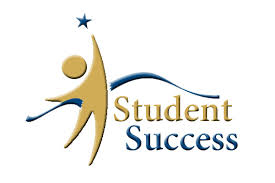 We are looking forward to sharing our term's learning with our families including individual students' learning goals progress in reading, writing and maths – click on the My Learning Wall in HERO to access. There will also be information on students achievement in Social Science, Health and PE – click on their Learning Community page in HERO to access.
Reporting information will be published for families to access online from Monday 3rd April.
Enjoy reading through and sharing the HERO online reporting comments with your child/ren so that together you can celebrate learning successes and the positive personal growth and development that has occurred this term.
Twilight Market!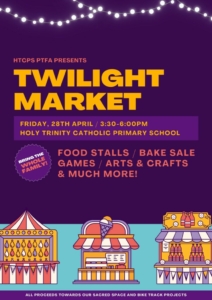 Holy Trinity Catholic Primary School are excited to invite our wider community to our Twilight Market event on Friday 28th April from 3:30pm – 6:00pm.
We have some amazing stalls including cultural food stalls, a bake sale, games, arts and crafts, plants, raffles and much more!
All proceeds from the Twilight Market will go towards our Prayer Garden/Sacred Space and student bike track projects.
Holy Trinity Catholic Primary School
Parent, Teacher & Friends Association
PTFA News! Twilight Market …
Twilight Market Meeting Tuesday 28th March, 7pm
Kia ora whānau
Our next Twilight Market meeting will be on Tuesday, the 28th March at 7pm in the School staffroom, where we will be finalising plans for the Twilight Market!
We would love to see you there. If you're available to help at the market (from 3:30pm on Friday 28th April), but are unable to make the meeting, please do get in touch with the PTFA (ptfa@holytrinity.school.nz). We have some stalls that need helpers.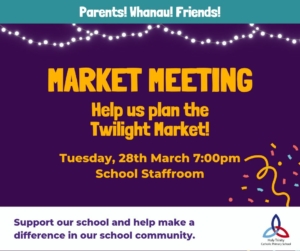 Jolly Jars for the Twilight Market!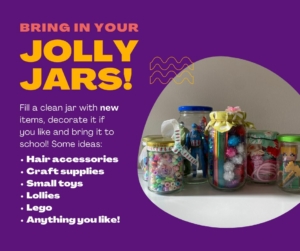 We are planning a fun Jolly Jar stall at the market and we need your help! Jolly jars are jam jars filled with fun things, that children and families are able to purchase on the night. We'd love it if our families could contribute to this by filling a clean jar with new items, decorate the jar if you like and bringing them into the school office before the end of term.
Some idea starters: lollies, craft supplies, small toys, hair accessories, lego, the ideas are endless! Thank you so much for you help.
Second Hand Uniform Shop
The second hand uniform shop will be open Friday 31st March 8:30-9:00am, upstairs in the School Hall/Taamaua.
A price list is below, prices vary depending on the condition of the items.
Second Hand Uniform Price List
Short sleeve shirt (Summer) $10-$20
Long sleeve shirt (Winter) $10-$20
Girls tartan skort $15-$25
Boys shorts $10-$20
PE Shorts $5
PE T-shirt $5
Bucket hat $5
V-neck jersey $15-$25
Jacket $15-$25
Socks $5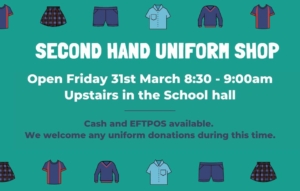 Polar Fleece Tops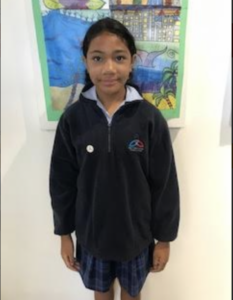 In Term 2, NZ Uniform will have the new Holy Trinity Catholic Primary School polar fleece sweatshirts in stock. These polar fleece tops will become part of the Holy Trinity School uniform and over time will eventually replace the woollen jerseys. There are still some woollen jerseys that are available for sale at $50 – this is a great price for a woollen garment!  A school jersey can be purchased from the Second Hand Uniform Shop at school.
Either the school jersey or the school polar fleece top will be able to be worn at school.
We will provide more information once we have confirmation of the polar fleece stock being available for purchase from NZ Uniforms Manukau store.
Welcome to New Staff
Last newsletter, we shared a welcome message for new staff …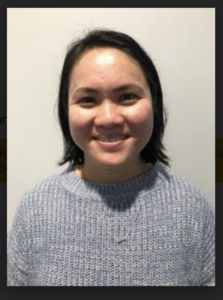 Mrs Thea Guadalupe joined us at that time as a Learning Assistant in Learning Community Whenua. Thea has worked in Early Childhood for many years and has extensive knowledge and expertise in working with younger students. Thea is proving to be a great support to Mrs Champion and Mrs Griffiths in supporting and guiding our new little five year olds as they settle into school life. "Welcome Thea and thank you for the wonderful start you have made to being a member of the Holy Trinity team!"
Staying Safe on Social Media Campaign
New Zealand's Catholic bishops are supporting a campaign to help people stay safe on social media. The campaign follows diocesan communications and pastoral staff around the country, noticing increased suspicious activities on Church social media pages they manage.
The Staying Safe on Social Media campaign started on Monday, 20 March, featuring special posts each day for seven days on Church Facebook and other social media suggesting people take such precautions as "never accept a friend request from someone you don't know personally."
Palmerston North Diocese communications coordinator Isabella McCafferty has helped initiate Staying Safe on Social Media. "Our campaign aims to draw attention to ways in which people can keep themselves safe on social media. We have come up with seven key points, which we will share across all Catholic social media pages in the country – one point a day from Monday March 20 to Sunday March 26,"
The resources are here: https://www.catholic.org.nz/news/media-releases/socialmedia-safety/
'Caught Being Good' News
Kia ora whānau,
It has been wonderful to see our learners nominating their classmates for a 'Caught Being Good' award. By looking for those living out the Gospel values, not only are our tamariki focusing on how others are following in Jesus's footsteps, but it's encouraging them to do the same. It's another way we are strengthening whanaungatanga here at HTCPS.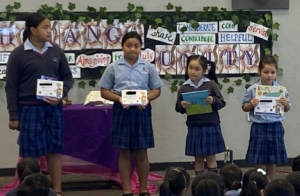 Learning Community News
Learning Community Whenua
In Whenua over the past couple of weeks, we have been putting our Gospel values of Unity, Compassion, Respect and Integrity into action. It has been wonderful to see our tamariki being spontaneous and taking the initiative and being self directed in the little things and sometimes big things that they have been doing to bring to life these Gospel values.
Examples of our Gospel values in action;
A child bringing a bag of of gifts for her friend

A child helping another child zip up their bag

A child going to a teacher and thanking her for a reward that he received

A child supporting another child every day to help him make the right choices.

Generous giving – Caritas
Well done Whenua! You are great role models to others.
Learning Community Awa
This week has been a busy week in Learning Community Awa. Tamariki have been learning in Religious Education, how to describe how praying and loving others strengthens Whanaungatanga in our neighbourhood. They are also able to convey that the Church is more than simply a building and that "WE", the people are the Church. On St Patrick's Day, we put our dancing talents to the test and had a try at an Irish traditional dance to extend how we grow and build Whanaungatanga by connecting globally with different countries.
Learning Community Moana
Moana has had a fantastic time celebrating St Patrick's Day. Moana learners are able to retell the story of St Patrick and are able to identify the special symbols associated with St Patrick's Day. They had lots of fun participating in hands-on activities such as cookie decorating and creating shamrock artwork. It was great to see learners building connections between the Shamrock and The Trinity.
Learning Community Maunga
On Wednesday 15 March, some learners from Learning Community Maunga went to the Botanic Gardens for the Eye of Nature programme. We learnt about what belongs in a clean stream and we tested our eyesight by looking through tubes of water. The second activity was an obstacle course to learn about a turtle called Yoshi and her adventures in the ocean. The third activity was learning about global warming and rubbish and what lasts a long time in landfills. The final activity was looking at what rubbish was like 700 years back. I enjoyed the last activity the most because it made me very interested in what it was like in the past and how everything came from nature. By Liliana Chang
Learning Community Ngahere
Ngahere learners have been busy preparing and planning for our Holy Week Liturgy. They are looking forward to sharing their  learning with their families during Holy Week. We would like to take this opportunity to invite all our whānau to join our school community in celebrating the Stations of the Cross on 6th March Thursday at 11.30am.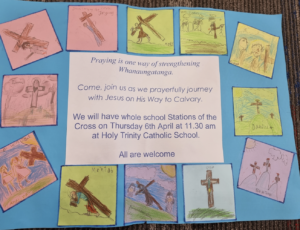 Our Hauora leaders have participated in the Travelwise Programme where they are learning about safety on the roads. 
Curriculum News
Whanaungatanga Transfer Task
Our students, with the support of kaitiaki, are currently working through their transfer tasks to reflect on ways they can inspire whanaungatanga in our community. As disciples of Jesus, our students will draw on their learnings from Whanaungatanga to plan the main events during Holy Week leading to Jesus' death and resurrection. They will be inviting our school community to gather throughout the week in remembrance of this journey and strengthen our whanaungatanga as a school and faith community.
Travelwise Programme
Travelwise is an innovative programme that promotes making school travel safer, healthier and more fun. Travelwise encourages students to increase the use of active travel modes and public transport. We're working with Tracey McClure who is the Travelwise Community Transport Co-ordinator to help plan events that will motivate students to walk, bike, scooter, etc. Tracey is helping us to make sure that students are safe when they come in and out of school.
During our time with Tracey, we checked the speed of different cars driving past our school using a speed gun. This helped us to see whether they were driving past the speed limit or at the right speed. Afterwards, we went inside and created flyers promoting safe driving. We found that approximately 33% of drivers were over-speeding during a quiet time of the day. This is not safe for our school community!
We practiced scooter skills and helmet safety during our learning session. We have learnt what to do in certain situations if you're riding a scooter. I have learned that the Travelwise programme focuses on keeping students safe and the community happy. We would like to take an opportunity to teach these skills to our friends and whānau at Holy Trinity. 
After learning about Travelwise, I want to continue to help support the programme because it will influence people to make traveling more secure for students using active travel modes. I can use this knowledge to plan fun Travelwise events at school to encourage my school community to travel safely. 
by Skylar Vibal – Hauora Leader
Learning Community Ngahere.
Sports News
Touch Tournament Reflections …
On the 14th of March 2023, a group of Holy Trinity students were given the opportunity to participate in a touch tournament. This tournament included different diverse schools. This event had student's adrenaline pumping and hearts beating rapidly. I had learnt a lot about whanaungatanga during this time because to win the game we had to communicate and connect with each other and I had also made new friends because I communicated and bonded with them. This has also impacted on my leadership and I had the most fun during that day. 
by Sebastiano Simonetti
LC Ngahere
On the 14th of March, I was at the Inter School Touch Tournament. There were 23 other schools. I was playing as a sub for our team. Although I wasn't playing as much as others on the team, it was interesting seeing how the game unfolded and how different scenarios unfolded in our games. I enjoyed playing as a sub and being able to enjoy how it feels to play the game – for example, how people move on the field, how they pass the ball and how the plays work out. This was a good experience for me and the team and now we can improve on our skills.
Gabriel Benliro
LC Ngahere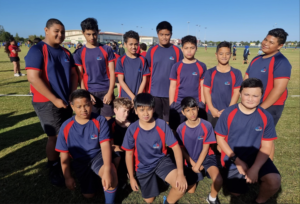 Saturday Netball
Kia ora koutou HTCPS Netball Community!
It's that exciting time of year where we start preparing for the Netball season for 2023.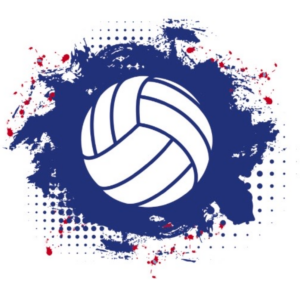 If you are interested in your child(ren) playing netball, please register them using the link below. If you are also interested to help with your child's netball team, please also register your details and select the 'Star Helper' or 'Volunteer' option for yourself. If you have never helped or coached before, don't worry as you will attend a compulsory Future Ferns workshop led by Papakura Netball Centre (PNC) – there you will learn everything you need to know
Link to register: https://www.sporty.co.nz/viewform/190326
Registering your child does not confirm them playing this season. It allows me to see if there is enough children and parent help to make enough Teams to enter for the season. Last year, sadly we had to cancel 4 Teams due to the lack of Parent Help – so please, if you can help or have any questions, just let me know
Future Fern Netball Fees
Year 1 – 6 – $120 per child
Year 7 & 8 – $140 per child
Please wait for my confirmation of your child in a Team before you pay.
Fees due Thursday 30th March 2023. Your child's fees must be paid for them to play, no exceptions. You can pay Fees at the School Office or through online banking to Holy Trinity Catholic Primary. If online banking, please reference 'Netball' and your child's name
Future Fern Season and Key Dates
Year 1 – 4: Saturday 6th May – Saturday 29th July 2023
Year 5 – 8: Saturday 1st April – Saturday 26th August 2023
Year 5 – 8: Grading Day – Saturday 1st April 2023
Year 5 – 8: President's Day – Saturday 29th April 2023
If you have any questions, feel free to contact me.
Ngā mihi,
Leah-Jane Smith
Parent Volunteer – 021 2234511
ljsmith769@gmail.com
School Enrolments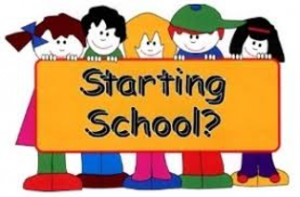 It is really important that we know of all younger brothers and sisters that are commencing schooling with us in 2024. If you have little ones at home, please contact the school office to make a time to meet with Miss Lindstrom so they can be assured of a placement at Holy Trinity School for when they are ready to start in 2024.
School enrolments for 2024 CLOSE by 31st August 2023 and
placements for 2024 will be confirmed by 30th September 2023.
Reminders!
Complaints Policy and Procedures
It is always good practice each year to inform parents and community of the appropriate channel to share concerns or worries. Schools are required to have a Complaints Policy in place.  The purpose is to provide clear guidelines for the school community in raising and resolving concerns and complaints.
These procedures enable us to:
maintain the best learning environment for our students
resolve matters of concern early, if possible
respond to feedback and concerns constructively
deal with 

complaints

 fairly, effectively, and promptly
take into account individual circumstances
maintain confidentiality
preserve school/community relationships and communication
monitor and record 

complaints

 and concerns about student safety.
Most complaints can be resolved informally by discussions with the people concerned.
Discuss the issue with the right person.
Work towards a resolution.
School policies and procedures are held online with SchoolDocs. Access to this information is shared with you at each student enrolment interview. Please click on the link for our school's Complaints process  Concerns Complaints Flowchart (18)
Wellness Check!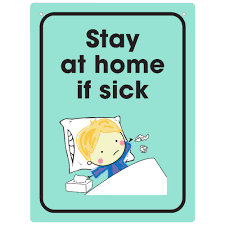 Please keep the children at home for at least 48 hours if they are sick … have been vomiting, complaining of a sore stomach or a headache. This is NZ Health-line advice and means that the children have time to fully recover from their illness and  prevents the illness from spreading to other children and staff. Thank you for your understanding of this matter.
Upcoming School Events
School Liturgy and Assembly – led by Learning Community Whenua 
Monday 27th March @ 9:30am in Taamaua/school hall
PTFA Twilight Market Planning Meeting
Tuesday 28th March @ 7:00pm in the school staffroom
Priest's Visits to Learning Communities – Fr James Mulligan
Wednesday 29th March 
Year 7/8 Vaccinations on site
Thursday 30th March
HOLY WEEK
Monday 3rd April – Thursday 6th April
Holy Week School Liturgy – Passion/Palm Sunday
Monday 3rd April @ 9:30am in Taamaua/school hall
Holy Week School Liturgy – Washing of the Feet
Tuesday 4th April @ 9:30am in Taamaua/school hall

Holy Week School Liturgy – The Last Supper
Wednesday 5th April @ 9:30am in Taamaua/school hall
Holy Week School Liturgy – Stations of the Cross
Thursday 6th April @ 11:30am – 1:00pm – outside area.
Term 1 Concludes at 2:50pm 
Thursday 6th April
Term 2 Commences – TEACHER ONLY DAY
Monday 24th April
ANZAC Day – Public Holiday – school closed
Tuesday 25th April
Term 2 Commences for the Children 
Wednesday 26th April
Upcoming Community Events
Sacred Heart College Fair
We warmly invite friends and families to the upcoming SHC Fair. This fantastic day includes delicious food stalls of all varieties, new and preloved items, a silent auction, the best quick-fire raffle in town, cafes, cake stalls, games for the kids, and much more. A great day out for the family. All welcome.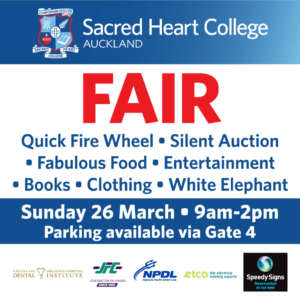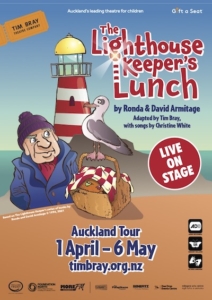 Print or Save this Post