Greetings, Kia ora, Kia orana, Talofa, Mālō e lelei,  Namaste, Ni Hao, Bula, Hola, Kumusta
Dear Families
It is so wonderful to have our Holy Trinity whānau – students, families and staff back at school! THANK YOU for the way you are abiding by the Alert Level 2 guidelines and restrictions. We very much appreciate the patient and considerate way our families are following the protocols for the beginning and end of the school day.  The traffic flow of vehicles has greatly improved because parents/family members are driving into the school carpark and doing the full circuit before entering the bus bay "drop off/pick up" area. Waiting until reaching the bus bay area for children to get in or out of vehicles, means that everyone is being kept safe and pedestrians are not wandering through the parked car area. Let's keep this going to ensure a smooth and safe drop off and pick up time for all!
It has been a wonderful week of celebration at school with Samoan Language Week. There has been much learning and sharing about the samoan language, culture and identity. We have all been enriched by the participation of our families, students and staff and through the fantastic contributions made to each of the activities across the week. Thank you whānau!
Feast of the Most Holy Trinity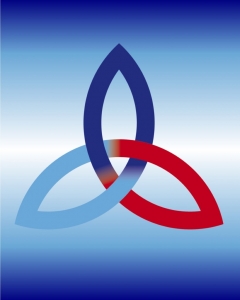 We celebrate a special day in the Church's liturgical calendar on Sunday 7th June – the Feast of the Most Holy Trinity. Our school being named Holy Trinity, means we have the privilege of knowing, understanding and showing what it is to be a "trinity" person in today's world.
The Holy Trinity is a GREAT MYSTERY! God is so great that we are not really capable of understanding who he really is by ourselves. To help us, God has been revealing more and more about himself to us over thousands of years. In the Old Testament, God the Father spoke to us through many people and amazing events. When he knew we were ready, God revealed himself in the person of His Son, Jesus. Jesus helped us to understand a little more about this great mystery. Jesus then sent the Holy Spirit to be with us so we are reminded that God is always with us. (from Fr Percy, St Anne's Parish)
The Trinity is all about love, relationships and unity. We are so blessed to be named Holy Trinity Catholic Primary School and to have this wondrous gift of Holy Trinity as our model of how to be as community and as family – learning ka ako, loving ka aroha and serving ka manaaki in the name of the Father and the Son and the Holy Spirit!
This week, your family/whānau may like to prayer our Holy Trinity school karakia together, for your evening prayer time …
HOLY TRINITY CATHOLIC PRIMARY SCHOOL KARAKIA
Holy Trinity, united in perfect love.  
God the Father, God the Son and God the Holy Spirit. 
Te Matua, Father you are the creator of all things.  Help us to be the kaitiaki of all life in us and around us.
Hehu Karaiti, Jesus you came and promised us fullness of life.  Teach us to follow your footsteps and live in aroha and whakapono in all that we do and say.
Te Wairua Tapu, Holy Spirit, you are our Advocate and guide.  Gift us with your wisdom and understanding so that we may recognise your constant presence in our everyday lives.
May the Holy Trinity unite us in perfect love and walk with us on our journey.  Let us learn, love and serve in the name of the Father, the Son and the Holy Spirit.
Amen
DRS Report
Laudato Si – 5th Year Anniversary
Thursday 21st May was the 5th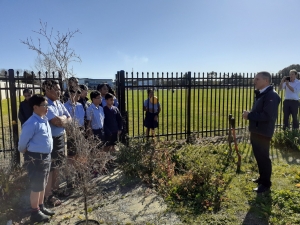 Year Anniversary of a popular letter published by Pope Francis – Laudato Si – Care for our common home . It encourages us to look at our planet and recognise the harm we have caused and to do more to protect it and to keep safe for our own future and that of the next generation.
Auxillary Bishop Michael Gielan and Michael Butler from the Catholic Diocese of Auckland office, brought with them native 5 native Kahikatiea trees to plant in a small section at the back of our school. This was not only to celebrate the 5 year anniversary, but to promote a special prayer that was said on Ascension Sunday for us all, and for our wonderful planet.
Many thanks to students from Learning Communities Maunga and Moana who participated in the planting ceremony and for getting their hands dirty with our new Auxillary Bishop of Auckland!
TRINITY FEAST WEEK CELEBRATION
This coming week our school will be celebrating our special Holy Trinity Week. There will be lots of learning and hands-on experiences in Learning Communities to explore the special character of the Trinity, as well as fun challenges in our Whānau groups. We'll end our week's celebration with a whole school Mufti Day on Friday 5 June where we dress up in our school colours – blue and red. We look forward to sharing these celebrations with our Trinity whānau.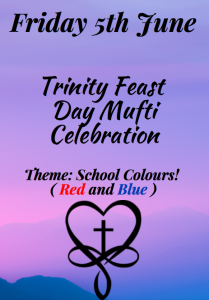 Parish News
Please click on the attached link to receive detailed information about the Reopening of St Mary's Parish, Papakura as well as information on Mass Times …  St Mary's Parish Level 2 CHURCH Return
Health and Safety
DRILLS, DRILLS, DRILLS, DRILLS!
As part of our Health & Safety procedures, we are required to run emergency drills to ensure that if such an emergency does arise, our students will know exactly what to do in the event of an Earthquake or Fire.
With Covid-19 taking centre stage and time away from school, we're going to run these drills for an unannounced time and at some stage next week.
When we do practise these drills, feel free to engage your child in a conversation about the importance of listening to their Kaitiaki and moving together rather than alone. It was only a year ago that we were all saying 'No it won't happen here in NZ' – but now that has completely changed.
Your support is always appreciated. Any concerns, queries or questions, feel free to make contact with Andrew Malele amalele@holytrinity.school.nz
Learning Community News
Learning Community Awa
Learning Community Awa has had a wonderful start back to school. Our students were very excited to be back at school to see their friends and share stories about their experiences at home during lockdown. The biggest excitement of all was exploring and playing on the new playground.
In the first week, the kaitiaki planned activities to help ease the students back to school. We kept them busy with making their own pizzas, creating an autumn tree with describing words and making play dough. The students and kaitiaki wore funky hats or headbands to school so we could have a bit of a laugh. It's great to be back at school!
Learning Community Moana
These last two weeks, students of Moana have been busy reacquainting themselves and nurturing their relationships with each other and their Kaitiaki.
This week of Samoan Language week, our students have gone beyond their comfort zones and have stepped up in a variety of ways – leading activities from the front, participating in a traditional dance, speaking another language other than their own – surprising not only their Kaitiaki, but themselves as well! It is great to see them blossom and flourish and to have them back again.
Vaiaso o le Gagana Samoa-Samoan Language Week
Talofa lava! 
Vaiaso o le gagana Samoa-Samoan Language Week has been a celebration of Samoan culture and language.
The theme for Samoa Language week is 'Tapena sou ōso mo lau malaga' which in English means 'Prepare yourself a gift for your travels'.
This year's theme urges us to prepare for the journey ahead. It highlights the need to honour, respect and share the gifts of our life's journey.
On Monday we braved the weather and wore our puletasi, i'e faitaga and island shirts. It was very cold but it was great to add some colour around the school. The students and staff have woven Samoan language into prayers, RE and the curriculum.
It was wonderful to see the Cultural Leadership Team, students mainly from Learning Community Moana, organising activities throughout the week, focussed around learning the Samoan language everyday over the intercom at 12.45pm. The activities included reading a book in Samoan, learning numbers and basic classroom phrases, as well as greeting someone in Samoan. 
On Thursday we held a Fa'afiafiaga where various groups from the Learning Communities shared a drama about Sina and the eel, some performed a siva and a sāsā, and we had students from Maunga and Whenua teaching us the Samoan alphabet and numbers. Also, Emerziana and Georgina Lautua performed a beautiful Samoan siva. Congratulations to everyone who performed. It was a lovely way to finish and highlight Vaiaso o le gagana Samoa. Ia faamanuia le Atua ia outou uma – God bless everyone.
Thank you Papakura Marae!
On Thursday 28 May, Miss Lindstrom, Mr. Malele with Tiana Te Wake, Lucas and Chase Hancy-Scott and Trez Bishop visited Papakura Marae to thank them in person, for their amazing mahi and generosity for their work for the local community.
During Lockdown Level 3, the Papakura Marae team donated 200 boxes of goods that included Hygiene, sanitary and disinfectant products as well as other household cleaning items. When school was reopened at Level 2, it was these same boxes that were distributed to our families.
We presented to Tony Kake, cards of thanks that were put together by our own students and some of our families.
Thanks to Mr. Kake for his constant support, and to the whole team and whānau of Papakura Marae for their generosity and service to our community.
Reminders!
Pick Up and Drop Off Guidelines for Family
Please follow the direction of the staff members who will be present at the front of the school. SCHOOL WILL ONLY OPEN FROM 8:30am – 3:00pm. Children must not be on site before or after the stated times.
Gates will ONLY open from 8.30am for student entry. Please drop the children in the bus bay area, for them to walk into the school independently. The BUS BAY AREA is a 'drop off zone' ONLY– please do not park in this area at all.
Parents are requested to STAY in YOUR CAR and NOT to come onto the school site unless there is a real need
If you need to enter the school site, at the beginning or end of the day, you will be directed through to the Reception Area to register name and time in, time out. This process must be done each time you come on site.
At the end of the day … remain in your cars for pick up time as designated staff will bring children to the cars.
Next week, Tuesday 2-Friday June, the End of Day time will be from 2:30pm
However from Monday 8 June, the End of Day time will be from 2:50pm 
Thanks you for your support in abiding by these guidelines.
NZ Uniforms – School Stockist
All students need to be in their winter school uniform now. This includes either a long sleeved shirt or blouse (it is still optional to wear a short sleeve shirt/blouse) AND navy school socks and black school shoes. School jerseys/jumpers and school jackets may also be worn now that the weather is cooler.
Information for our school uniform stockist is … NZ Uniforms 20/5 Lambie Drive, Manukau ph: 09 9506747 email: manukau@nzuniforms.com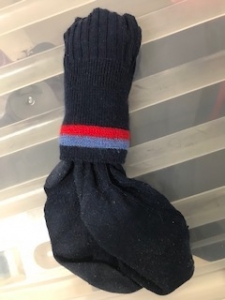 NZ Uniforms has plenty of Holy Trinity school socks in stock. Please make sure that your child is wearing the correct school uniform sock.
Wearing the correct school uniform gives the children a sense of pride and belonging and contributes to our school-wide Gospel value of unity/kotahitanga!
Upcoming School Events
School CLOSED – Queen's Birthday Weekend
Monday 1 June
School Liturgy and Assembly – led by Learning Community Whenua – PRE-RECORDED
Tuesday 2 June

Holy Trinity Feast Week of Activities
Tuesday 2 – Friday 5 June
Holy Trinity Mufti Day
Friday 5 June
Holy Trinity Liturgy -PRE-RECORDED @12:30pm
Friday 5 June
End of school day returns to 2:50pm
Monday 8 June
Term 2 concludes
Friday 3rd July
Term 3 commences
Monday 20th July

Print or Save this Post