Greetings, Kia ora, Kia orana, Talofa, Mālō e lelei,  Namaste, Ni Hao, Bula, Hola, Kumusta
Dear Families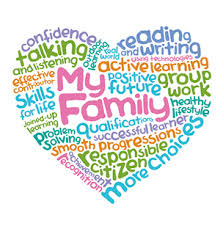 We are very excited to be welcoming you back to school this coming Monday 18th May. It seems to have been such a long time since we have all been together so we are looking forward to reconnecting with the children, our families and all of our staff. Expect to see BIG warm smiles and loving hearts, faces and words of encouragement as we all settle back into the 'new norm' of being at school with some different guidelines and practices in place.
We warmly welcome Adrian, Angelila, Avery, Benson and their families to our wider Holy Trinity school family. These children will be commencing at our school during the next few weeks.
Once again, on behalf of our staff, I want to express our deep appreciation to you our families – our mums and dads, our grandparents, our aunts and uncles and cousins for the incredible way you have supported each of your little ones with their distance/home learning. It has been a huge privilege to see the wonderful family learning activities and experiences that you have shared. We have loved working with you in partnership to ensure "learning" has continued at home in a way that has best met the needs of your child and your family situation. We are so proud of you and what you have achieved! Let's not lose this great partnership!
We have much to be thankful for and so we pray …
Encouraging Spirit
For today, we give thanks
For loved ones in our bubble, we give thanks
For help with distance/home learning, we give thanks
For enough variety to keep us content, we give thanks
For all the life in our neighbourhood, we give thanks
For the land around us, we give thanks
For health and safety, we give thanks
For relief from tension, we give thanks
For whatever the new week will bring, we give thanks with full hearts!
(source: Ann Gilroy rsj in Lockdown reflections- adapted)
Education Review Office Report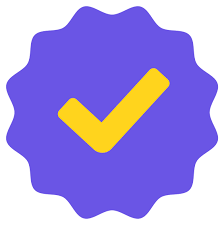 We are very pleased to be able to share with you our confirmed Education Review Office Report (ERO). Our school review took place in Week 3 of Term 1 with a team of reviewers on site with us for that week. It was wonderful to be able to share the school's journey with the reviewers who appreciated the many steps and actions we have taken to create and build a new school community, here in the heart of Takanini! Together, we can take great pride in the outcome of our report which states we are "well placed" to continue providing excellent education for our families.
The summary comments are …
On the basis of the findings of this review, ERO's overall evaluation judgement of Holy Trinity Catholic Primary School's performance in achieving valued outcomes for its students is: Well placed
Key strengths of the school – for sustained improvement and future learner success, the school can draw on existing strengths in:
• an inclusive learning environment that promotes students' strong sense of belonging
• effective leadership that builds collective responsibility through collaboratively enacting the school's vision and values
• trustees who actively represent and serve the school
• educationally powerful connections with whānau that engage them in reciprocal learning-centred relationships to promote success for their children.
Next steps – for sustained improvement and future learner success, priorities for further development are in:
• increasing opportunities for students to lead their learning
• extending the use of children's learning maps to deepen individualised learning, achievement and progress
• leaders collating and analysing achievement information to provide greater clarity around patterns and trends for groups of students whose learning needs accelerating.
Please read the full report here 743 Holy Trinity Catholic Primary School Confirmed Evaluation Review Report (1)
DRS Report
Blessing of the Playground
Father Peter Murphy and Father James Mulligan of St Mary's Parish Papakura, made a special stop at school on Thursday 14th May to bless our new junior adventure playground. It was a special moment, especially for the students and staff who witnessed such a lovely blessing. We give thanks for all the people who were involved in the planning and construction and we look forward to seeing our children play and explore their new playground.
Once we are able to have our community on site, we will hold a more formal blessing of our playground with a liturgy of thanks for all those who made it possible.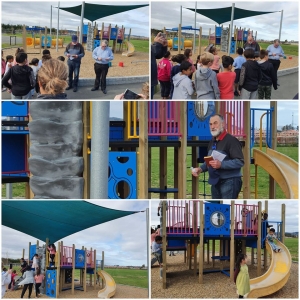 Ascension of the Lord
On Sunday 24th May, we celebrate the Feast of the Ascension of the Lord. It is the time when we remember Jesus returning to his Father when he completed his mission here on earth. The Ascension is meaningful to Christians as it signifies the end of Jesus' work on Earth and allows him to prepare a place for his followers in heaven. Jesus promised the disciples that they would soon receive the Holy Spirit, and asked them to remain in Jerusalem until the Spirit had come.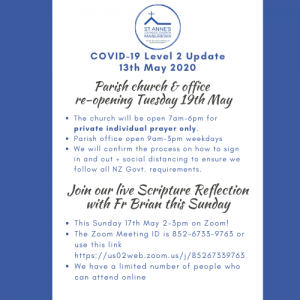 Returning to School Preparation
WOW! Mr Pukapuka has been busy! Have a look at this great video clip of Mr Pukapuka sharing about some of the ways you can practise getting ready for school at home, over this weekend. Then you'll be really ready to go on Monday morning!
Some ideas to get the family started for school days are  …
… early nights, early wake ups, getting school bags, lunchboxes and drink bottles ready, having our school winter uniform sorted, talking with the children about seeing their friends and teachers again etc.
This will really help in preparing for Monday's return to school.
This is another great social story that will be helpful for families to share together at home in preparation for returning to school. Click on the link to read the story together with your child
And here is another excellent 'tip sheet' for parents from the Ministry of Education on supporting children in returning to school
Tip sheet 2 Supporting yourself and your children during transitions
Papakura Marae Hygiene Gift Box

This week, we were thrilled to receive a Hygiene Gift Box for each of our whānau from our friends at Papakura Marae. We are overwhelmed by this generosity and sincerely THANK the Marae and their volunteers for this fantastic support of our school community. We will try and distribute these boxes to each of our families this coming week. They are too large for the children to carry so we will endeavour to get them to your cars so you can make good use of the supplies at home as soon as possible. We are asking our Holy Trinity whānau to write a note of thanks to Papakura Marae folk which we will collect and send in to them as one big AROHA from Holy Trinity School! Ka mau te wehi Papakura Marae whānau – you are awesome!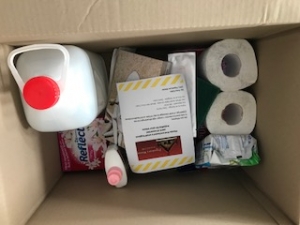 Curriculum Teaching and Learning Programmes
We are looking forward to seeing everyone back on Monday. We have been amazed with the photos and videos of the learning experiences that have happened at home during the lockdown period!
This first few weeks of school will be a special time for students to reconnect with school, their kaitiaki/teachers and routines. Yesterday our kaitiaki/teachers met to plan learning activities for the first week to help students ease 'gently' back into their school day.
From our reading and sharing of advice from research and the educational experts, we know that this next fortnight cannot be a "straight back into school time". Therefore our curriculum programme will have a BIG component of Health & Well Being learning tasks. Learning happens in a range of ways and so the activities that we have planned for, will focus around well being, literacy through whole class shared books and the Arts curriculum. This means that for the first two weeks, the students will not be bringing home an instructional book for home reading but they can choose a book that they have read before to enjoy reading at home again.
We know the students will enjoy this gentle way of easing into the curriculum as it is evident through the photos and video recordings that you have shared with school already.
See you all back next week!
Health & WellBeing!
Kia Ora from the Hauora/Health & WellBeing Team
As we head back to school in Alert Level 2, it's important to understand and talk about how we feel. There are many different emotions like being happy, nervous or worried.
You feel different emotions because of what you see, hear, remember, and do.
How many different emotions you can name with your whānau?
Talk with your whānau about how you feel about coming back to school and why you feel that way.
It's important to remember all feelings are valid.
You can find out more about talking about emotions at: https://sparklers.org.nz/parenting/chitter-chatter/
Alert Level 2 Guidelines for School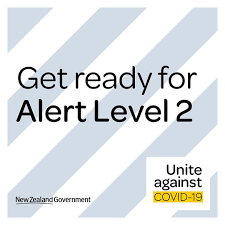 The Ministry of Health and Ministry of Education have set out some very clear guidelines for schools to follow. This information is shared below.
1. Schools are safe environments for children, young people and staff.
2. Children are encouraged to attend school unless they are unwell (then they must remain at home) or if they have an underlying health condition that prevents them from being at school. If for some reason, your child is not attending school from Monday, please email the school office office@holytrinity.school.nz to confirm their absence from school.
3. SKIDS, our Before and After School Care providers will also begin to operate from Monday 18th May. Please contact Rose King ph: 021 289 9939 for further information.
5. There are no physical distancing requirements for schools but children and staff must not breathe on or touch others. Everyone will be encouraged to avoid getting in another's 'moist breath' zone. Where practicable, we will apply the 1 metre apart guide.
6. It is vital that we continue with good hygiene practices of coughing/sneezing into elbows, regular hand washing/sanitising, regular cleaning of hard surfaces and equipment. Sanitiser will be available for use in all entrance/exit ways with disinfectant and paper towels being used for regular wipe down of any hard surfaces and shared equipment, materials and resources.
7. Schools are required to keep track of all people on our grounds and in the school buildings for contact tracing purposes. All Visitors or Contractors to the school site will need to sign in at the Reception Area and follow school protocols. This includes parents or family members who come onto the school site. Therefore we strongly recommend that parents DO NOT come onto the school site unless there is an absolute need to. 
8. Parents are requested to remain in their car for drop off time and for pick up time. 
9. If parents or family members do need to be on site then you must report to the Reception Area first for registration. Once you are on site, you must remain in the Reception Area or verandah areas only. No parents will be able to enter the Learning Communities. Parents/family members must keep 2m apart from unknown people and 1m apart where practicable.
10. School hours will be from 8:30am to 3:00pm. Gates will ONLY open from 8.30am for student entry and students must be picked up by 3:00pm.
Although these may seem very restrictive guidelines, it is to ensure everyone feels safe, healthy and cared for at school.
Pick Up and Drop Off Guidelines for Family
Please follow the direction of the staff/Board members who will be present at the front of the school. SCHOOL WILL ONLY OPEN FROM 8:30am – 3:00pm. Children must not be on site before or after the stated times.
SKIDS Before School Care is available for those children who need to be at school earlier than 8:30am. Please make arrangements through SKIDS – contact Rose King ph: 021 289 9939
Gates will ONLY open from 8.30am for student entry. Please drop the children in the bus bay area, for them to walk into the school independently. The BUS BAY AREA is the ONLY 'drop off zone' – please do not park in this area at all.
Parents are requested to STAY in YOUR CAR and NOT to come onto the school site unless there is a real need
If you need to enter the school site, at the beginning or end of the day, you will be directed through to the Reception Area to register name and time in, time out. This process must be done each time you come on site. If needing to be on the school site, keep 2m apart from other people
At the end of the day … remain in your cars for pick up time as designated staff will bring children to the cars. Children can be collected from school at the following times. Older siblings will be able to leave with the youngest child.
End of Day times:
2:30pm Learning Communities Ngahere and Whenua
2:40pm Learning Community Awa
2:50pm Learning Communities Maunga and Moana
If on site, you MUST remain ONLY in the Reception Area or verandah/deck areas. Parents/family members are NOT to enter any of the Learning Communities.
Thanks you for your support in abiding by these guidelines.
Statement for Catholic School Families in Response

to the Challenges Encountered by Covid-19 
Kia ora koutou nga Whanau Katorika 
The New Zealand Catholic Bishops have been mindful of the challenges many people in our community are facing during the Covid-19 crisis. We understand the anxiety for parents and caregivers created by a loss of employment or other challenges of caring for children at home during this lockdown. 
Our schools offer strong pastoral care, which is the foundation of our Catholic faith and is particularly important in times of upheaval, such as when many educators and students are having to adjust to distance learning. We want to ensure all those currently enrolled in Catholic schools are able to remain at their school of choice. 
The New Zealand Catholic Education Office and our Diocesan leadership teams have given Catholic school Proprietors an appraisal of the challenges parents are likely to face as a result of the impacts of Covid-19. 
They are looking at ways we can support the cost of attendance dues for parents who have a loss of income or other hardship. Work is being done to ensure that our community is supported during this period, and that students are not further challenged by a need to look for a new school as a result of financial hardship. 
Families are encouraged to contact their diocese's schools/education office. 
We remember Catholic school families, staff and communities in our prayers, and commend you all for your creative and faith-filled response during this time. We are inspired by how schools have worked to ensure the continued learning and spiritual formation of students. 
We look forward to continuing to support our community to remain part of the Catholic Education family. 
God Bless, 
✠ Patrick Dunn, Bishop of Auckland and NZCBC President 
✠ John Dew, Cardinal Archbishop of Wellington, NZCBC Vice President 
✠ Stephen Lowe, Bishop of Hamilton and NZCBC Secretary 
✠ Paul Martin SM, Bishop of Christchurch 
✠ Michael Dooley, Bishop of Dunedin 
✠ Michael Gielen, Auxiliary Bishop of Auckland 
Attendance Dues
Recently, you will have received the Term 2 Attendance Dues invoice which is a compulsory payment as part of enrolment at a Catholic School.
 Due to the circumstances we find ourselves in with the Covid-19 pandemic, the Catholic Diocese of Auckland has offered assistance with the payment of Attendance Dues for families that need help because of their own reduced hours or loss of jobs and/or income.
SCHOOL ATTENDANCE DUES COVID-19 FINANCIAL ASSISTANCE from TERM 2 ONLY
Financial assistance is available to assist families who may need financial support as a result of the Covid-19 Virus with the payment of 2020 Attendance Dues for students attending Catholic schools in Auckland Diocese, both primary and secondary.
 Families facing financial difficulties can contact their school office, their Parish Priest or the Revenue Manager on 09-360-3069 at the Catholic Diocese of Auckland for further information. 
Application forms for this assistance are available from school and parish offices, or can be down-loaded from the Catholic Diocese of Auckland Website: https://www.aucklandcatholic.org.nz/catholic-schools/covid-19-attendance-dues-assistance/
Please see Jennifer Quarterman (Office Administrator) or Peta Lindstrom (Principal) in the strictest confidence if you have any concerns or questions regarding the payment of Attendance Dues.  We will be able to support you with the process for Financial Assistance if required.
Reminders!
NZ Uniforms – School Stockist
All students need to be in their winter school uniform from Monday 18th May. This includes either a long sleeved shirt or blouse (it is still optional to wear a short sleeve shirt/blouse) AND navy school socks and black school shoes. School jerseys/jumpers and school jackets may also be worn now that the weather is cooler.
Information for our school uniform stockist is below …
NZ Uniforms 20/5 Lambie Drive, Manukau ph: 09 9506747 email: manukau@nzuniforms.com
Upcoming School Events
School Fully Reopens
Monday 18th May
Board of Trustees Monthly Meeting
Wednesday 27th May 6:00pm in the Staffroom
Term 2 concludes
Friday 3rd July
Term 3 commences
Monday 20th July

Print or Save this Post