Greetings, Kia ora, Kia orana, Talofa, Mālō e lelei,  Namaste, Ni Hao, Bula, Hola, Kumusta
Dear Families
Recently, we had a number of new signage pieces and artworks installed at school. It has added a lovely look to our school environment as it especially expresses who we are and what we are on about! Our school vision statement is prominently displayed on the back of Taamaua/Hall and also sits as a "beacon" to all who enter through our Reception doors, of what we are called to do here at Holy Trinity Catholic Primary School … learn ka ako, love ka aroha and serve ka manaaki in the name of the Father and the Son and the Holy Spirit. As you read through our school newsletter, hopefully you will see and feel this reflected in the news items shared!
Special thanks to Rosaline Petelo, Paea Nau, Noah Seluone, Simone Gertos, P'torio Taimalie, Zaria Witbooi, Leilani Monga Linkin Karena, Annia Ramirez and Britney Silva for their beautiful Aotearoa Strips (artworks) which they created in class with Mr Williams and Mrs Notley. When you look carefully, you are able to notice the beautiful patterns and icons representative of our school cultures. These are wonderful taonga/treasures for our whole school community to enjoy!
2020 Staffing News
We are very pleased to be able to announce 2020 staffing appointments for our recently advertised positions.
Mr Andrew Malele has been appointed to the position of Deputy Principal, commencing with us in January 2020. Andrew is a St Anne's Parish parishioner and is currently teaching and leading at Manurewa Central School. Andrew has vast experience and many strengths in working with children and young people so we are delighted to welcome him on board to the Holy Trinity Team.
We will also be welcoming Heidi Perese, from St John, the Evangelist Catholic School in Otara. Heidi is a very experienced teacher and brings many gifts, talents and strengths from her time in catholic education. Another great addition to our teaching team!
We are also pleased to congratulate Mrs Mavis Chung, who continues with us next year in a permanent teaching position. Mavis has been a great asset to our teaching team this year and we know we will all continue to benefit from Mavis' love of art through the wonderful liturgical displays in Taamaua. Thank you Mavis!
Proposed Catholic Secondary School in Drury
The Ministry of Education and the Catholic Diocese of Auckland are in the process of entering negotiations to establish a Year 7-13 Catholic secondary school in Burt Rd, Drury, to be known as St Ignatius of Loyola Catholic College.
It is proposed that the school would open in 2023 with Years 7, 8 and 9 students and then grow all year levels progressively until 2028. The school would provide Catholic secondary education for young people in the Takanini, Papakura and Franklin Counties areas.
Holy Trinity Catholic Primary School will be a contributing school to this new Catholic Secondary School. This means that preference students attending Holy Trinity, will be given FIRST priority of enrolment at the new Catholic Secondary School.
As the proposed new school will be starting at Year 7, the Proprietor proposes to decapitate three existing Year 1-8 Catholic primary schools which will feed into the proposed secondary school at Year 7, and make them Years 1-6 schools. Holy Trinity Catholic Primary School is one of these schools. This would mean that with the proposed opening of the new school being 2023, Holy Trinity would cease to have Year 7 and 8 students from the end of the 2022 school year.
At this stage this is all the information we have to hand, but we will keep our community well informed regarding the development of the proposed school.
Please go to the following link to complete the survey and forward your response back to school by next Friday 22 November  – Survey Link
Philip Cortesi
Chairperson
Board of Trustees
DRS Report
Anointing of the Sick Mass
Next week, on Wednesday 20th November, some of our students from Learning Communities Moana and Awa will be attending the Anointing of the Sick Mass at St Anne's Parish in Manurewa. Through the Anointing of the Sick sacrament, we receive the grace of peace and courage when we are sick or frail from old age. Our students will be companions to the parishioners of St Anne's Church and be there to witness the healing Sacrament of Anointing of the Sick. This is a great way for our students to be more involved with our St Anne's Parish and to participate in the Mass.

Reconciliation
On Thursday 28th November, some of our senior students from Learning Communities Moana and Maunga will be participating in Reconciliation which will be held in Taamaua (school hall) and led by Father Peter Murphy of St Mary's  Parish, Papakura. The Sacrament of Penance/Reconciliation allows people to experience the forgiveness of Christ and strengthen our personal relationship with God/Te Atua by changing our lives to live the way Jesus has taught us through the Gospel stories.
Community Dinner
We are "calling out" to any of our family/whānau who would like to volunteer to help out at the Community Dinner held at the Anglican Church Hall in Papakura on Tuesday 26th November. It will be from 6:00pm to 6:45pm. Just drop by at the office and leave your name and phone number and we'll get in contact with you. Thank you in advance.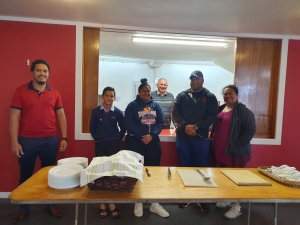 St Mary's Parish Sacramental Programmes
Enrolments are now open for children aged 8years (year 4) and up to prepare for the Sacraments of Reconciliation, Confirmation and First Holy Communion. Forms and information are available in the school office or by emailing Barbara Lee     lee.barb27@yahoo.co    ph: 0274761419
Priest Visits
This week, we had Father James Mulligan of St Mary's Parish, Papakura, visit our Learning Communities. In Learning Community Moana, Fr James talked about the Sacraments and how special each one was. The Sacraments are a way for us to encounter the presence of the Risen Jesus in our own personal way. We talked about the children from our school who recently received the Sacrament of Baptism and that it was an exciting start of a faith journey. Our students also shared with Fr James their involvement with Anointing of the Sick Mass and Reconciliation coming up. We thank Fr James for spending time with our children and sharing his knowledge of the Sacraments with us.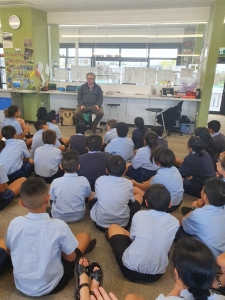 Education Review Office Visit
To complete our year we have an ERO Review (Education Review Office) – this means having external auditors on site with us from Monday 2nd December to Thursday 5th December. This is our time to 'shine' and to 'share' our school's journey through this establishment phase. We will be presenting and sharing with the ERO Review Team aspects of our school's curriculum design, responsive curriculum, student achievement data, noting trends/patterns, strengths and areas of improvement, equity and excellence, learning communities in action, further developments for our school and the strengths we can draw on going forward. Together with Board members, staff, whānau and students, we can look forward to celebrating our journey with the Review Team! 
End of Year Dates
The end of the year is fast approaching! Please note these important schools dates so that you don't miss out on any of the activities and events leading up to the end of term. We will advise immediately if there are any changes.
Friday 29th November               Orientation Morning for 2020 New Families and Students 9am @ school
Thursday 5th December             Mahi Tahi "Working Together" Parent/Teacher/Student Conferences
1:30pm – 7:30pm
Friday 6th December                 End of Year Mass/Leavers acknowledgement 9am @ school
Monday 9th December              Praise-giving Awards 1:00pm @ school
Wednesday 11th December       Morning Tea for Community/Agency Helpers 10:15am @ school
Thursday 12th December          Family Picnic and Nativity Liturgy celebrations 5pm @ school
Monday 16th December            School closes 1:00pm
Kids for Kids CHOIR
On Wednesday night our students participated in the Kids for Kids Choir held at the Vodafone Centre. It was an amazing celebration of singing and dancing! We thank Mrs Rhode who worked intensively with our students. They were well prepared and ready to sing! 
Congratulations to our amazing Choir and to Mrs Rhode. Finally, thank you to all the parents who were able to take the time to attend the event – we know that it was an enjoyable time for all.
Learning Community News
Learning Community Awa
The students are excited and busy planning their performance tasks to show their understanding, knowledge and skills around Discipleship. Some have chosen to work in small groups, in pairs or individually. Their task is to identify discipleship qualities they show and present it in a creative way to inspire people to be disciples, just as Jesus told parables to inspire others to follow him and to love God.
Learning Community Maunga CAMP!
Next week, Wednesday 20th to Friday 22nd November, Learning Community Maunga  is heading off to Camp Adair in the Hunua Ranges. We are all very excited and can't wait to push ourselves out of our comfort zones.
Students will be participating in a range of outdoor activities like Wall Climbing, Raft Building and Search and Rescue Orienteering.
Learning Community Moana
Our students are really excited to bring joy this Christmas for someone who resides at Tui Village Rest Home in Papakura. This term, Learning Community Moana is reaching out to the residents of Tui Village in Papakura and are working to create a box of Christmas joy by filling in the boxes with their own creative artwork, prayer books, inspiring quotes, origami, sewing and so much more. If you would like to donate some small items to help LC Moana fill up their boxes, please stop by at the office or come on up to our Learning Community. We welcome any and all donations as we love to see the look on the residents' faces when we surprise them on an upcoming visit to Tui Village!
"Give your hands to serve and your hearts to love."
– Blessed Mother Teresa – 
Sports News
School Swimming Programme
A huge thank you to all involved in helping to make our swimming programme in Week 4 a big success. Thank you to Mr Brown for his organisation of the timings and lessons with the Massey Park Pool instructors and personnel. Thank you to the teachers for taking the students to and from school on the bus. Thank you to all our parents for helping students get ready in the morning and to those that came along to help supervise at the pool.
Swimming can be a stressful time, but thanks to everyone doing their part we had a great time full of learning and fun in the water!
Year 7&8 Athletics
Well done to all the Year 7 & 8 athletes who competed at Massey Park last Wednesday. Everyone competed competitively against the best of North Counties and pushed themselves to the limit across multiple track and field events. As the day wore on, Holy Trinity was lucky enough to be rewarded with several students who performed above and beyond their fellow competitors.
These athletes were:
Charlita Agafili (1500 metres )
Rosaline Petelo (Discus)
Noah Seluone (100 metre sprints)
As a result of their specific placings, these athletes have been invited to compete against the other qualifying athletes across all Counties Schools next Monday at Massey Park. We wish them well in their respective events.
Reminders!
School Car-parking
The school carpark has now been reinstated by the housing developers and is in operation again and accessible to families for parking pick up and drop offs. Please only use the designated car-parks. Do not double park or park on the pedestrian crossings. The Bus Bay at the front of the school is to be used by parents/families who are not leaving their vehicles but doing a quick drop off or pick up. This will help with the traffic flow especially at the end of the day!
If the school car-park is full and you need to park and come into school, then please park in the surrounding neighbourhood streets and walk into school.
Please note that from the beginning of the 2020 school year, the school carpark will only be able to be used by staff and visitors.
School Bell Times
Now that the carpark is available, there is no need to collect your child early from school.
The School Bell times are:
8:50am – start of the day
8:50am – 10:30am – Block 1
10:30am – 11:00am morning tea
11:00am – 1:00pm – Block 2
1:00pm – 1:40pm lunch
1:40pm – 2:50pm – Block 3
2:50pm – school concludes
Please collect your child at 2:50pm, unless there are special circumstances.
School Uniform
All children should be in their school summer uniform. This comprises of short sleeved blouse/shirt, a tartan skort for girls, shorts for boys, open toed sandals and a school sunhat. Please name all items of clothing so they can be returned easily to the rightful owner if misplaced!
Healthy Eating
We strongly discourage students from having chewing gum, bubble gum, lollies and chocolate at school. Sometimes children do like to share treats for their birthdays. In this case, everyone is asked to put the treat in their bags and to eat at home so their families are aware of their food for the day.
It's great to see almost everyone, bringing water bottles to school. Ka mau te wehi Holy Trinity! Keep it up, especially during these warmer days.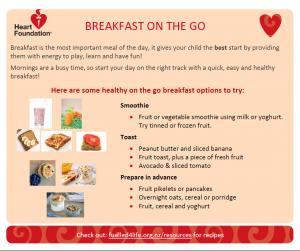 Upcoming School Events
Learning Community Maunga CAMP
Wednesday 21st – Friday 22nd November @ Camp Adair, Hunua
St Anne's Parish, Manurewa Anointing of the Sick Mass
Wednesday 20th November
St Anne's Parish Priests visiting school
Thursday 21st November
Alpha Programme continues
Thursday 21st November in Taamaua/School Hall 6pm-8:30pm
School Assembly and Gathering Liturgy – Learning Community Moana leading
Monday 25th November in Taamaua/School Hall 8:50am
Monthly Board of Trustees Meeting
Monday 25th November 6pm in the staffroom
Community Dinner – Holy Trinity "Hosting"
Tuesday 26th November 6pm @ the Anglican Church Hall, Papakura
Reconciliation for Senior students
Thursday 28th November
Alpha Programme continues
Thursday 28th November in Taamaua/School Hall 6pm-8:30pm
Orientation Morning for 2020 New Families
Friday 29th November 9am – 12:00
Education Review Office Visit
Monday 2nd – Thursday 5th December on site
Diocesan Job Vacancies
Administrative Assistant – to Leader Pastoral Service Group
The Catholic Diocese of Auckland is seeking an administration assistant to the Leader of the Pastoral Services Group.  This is a part-time position of 4 hours Monday – Friday with occasional weekend and evening work.  We are seeking an enthusiastic person with strong digital skills able to respond to a variety of needs and responsibilities.  Applications close 26 November 4.00pm.
To view the full advertisement and position description for the above role, please visit our website www.aucklandcatholic.org.nz under Administration and staff vacancies.
Community Information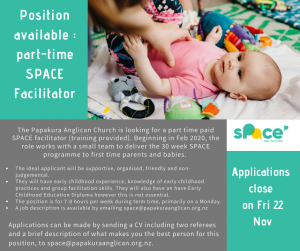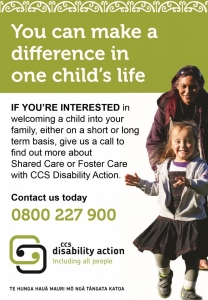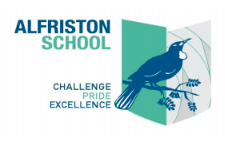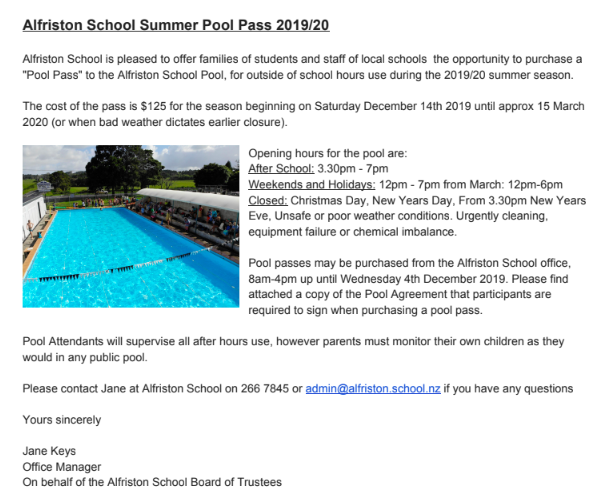 Upcoming Community Event
Mrs Higgins Festive Treats Cookies Ordering Information – link attached  Notice
Summer Camp Information Flyer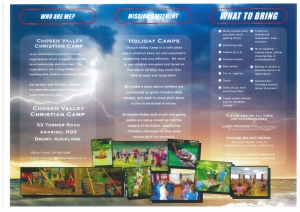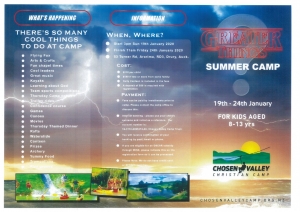 Print or Save this Post