Greetings, Kia ora, Kia orana, Talofa, Mālō e lelei,  Namaste, Ni Hao, Bula, Hola, Mabuhay
Dear Families
Principal's Message
A special warm welcome to new whānau-families and students joining our Holy Trinity Catholic Primary School Community this term. We hope that through God's grace, school can be a place where you will soon feel a sense of belonging, kotahitanga-unity, and arohanui-compassion. We look forward to working collaboratively this term and supporting your children to be the best they can be by developing their learning, and growing their strengths. This will be an exciting term for us all as we look forward to an actioned packed term ahead with many school activities and events planned for all to participate in!
Thank you Mr Narendra Chand and Ms Manju Lata!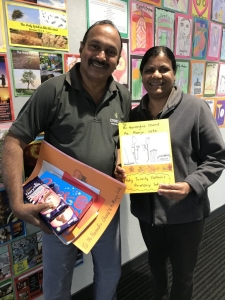 We are very grateful to have Mr Chand and Ms Lata who come in everyday to help keep our school clean and tidy.
This Wednesday was, Thank your Cleaner Day so the students and staff made thank you cards to show their appreciation for the hours of work that goes into ensuring that we have a school that we can be proud of.
DRS Report
Mission Market Day
Next week, on Friday 25 October our students will be running a Mission Market Day to raise money for The Sisters of Our Lady of the Mission. The Mission Sisters works alongside and support those who are vulnerable, neglected and marginalised in our world today. Their ministries cover areas such as education, social development, health and pastoral work.
Some of the stalls includes… Nerf shooting, Cafe Delight (Tea, Coffee, milo), Ring Toss, Face painting, arcade gaming, T-Ball long shot, pizza, baking, lollies. All activities and products will cost between 50c and $2. So come along, bring some coins and join in the fun filled activities and challenges that our students have planned and prepared for the day. This will start from 1:15pm on the school courts.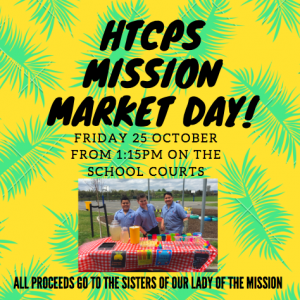 Baptism
On Tuesday 29th October, some of our students will be travelling to St Mary's Parish in Papakura to witness the Baptism of their classmates. This will be a wonderful occasion and you are welcome to join us for this special celebration held at St Mary's Church at 10.00am.
All Saints Mass
You are invited to attend our school All Saints Mass held on Friday 1st November at 9.00am in Taamaua (school hall). Father Peter Murphy of St Mary's Papakura will be our lead celebrant for the Mass. It will be a reminder of our calling to be saints and walking that path of discipleship. We look forward to seeing you there.
All Souls Liturgy & Banner
On Saturday 2nd November, the Catholic Church celebrates All Souls Day which is a special day to honour those who have died. You are all invited to come into the office where a banner is laid out for you to write the names of your loved ones who have died and for them to be remembered and prayed for on this particular day. The banner will be displayed in Taamaua afterwards. We will also be gathering as a school to commemorate this special day with a Liturgy that will be led by our senior students in Learning Community Maunga. You are warmly invited to join us for this on Thursday 31st October at 2:15pm in Taamaua (school hall).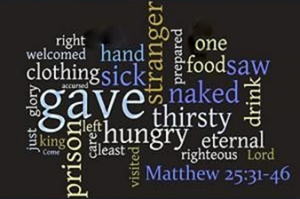 Community Dinner Volunteers
St Mary's Church Papakura have been asking for volunteers to support the Papakura Community Dinners held every Tuesday night from 6pm to 6.45pm. As part of our concept of Discipleship and having an opportunity to reach out to our community, our school have volunteered to join the roster and help organise the Community Dinners at least once a month. Our school will be rostered on every last Tuesday of the month and our first day is Tuesday 29th October. If you would like to volunteer please feel free to contact Apaula Lautua or Ana Silva with your name and contact information.
Apaula Lautua – afruean-lautua@holytrinity.school.nz
Ana Silva – asilva@holytrinity.school.nz
There will be a copy of the roster available at the office for anyone to add their name and contact details. Our next couple of Tuesdays will be 26th November 2019 and 28th January 2020. Thank you humbly and we look forward to hearing from you. If you have any questions don't hesitate to let us know. Many hands make light work.
Learning Community News
LC Maunga – Poetry
At the end of Term 3, Learning Community Maunga created poetry to respond to James K Baxter's poem 'The Town.' We brainstormed a special place and crafted a piece of writing full of powerful verbs and specific nouns. We tried to create the feeling of being at the place with actions and also by including the people involved. The end results are amazing and look great coupled with our full page illustrations. I have attached a few examples, if you would like to see all the poems, please click the link – LC Maunga Poetry
LC Maunga – Mathex 2019
The Mathex Experience
My heart was pounding rapidly before the competition, I could feel the anxiousness running in my veins from my head down to my toes. And then, it started, my allies were consisted of a runner and three others who solved the equation given to us from the judge. The first question was quite easy, it didn't take long to solve it, the more questions we answered and passed, the harder it gets. We suffered a defeat but this was our first try, we will strive to get number one!
The Mathex Competition was at Papakura Normal School, we had a Year Six, Year Seven and a Year Eight team competing at the school hall. There were twelve teams including our school participating at the local event. This event started at 4:45 pm to 7:45 pm. Our school tried really hard and didn't do so horrible, the questions were really hard. There were twenty questions to do, that's plenty to do during a thirty minute timer.
By Pierre, Y8 Student
Curriculum News
Discipleship Home Learning Holiday Challenges
Well done to all students who completed Discipleship Challenges at home and when out and about these holidays. It was great to see the Arohanui being spread across the community and the wonderful acts of service and discipleship as Holy Trinity students spent their time helping others and learning what it means to be a disciple.
You can still send in any photos or activities into school, along with the reflection sheet. Check out the video below with some examples of the challenge.
Sports News
Year 7&8 Touch
Next Tuesday, the 22nd of October, Holy Trinity will be sending two teams to compete at the local North Counties Touch tournament. We are entering one boys team and one girls team into the tournament. Good luck to our players – I know you will represent our school with pride!
Athletics
In the following weeks we will have some of our Year 5&6 and 7&8 students participating in Athletics competitions around Papakura. Students who are interested have been trialing and training at lunchtimes with Mr Brown.
Year 7&8 North Counties event is on Wednesday, 6th November – this event is during swimming week, so students need to make a decision about whether to go to swimming or athletics for this day. Year 5&6 Inter-school event is on Thursday 14th November – more information will be coming out about this. We will also be holding a school athletics event in Week 5, with more information coming out later in the term.
Swimming
This term, Holy Trinity will be heading over to the Massey Park Pools in Papakura to take part in swimming skills lessons. Swimming is a vital skill for students to learn, especially in Auckland where we are surrounded by water; swimming pools, beaches, river, streams and lakes. Schools are required to offer swimming skills to students under the New Zealand Curriculum.
Our swimming lessons are subsidised by WaterSafe Auckland Inc. so for 5 days of lessons, each student pays only $15. This includes transport to and from the pools and up to five hours in the pool.
Please pay this contribution via the school office or
online details as follows ASB 12 – 3032 – 0345867 – 00
Please Enter your 'child's Name' in the reference box.
If payment is for multiple children enter your family name in reference box provided.
We will be travelling every day during Week 4 (4th-8th November) in groups by bus, take lessons and then head back to school.
The organised groups are as follows
Group 1 – Year 0 & 1
Group 2 – Year 1 & 2
Group 3 – Year 2 & 3
Group 4 – Year 4 & 5
Group 5 – Year 6,7 & 8
Each day, students will need to come to school with their togs. They will also need a towel and a swim bag to take their wet gear home in. Caps and goggles are optional, but the students may find it more comfortable for the swimming sessions to wear goggles, due to chlorine in the water.
We expect every student to take part in the swimming lessons and will be encouraging students to take part and linking the lessons to our school values of:
Excellence – Hiranga – doing the best we can,
Resilience – Ngāwari – trying hard when things get tough
Unity – Kotahitanga – everybody working together and supporting each other
You can begin paying either at the office or online. If you have any questions please email or come in and see us at school.
Kind regards,
Quenten Brown
Counties Manukau Basketball
Noah in LC Maunga has been representing Counties Manukau for Basketball – he recently participated in the Auckland and regional Champs. Here is his report on the events.
In the holidays, my team played basketball for Counties Manukau Under 13 A team. We made it into the finals. It was a very hard, but we still tried our best. The results turned out good…we came first in Supercity.
I really enjoyed playing basketball for the A team because I was in the B team last year. It was very fun and I connected with a lot of new people and became better at basketball. After we won supercity, we went to Tauranga for Regionals. We stayed in a house that was very cool and we had two games per day it was very instances. At the end we came fifth.
By Noah Seluone 
Reminder
Kids for Kids Choir 
Our students are really excited and looking forward to participating in the Kids for Kids Choir this year with Kiwi entertainer, Jackie Clarke and musician Nathan King. This year's Kids for Kids is all about celebrating Aotearoa's 'Big Aroha', seeing young people come together to celebrate some of the best of Kiwi music and participate in a mass choir performance.
Our thanks to Mrs Lynn Rhode who is convening this event with our students – thank for you time and expertise Lynn!
Th school choir will perform on Wednesday 13th November at the Sir Woolf Fisher Vodafone Events Centre, 770 Great South Rd, Manukau City, 7.30pm to 9.30pm. Tickets are on sale and available on this link: https://www.eventfinda.co.nz/2019/kids-for-kids-big-aroha/auckland/manukau-city
School Dates
Term 1, 2020 commences Tuesday 4th February and concludes Thursday 9th April.
School Summer Uniform
Students are expected to be in the correct school uniform from Tuesday 29th October, Term 4. This includes the short sleeved blouse or shirt, open toed black school sandals and the school sunhat. Please name all items of clothing so that they can be returned to the children immediately when found.
Our School uniform is only available for purchase from NZ Uniforms on 20/5 Lambie Drive, Manukau.
All students are required to wear the correct school uniform for summer as listed below.
Girls Uniform
Tartan skort
Blue short sleeved monogrammed blouse (summer)
Black open toed school sandals (summer)
Navy bucket sun-hat monogrammed
Navy woollen monogrammed school jumper OR school jacket
Boys Uniform
Navy shorts
Blue short sleeved monogrammed shirt (summer)
Black open toed school sandals (summer)
Navy bucket sun-hat monogrammed
Navy woollen monogrammed school jumper OR school jacket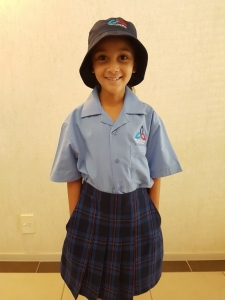 Chicken Pox
We have had a number of children off school with Chicken Pox this week. Keep an eye out for red dots and blisters which may appear on your child's skin. Have a chat with your child/ren about how to cough and sneeze without spreading germs and the need for washing hands after coughing or sneezing.
Please click the link and have a read of the Ministry of Health's information on Chicken Pox to learn more.
Scholastic Book Club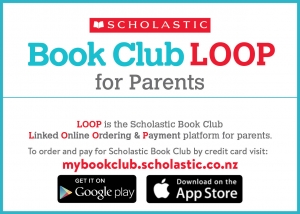 Issue 7 of Book Club is here! The latest brochure is packed full of great new books with something for every child to enjoy.
We believe every child deserves a good book, and you will find five $2 gold coin books in this issue.
Orders close at 3pm on Wednesday 30 October. You can place your order online or at the school office.
And finally, remember – every purchase from Book Club earns 20% back in rewards for our school to spend on resources for the library and learning communities.
Kirstie Thorpe
Book Club Coordinator
Parish News
Situations Vacant – Parish Communications Administrator
St Anne's Catholic Parish, Manurewa is currently seeking a highly capable and motivated Parish Communications Administrator for 14 hours per week, negotiable.
We are seeking a talented person able to ensure effective Parish communications by managing and maintaining the parish website, Social Media platforms, directory, rosters, calendar and the Parish database.
For full details of the role, please visit the parish website. https://manurewacatholic.org.nz/
Situations Vacant – Parish Operations Manager
St Anne's Catholic Parish, Manurewa is currently seeking a highly capable and motivated Parish Operations Manager for 16.5 hours per week, including some evening meetings.
We are seeking a talented person to lead the Parish in the management of the operational, human resources, finance and long term maintenance activities of the Parish.
For full details of the role, please visit the parish website. https://manurewacatholic.org.nz/
Catholic Diocese of Auckland
Situations Vacant – Project Manager Maintenance Delivery
We are seeking a motivated property professional to join our small property team in a Project Manager role focussed in Maintenance Delivery.  You are someone who enjoys all aspects of property maintenance including oversight of development, implementation, coordination, scheduling, budgeting, documentation, turnover, and compliance of construction, renovation, upgrade, replacement, and repair projects involving buildings, grounds, facilities and infrastructure.
This is a varied and busy role and we seek applications from candidates who can demonstrate the following experiences and attributes:  A tertiary qualification (ideally property related) or relevant professional experience; Understanding of NZ Building Code requirements; Construction/Property contract knowledge; Excellent organising, planning and computer skills; Strong customer focus and excellent relationship building skills.  Applicants must have applied property / construction coordination skills or similar experience.
To view the full job description and download the application form, please visit our website www.aucklandcatholic.org.nz.  Please send CV, application form and a cover letter to Leanne Killgour, HR Manager by email: leannek@cda.org.nz. 
 Applications close 1 November 2019
Upcoming School Events
Alpha Programme continues
Thursday 24th October 6:30pm in Taamaua/School Hall
Mission Market Day
Friday October 25,1.15pm – 2.30pm
Tokelau Language Week Te Vaiaho o te Gagana Tokelau/Diwali commences
Sunday October 27
Sacrament of Baptism at St Mary's Church, Papakura
Tuesday October, 29⋅10.00am – 11:00am
School Photos in Taamaua
Thursday October 31, 8.30am – 12.00pm
Feast of All Souls Day – Liturgy in Taamaua
Thursday October 31, 2.15pm – 2.40pm
Feast of All Saints Day – Whole school Mass in Taamaua
Friday November 1, 9.00am – 10.00am  
Swimming, Massey Park Aquatic Centre
Commences in week 4, Monday November 4 – Friday November 8
Kids for Kids Choir Performance @ Vodafone Events Centre
Wednesday 13 November, 6.00pm – 9.30pm
Upcoming Community Events

Print or Save this Post