Greetings, Kia ora, Kia orana, Talofa, Mālō e lelei,  Namaste, Ni Hao, Bula, Hola, Kumusta
Dear Families
This coming week we will be learning about Social Justice Week and what this means for us as Disciples/followers of Christ. Although the particular focus is for a week only, we are always called to SEE-JUDGE-ACT on social justice issues that we see and recognise around us, both in our local and wider communities.
From the Social Justice Week, Te Wiki o te Whai Tika information pamphlet, we learn that SEE-JUDGE-ACT is a way to re-orient one's life towards social justice and solidarity. To SEE/TIROHIA what is causing us concern, to JUDGE/WĀNANGATIA – analyse the situation and to ACT/MAHIA – make a plan of action to address the concern SO that we are acting towards FAIRNESS in our homes, communities and in our world.
Catholic social teaching guides us in living out the Gospel's call to love God and our neighbour. This helps us to understand and to act as disciples of Christ when we see an injustice and more importantly to do something about it. Over the next few weeks, our children will be involved in a number of outreach activities that will see them participating in actions of service that hopes to bring about fairness, common good and reverences human dignity. I hope you will be able to join with us as we SEE-JUDGE-ACT as a school community!
Meet and Greet with the Board of Trustees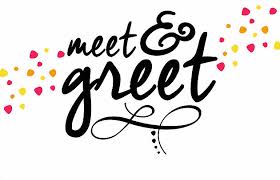 On Wednesday evening this week, the Board of Trustees hosted an informal gathering for our school parents and caregivers, an opportunity for parents to meet the Board members and find out a little more about their role as the governors of our school.
While small in numbers, there was an enjoyable, relaxed time of fellowship. Board members individually introduced themselves and shared a little of their role on the Board. We talked about the governance role of the Board as a whole and how the Board and school principal, the professional leader and day to day manager of the school, work in partnership to provide the best possible Catholic education we can for the children.
There was an opportunity for those present to ask questions and share their thoughts about the development of the school.
The range of community consultation opportunities that have been provided so far this year were mentioned and how the input from our school families is valued and will be used to further develop the school's Strategic Plan moving forward for the next three years. It is important that the Board share with you all the ideas and suggestions that have been put forward by parents and to do this we have set another gathering of parents on 23 September  7.00pm to 8.30pm . This will be a great opportunity to hear how our parent community have responded to our various consultations and the plans for our school moving forward.
We look forward to seeing you all on Monday 23 September- please mark the date on your calendar.
Philip Cortesi
Chairperson
DRS Report
Father's Day Liturgy
Just a HUGE thank you to all the fathers and father figures of our Holy Trinity whānau for coming along and being part of our celebration for Father's Day. We hope you enjoyed our school baked biscuits, had time to read your cards, put your feet up and enjoyed your special day!
Can Drive
"It's not about how much you do, but how much love you put into what you do that counts." Mother Teresa
This week, we ran our annual can drive for St Vincent de Paul and together managed to collect 582 cans! The cans of food were picked up and collected today, to be taken to St Vincent de Paul for distribution to our wider Auckland community families who are in need of food during this coming Christmas. THANK YOU ALL for your generosity! Here are the results for our Whānau Groups.
Mackillop Whānau – 140
Aubert Whānau – 181
Pompallier Whānau – 170
Patrick Dunn Whānau – 91
Congratulations to Aubert Whānau for collecting the most cans and to our second place getters, Pompallier Whānau. Mr Williams will be dyeing his hair green and Mr Brown will be dyeing his hair purple. We look forward to seeing you both next week!
Crazy Hair Mufti Day
Next week we will be celebrating Social Justice Week, which commences Sunday 8th to Saturday 14th September. The theme this year for Social Justice Week is 'Seeking fairness in an unfair world' which connects really well to our concept  learning of Discipleship. To celebrate another successful Can Drive and Social Justice Week, we will be having a school mufti day on Friday 13 September with the theme of CRAZY HAIR! Students can be creative with their hairstyles or spend their day wearing a crazy wig. Students will need to bring a gold coin donation to go towards Caritas Aotearoa New Zealand.
Baptism Classes
We are very blessed to have our Parish Priests, Father Peter Murphy of St Mary's Parish, Papakura and Father Brian Prendeville of St Anne's Parish, Manurewa offering our families and students an opportunity to start their faith journey, beginning with the Sacrament of Baptism. We will be holding two sessions with the families who have signed up on Tuesday 17 September and Tuesday 24 September at 6.00pm in the staffroom at school. If you are interested or would like to know more, please don't hesitate to come by or call the office and leave a message for Ana Silva (DRS).
End of Term Mass
We are inviting you to join us for our End of Term 3 Mass held in Taamaua (school hall) on Friday 20th September at 9:00am with Father Peter Murphy of St Mary's Parish, Papakura as our celebrant.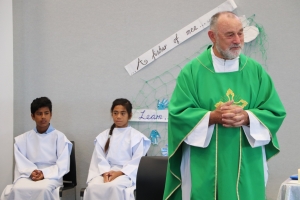 School Car-parking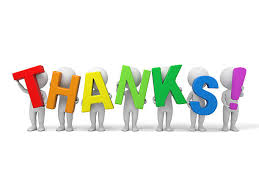 Once again THANK YOU THANK YOU THANK YOU for your patience, understanding and consideration using the 'drop off and pick up' system whilst our car-park is closed.
Please remember to  …
park in the neighbouring side streets and walk to/from school
refrain from queuing on Airfield Road, when trying to turn right into school
refrain from parking on Airfield Rd
use the Mill Rd roundabout and return to school, to enter the pick up zone from the left hand side
stay in your cars in the pick up zone so we can get the children to you quickly and you can depart safely
stagger your pick up time at school – there is plenty of space to come in to the pick up zone after 3:05pm when there is less congestion.
THANK YOU for driving slowly and carefully to ensure everyone is kept SAFE.
Alpha Programme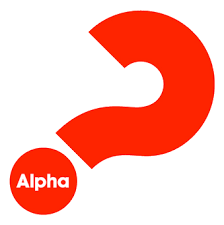 Our school is hosting the Alpaha Programme being organised by St Mary's Parish in Papakura. We are very excited to be part of this Outreach programme that provides such a wonderful opportunity for families to come together to explore further about life, faith and meaning! The Alpha Programme is a series of interactive sessions that explores all the big questions about life and faith. The sessions commence with a meal, then a talk and an open discussion time to follow.
The first session will be this coming Thursday 12th September here at school in Taamaua/school Hall commencing 6:30pm.  It includes dinner and childcare if required.
For further information contact Jovita ph: 09 298 5773 – 027 2485334 and to register email skayes@slingshot.co.nz
This is a fantastic programme that encourages faith formation and a time of inquiry to ask the big questions and to seek the answers. We hope you will join with us!
Te Wiki o te Reo Māori – Māori Language Week
This week, the Whānau groups will be involved in a number of activities to celebrate, to learn, to share, to korero/speak, to practice and to have fun together as they learn through poi rākau, te reo bingo, waiata and other activities.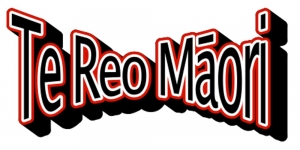 Pasifika Fono Evening
Talofa lava (Samoan), Malo e lelei (Tongan), Bula vinaka (Fijian), Kia orana (Cook Islands),Fakaalofa lahi atu (Niuean)
Fakatalofa atu (Tuvaluan),Malo ni (Tokelauan), Mauri (Kiribati)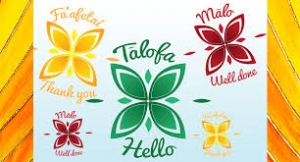 Welcome All to our next "Pasifika Family Evening" on Wednesday 11th September 6pm in Taamaua/School Hall.
This is a great chance to meet other Pasifika families and to share a meal with each other. Come along and have some fun!
Learning Community News
Kāhui Ako Kapa Haka Celebration
Learning Communities Moana and Maunga did a wonderful job representing Holy Trinity at the Community of Learners Kapa Haka celebration this week. It was a great day full of waiata and haka. We got to see some amazing performances from our fellow South Auckland Catholic Schools. Thank you to the students for all their hard work and to the teachers and staff who helped with practices and getting ready on the morning of the celebration.
Rehu Tai Speeches
Congratulations to the students that represented Holy Trinity at the local Papakura Schools Rehu Tai Speech Competition. Noah Seluone, Charlita Agafili and Stephen Thomas represented the Year 7&8s and Luke Champion and Simone Gertos represented the Year 5&6s. They all did a fantastic job and we are really proud of how they spoke and gave their all.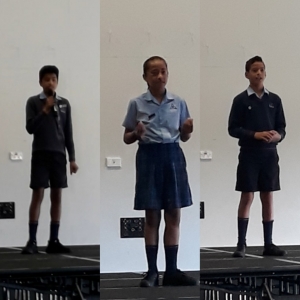 Learning Community Whenua
In Whenua, we have been learning about Saints and inspiring people to help us understand our concept learning of Discipleship. Here are some stories about what we understand so far.
Curriculum News
Wheels Day
Last Friday, each of the Learning Communities brought in their "wheels" and participated in our Wheels Day event. Each Learning Community  completed a Wheels Day course out on the courts. Our tamariki showed resilience as they tried their best and didn't give up! It was great to see our learners wearing their helmets and taking on board the safety rules they learned from Auckland Transport. We learnt about why we need to wear a helmet (to protect our head and most importantly our brain) and also the right way to fit a helmet. The children also learnt about stopping and looking for traffic when going across a crossing and when passing driveways. A big thank you goes to Marianne Garvey from Auckland Transport, to Miss Gaynor, Mrs Rhodé and to our Student Hauora (Health and Well-Being Team) who did a fantastic job at supporting our riders over the course, providing direction and safety advice and guidance and who also used their practical skills to fix some of the bikes!
THANKS Hauora Student Team: Noah Seluone, Charlita Agafili, Hao Bui, Isabel Narayan, Luke Champion, Tevita Koloamatangi, Simone Gertos and Trisha Senituli
It was great to see so many learners participating in Wheels Day – what a great way to end the week! 
Uike kātoaanga' 'o e Lea Faka-Tonga – Tongan Language Week
The Cultural Leadership Team led this week's Assembly and opened Tongan Language Week with a beautiful Ma'ulu'ulu – Tongan action song. They shared the theme of Tongan Language Week, which was Fakakoloa 'o Aotearoa 'aki 'a e Tauhi Fonua – A Tongan Perspective of Enriching Aotearoa, New Zealand. Rosaline and Paea spoke about how proud they are of their Tongan traditions, artwork and how Tongan songs are rich in history and teaches them to appreciate people who have gone before them. 
They also challenged us to help keep the language alive for more than 60,000 people of Tongan heritage who live in New Zealand.
Malo 'aupito Rosaline, Paea, Charlita, Britney and Bernie!
Sports News
Netball Prize-giving
A very BIG THANK YOU to our Coaches and our Umpire who gave so much time to our netball teams this year. We appreciate everything you do to encourage our young ones to enjoy their sport, to develop their physical skills and to nurture team and social skills. A big congratulations to all our STAR netball players for another fun, successful season of netball.
2019 Netball Team Coaches and Umpire are:
Shooting Stars – Ashton Vaitaki and Denise Nuia
Hot Shots – Louise Paul, Sammy Paul and Ana Burgoyne
Angels – Vincet Lautua and Alana Gaynor
Spirits – Anthya Poumale and Yvonne Pollington
and the Holy Trinity Netball Club Umpire – Karla Soo Choon
Reminders
School Enrolments
It is very helpful to us, if you can ensure that your pre-schoolers are enrolled here at school even if they are only 1-4 years of age. This helps us with future planning for the predicted roll growth and gives us a clearer picture of needs for staffing, learning communities, composition of year levels and school development of the property/environment.
You are able to enrol on-line by going to our school website www.holytrinity.school.nz – clicking on the enrolment tab, then clicking on the enrolment form tab. Complete the electronic enrolment form and then submit. The enrolment form will then be actioned at school with a confirmation letter being sent to you as a follow up. Thank you.
Heath and Well-Being
Auckland Regional Public Health Services sent information to schools this week on "Measles in Schools" reporting and resources. It is not too late to get vaccinated. Everyone from 1-50 year olds is encouraged to get at least one MMR vaccination. This will protect yourself and others especially those who are risk of complications from the disease. Thank you to our families for endeavouring to reduce the impact of measles in our community.
PTFA (Parents Teachers and Friends  Association)

The next PTFA meeting will be held Tuesday 17th September 7:00pm in the school staffroom. It has been great to see a number of new faces at this meeting! The PTFA will be organising a DISCO for the children on Friday 20th September 6:30pm -8:00pm in Taamaua. There are a number of jobs to be actioned in preparation so it would be great to have as many people there as possible at the meeting, to help organise for a fabulous evening of fun!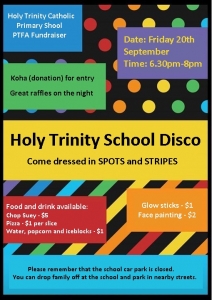 Upcoming School Events
Te Wiki o te Reo Māori – Maori Language Week commences
Monday 9th September
Pasifika Fono Hui  – Shared Meal 
Wednesday 11th September 6pm in Taamaua/School Hall
Alpha Programme commences
Thursday 12th September 6:30pm in Taamaua/School Hall
Te Wiki o te Reo Māori Learning Community Activities
Friday 13th September
CRAZY HAIR Mufti Day – Caritas Fundraising
Friday 13th September
SOCIAL JUSTICE WEEK – OUTREACH WEEK commences
Monday 16th September
Gathering Prayer and Assembly – Learning Community Moana leading
Monday 16th September 8:50am in Taamaua/School Hall
Baptism Classes
Tuesday 17th September 6:00pm in the school staffroom
PTFA Meeting
Tuesday 17th September 7:00pm in the school staffroom
Alpha Programme commences
Thursday 19th September 6:30pm in Taamaua/School Hall
End of Term Mass with Fr Peter Murphy
Friday 20th September 9:00am in Taamaua/School Hall
PTFA DISCO
Friday 20th September 6:30pm – 8:00pm in Taamaua/School Hall
Community Meeting – Reporting Back
Monday 23rd September 7:00pm – 8:30pm in Taamaua/School Hall
Auckland Transport
Children travel free on weekends!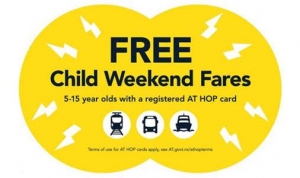 Auckland Transport has an exciting opportunity for your students. From Saturday 7 September, children under the age of 16 who have an AT HOP card will be able to travel free on Auckland Transport's weekend services.
It's been three years since AT Metro introduced the 99 cent fares on weekends for children that made it easier and cheaper for children to get around Auckland at the weekend.
Now, Auckland Transport is offering a 100% discount on weekend fares for children 5 to 15 (inclusive) travelling on buses, trains and participating ferries. This comes as part of the $1.1 million contribution from Auckland Council towards public transport initiatives, announced earlier this year.
Colin Homan, Group Manager of Integrated Networks says the move will make a lot of Auckland accessible for families. "We're really excited about this initiative that will make public transport more affordable for families and our younger generations, so they can enjoy time together and explore on the weekends".
The fare free travel is available on buses, trains and participating ferry services on weekends and during public holidays. To qualify for this fare, parents need to load a child concession on to a registered AT HOP card.
To find out more, visit: https://at.govt.nz/bus-train-ferry/at-hop-card/card-concessions-discount-fares/child-student-discount/free-child-weekend-fares/
Upcoming Community Events
Clevedon Pony Club
Welcome, Information & Registration Evening – Everyone Welcome on 6 September 2019 6:00 – 7:30pm
Drinks/Wine and Nibbles provided – Bring and Buy Sales Table
Pony Club Rooms, A & P Showgrounds, Monument Rd, Clevedon
www.clevedonponyclub.org.nz

Print or Save this Post