Greetings, Kia ora, Kia orana, Talofa, Mālō e lelei,  Namaste, Ni Hao, Bula, Hola, Kumusta
Dear Families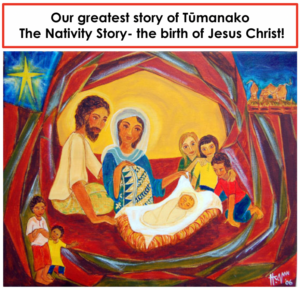 A special blessing for all our families this Christmas Season …
"Whenever we gaze into a crib this Christmas season
May new hope and joy flood our spirit
whenever we watch babies and young children playing
May a new energy delight our hearts
Whenever we are tantalised by the aroma of a bbq
May we unwind, relax and enjoy time off
Whenever the crush of family and friends overwhelms us
May the hospitality of our hearts expand
Whenever we provide a meal or bed over the holidays
May we experience love and appreciation
Whenever we spy our reflection in the mirror or pool
May we find ourselves to be images of God
Whenever we put our feet up for leisure
May the humble presence of the Incarnate One companion us
Whenever we feel our distance from each other around the world
May the Christ child draw us into unity."
Amen
(Aource: Act Love Walk – Praying in the Josephite Spirit)
Principal's Message …
THANK YOU!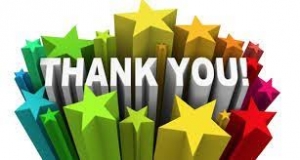 Thank you to our fantastic community who have walked alongside us this year. Along with the children and staff, you too are the heartbeat of Holy Trinity and we salute you for the many ways you have supported us throughout the year to make it the success it has been, for all. It has been wonderful to celebrate our achievements at the various end of year school events …  Praise-giving, Family Picnic and Nativity Play and our End of Year Mass.
We are filled with gratitude for the way you support with Language Weeks, Sports Events, Maori Whānau Hui, Pasifika Hui, Consultation and Workshop Evenings for families, Community Surveys, EOTC activities, Mufti Day activities, Board and PTFA meetings and activities, Learning at Home projects and concept learning etc – school is all about partnership and working together to enable the best opportunities for our children, so we are truly blessed with our school community and the significant contributions that you make to the daily life of our school.  
We are very proud of you and are looking forward to all we can achieve together in 2023!
Finally …
May the promise of hope, peace, love and joy be with you this Christmas Season.
Wishing you all a Holy and Blessed Christmas and restful, relaxing and safe holidays!
Peta Lindstrom
From the School Board …
As another year draws to a close, and indeed it has been a challenging one amidst ongoing COVID illnesses, we should all look back and take pride in what has been achieved together as a school community, where we "Learn, Love and Serve in the name of the Father, and the Son and the Holy Spirit".
THANK YOU TO ALL OUR HOLY TRINITY WHANAU!
The Board expresses its appreciation to all our school whānau for your on-going support and participation in the life of the school. Your commitment to doing the very best for your children and their learning is highly valued, not only by the school, but by your children themselves. We are blessed to have such supportive whānau in the Holy Trinity team.
At the recent school Praise Giving celebration, it was wonderful seeing so many children being recognised for their achievements and being willing to share their gifts and talents with others. CONGRATULATIONS to you all, and indeed to every student for the way in which you have worked so hard this year and for living out our school's vision- Ka Ako (Learn), Ka Aroha (Love) and Ka Manaaki (Serve).
THANK YOU TO OUR STAFF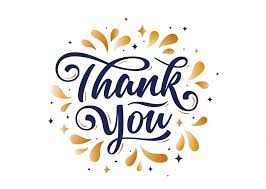 Holy Trinity is blessed to have a very committed principal, Miss Peta Lindstrom , a dedicated leadership team and staff, both teachers and support staff, who provide an excellent Catholic education for the children in our care- a BIG THANK YOU from the Board  for the time and effort you put into your work with the children and into the life of the school as a whole. It is much appreciated, especially by the children, whose love of school is very evident when you see them engaged in their daily activities and learning.
At the end of this year we say farewell to Miss Samantha Connery, Ms Keryn Yip, Mrs Rewa Vowles, Mrs Kay Hey (Part time teacher), Mrs Mel Notley (Part time teacher) and Mrs Theodora Ah Wong (Learning Assistant). The Board  sincerely thanks you for all you have given to Holy Trinity during your time with us. You have been highly valued members of the team and we wish you the very best in all that is ahead of you.
STRATEGIC PLAN
This year the Board, both the outgoing members and new members who were elected in August, spent a considerable amount of time engaging with our community, as we reviewed our school's three year strategic plan. THANK YOU to all those involved in providing feedback to our surveys, attending gatherings etc. This, along with a Saturday in November where the Board worked with an external facilitator, has resulted in a succinct 2023 -2025 Strategic Plan.
SCHOOL ROLL AND STUDENT ENROLMENTS- a reminder from the Board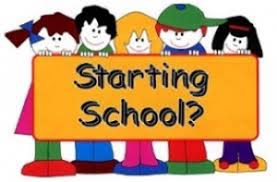 At Holy Trinity Catholic Primary School, we believe that all children from Catholic families are entitled to a Catholic Education, Ideally we would like to enrol every Catholic child who wants to come to our school.
However, we are required to work within our maximum roll, which is stated in the school's official Integration Agreement with the Ministry of Education. Currently our maximum roll is set at 300. This means that we are unable to exceed 300 at any one time.
Our current buildings, including the two relocatable classrooms, only provides us with enough space to accommodate 300 children.
In communicating with the Catholic Diocese of Auckland regarding our growing roll and accommodation, we have been informed that there is no funding at this time to provide additional accommodation to go beyond our maximum roll.
With the enrolments we already have for 2023, we have almost reached our maximum of 300 students. It will then become necessary for us to manage our school roll.
This not the kind of news the Board and you, our families, want to hear. However, we are bound to the present situation as it is, until further building can be undertaken, which is not likely to be in the immediate future.
CONCLUSION
Again, I take this opportunity to thank Peta, our principal, all the staff, priests. parents and caregivers, my fellow Board members and especially the children, for another wonderful year of learning, loving and serving together.
On behalf of the Board, I wish you all a blessed, holy and safe Christmas and holiday season.  May God bless you all and continue to keep you in His care during this special time as we celebrate the birth of our Lord.
Blessings
Philip Cortesi
Presiding Member of the School Board
AN ADVENT PRAYER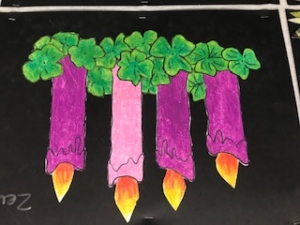 Heavenly Father, your Son, Jesus, is your greatest gift to us, the greatest sign of your love. Guide as we strive to walk in that love as we journey this ADVENT. As we prepare our hearts for Christmas, bring us close to our family and friends and to your Son. Give us the grace and the strength we need every day. Help us to always trust in you.
HOPE: Dear Jesus, you are the hope in our messy world. Help us slow down, to listen to your voice, and focus on what's really important. We place our hope in you as we prepare our hearts to celebrate your birth on Christmas. Amen.
PEACE: Dear Jesus, you entered our world on Christmas as the Prince of Peace. This Advent, as we strive to become the best version of ourselves, fill us with a deep and abiding peace. Help us share that peace with everyone we encounter, especially those who need it most. Amen.
JOY:  Dear Jesus, help us focus on you during this busy season. May we stay aware of the joy you bring into our lives. We want to find you in the everyday moments and come with hearts of gratitude to your manger on Christmas. Amen.
LOVE:  Dear Jesus, may the light of your love always shine in our hearts. As Christmas draws closer, we marvel at your great love for us. Let your love transform every aspect of our lives and touch everyone we encounter. Our hearts are open to you, Jesus. Amen.
DRS Report
End of Year Mass
On Friday 9 December, we celebrated our Leavers Mass in Taamaua/Hall with Father James Mulligan as our celebrant. It was a special Mass where we farewelled and blessed all our senior student leavers as they were acknowledged and gifted a special pendant from the school. It was extra special as we blessed and farewelled our staff members leaving at the end of the year as we wished them the best for their new journeys ahead. At the Mass, Father James also blessed the Year 8 leavers 'hoodies' which the Year 8 students planned, fundraised and designed with the support of Miss Lindstrom. Thank you to all our families who joined us for our final Mass of the Year.
Portraying the Nativity Story …
Holy Trinity students all joined together to portray the Nativity Story – the Birth of Jesus, through our cultural groups' performances. It was a wonderful evening of music, dance, song and story telling!
2023 Staffing and Learning Communities
Our staffing is confirmed for 2023 and the Learning Communities and kaitiaki/teachers have been organised as:
Learning Community Whenua – New Entrants/Year 1 students
Mrs Susan Champion, Miss Michaela Harvey and Ms Rochelle Drollet (release teacher)
Learning Community Awa – Year 2/3 students
Mrs Danielle Clarivette, Mrs Geraldine Malgas and a pending appointment
Learning Community Moana – Year 3/4 students
Miss Alana Gaynor, Mrs Lainee Davies, Mrs Euginea Fernandes and Ms Rochelle Drollet (release teacher)
Learning Community Maunga – Year 5/6 students
Mrs Lynn Rhodé, Miss Kirstie Gill and Mrs Mavis Chung
Learning Community Ngahere – Year 7/8 students
Mrs Amandeep Kaur and Mrs Raquel Biggar
Senior and Middle Leadership Team:
Miss Peta Lindstrom, Mrs Maria Speechlay, Mrs Ana Silva (DRS), Mrs Susan Champion, Mrs Lynn Rhodé and Miss Alana Gaynor
Stationery List Requirements for 2023
Dear Whānau,

Get back to school stationery ready!
We know getting ready for the first day back at school can be a challenge for parents and kids. That's why we've teamed up with OfficeMax to make your back to school shop super easy. And if you order in December, you'll go in the draw to WIN 1 of 5 $1000 cash prizes — plus, you'll get a FREE A4 Magnetic Whiteboard Family Organiser*.
Your child's class list is already loaded. Just go to myschool.co.nz. Simply add your details, check that you want everything on the list, then click and confirm — and OfficeMax will get your delivery underway.
Order in December and choose to receive your order straight away or in January.
Laybuy* is also available, so you can pay in 6 weekly, interest-free payments and still get your order right away.
We encourage you to order early to ensure your child has all their stationery requirements ready to go in plenty of time for the start of Term 1.
So go ahead and beat the back to school rush, order today and give them the best start possible.
 OfficeMax makes it easy to get back to school ready with these great benefits
Free delivery on orders over $60*
Pay now or in easy instalments — internet banking, credit cards, debit cards or pay in 6 weekly, interest-free payments with Laybuy*
Price match promise — shop with confidence, if you find a lower price OfficeMax will match it*
Beat the back to school rush — avoid queues and busy shopping malls by shopping online from the safety and comfort of your home
* Terms & Conditions apply, see myschool.co.nz for details.
Please don't hesitate to contact the school office if you have any queries about OfficeMax MySchool. We look forward to your child having a successful start to the new school year!
2023 Teacher/Staff Only Days – School Closed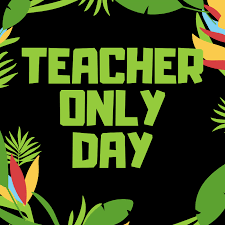 The Ministry of Education has agreed all primary schools will have x 2 Teacher Only Days in 2o23 as part of professional learning and development for teachers in working with the New Zealand Curriculum Refresh documents. The Ministry of Education has dictated the timeframes of when these days can occur therefore Holy Trinity Catholic Primary School will have their first Teacher/Staff Only Day on Monday 24th April 2023. This means that school will be closed to students on this day.
School Term Dates 2023
Term One    10 weeks     Thursday 2nd February – Thursday 6th April
Term Two     10 weeks     Monday 24th April  – Friday 30th June
Term Three   10 weeks     Monday 17th July – Friday 22nd September
Term Four     10 weeks     Monday 9th October – Monday 18th December
Upcoming School Events and Dates
Term 4 2022 Concludes
Friday 16th December at 1:00pm
Term 1 2023 Commences
Thursday 2nd February 2023 at 8:50am
sKids Invitation to New Families 2023
https://www.skids.co.nz/register-2023/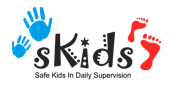 sKids proudly offer 'Out of School Care' at your school and with 2023 fast approaching, we don't want you to miss out on the opportunity of securing a space for your child in 2023 at sKids.
The above link allows you to register to receive our Enrolment Pack (no obligation), this contains all the necessary information you need to make a decision around sKids 'Out of School Care'. But importantly it ensures through registering your details that your child does not miss the opportunity to join us in Term 1 2023, as we will email you as soon as our Term 1 bookings are OPEN!
As an added 'welcome to sKids' bonus, we are offering a FREE pencil case and pen for every new child that registers for sKids in 2023.
Have a lovely Christmas and break and we look forward to meeting you in the new year!
Kind regards,
Aimee Peterken
sKids Marketing & Communications Manager
sKids Holiday Programme

Kia ora,
School Holidays are fast approaching, so now would be a perfect time for parents to know about their AWESOME Summer School Holiday Programme which starts in only a few weeks!
Here is the link to our post: Click Here
"sKids are inviting us to join their Summer School Holidays!
Spaces are limited, so book today.
Visit, www.sKids.co.nz/holy_trinity and search for your School"
Upcoming Community Events
Coding Holiday Activity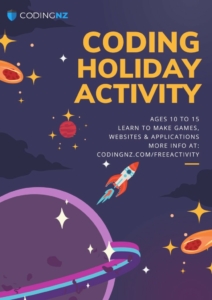 Print or Save this Post