Greetings, Kia ora, Kia orana, Talofa, Mālō e lelei,  Namaste, Ni Hao, Bula, Hola, Kumusta
Dear Families
Welcome to another busy term of school! It was an honour to welcome our newest students to school this Monday along with their whānau and to welcome new staff who are joining our school family for the first time. We hope you feel the wairua of the Holy Trinity within you and around you as you enter this wonderful community of learning ka ako, loving ka aroha and serving ka manaaki!

It was also a lovely experience to participate in the Caring Foundation Mass this week with Bishop Steve Lowe. Bishop Steve centred his homily on the parable of the Good Samaritan. This certainly struck a chord with our student recipients of the Caring Foundation certificates as RESPECT/MANAAKITIA is one of our own school Gospel values. Bishop Steve reminded us that we must be like the Good Samaritan to "go and do the same", "to reach out in love to one another", "to keep giving" and "to care deeply for each other". 
This term we hope to be the disciples of Christ that Jesus asks us to be, by being respectful /showing manaakitia for who we are and how we are as our own selves, for each other and for our environment, mother earth!
MANAAKITIA – RESPECT
To show respect for ourselves, each other and our community: to speak respectfully, to act respectfully, to interact respectfully, to care for our environment i.e. – caring for our learning community, picking up after ourselves, wearing our uniform with pride and to share and respect school equipment.
School Board Elections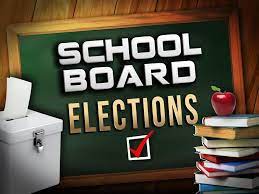 There are only a few more days to go before nominations close for the forthcoming elections for the Board of Holy Trinity Catholic Primary School.
Nominations close next Wednesday 3 August 2022 at noon.
This is an exciting opportunity for you as parents and caregivers of our children to become involved in the governance of the school and your children's on-going education. The Board is the voice for our community and its representatives.
Board members bring local knowledge and values to the leadership and decision making of schools, and work with the principal, school staff and whanau to help tamariki reach their potential.
You will be involved in everything from school governance, ensuring government legislation is implemented and supporting the principal with raising student achievement and working through the many matters that crop up in our schools- it is a big responsibility and a true privilege. No one goes it alone- we work as a team supporting one another.
SO… if you are passionate about our children's education and their future, how about getting on board?
How to go about Nomination!
Nomination forms have been sent to everyone on the Parent Electoral Roll and are available at the school office as well. Contact our Returning Officer, Carmel Stewart if you need one. The electoral roll is held at the school and can be viewed during normal school hours.
We need at least five nominations for the parent representatives to represent our diverse, culturally rich school community- people from various ethnic groups who make up our school family.
What you need to do now:
As you fill out the nomination form, think about good reasons why you, or the person you are nominating, should be on our school board.
NOTE: if you are nominating someone, make sure you and the person you are nominating sign the form.
NOTE: if you are nominating yourself, make sure you sign both sections- candidate and nominee.
Once complete, send the nomination form back to the Returning Officer by Wednesday 3 August.
Candidates Statement– with the nomination, you may like to include a candidate's statement, (up to 400 words) and a photograph. This is optional, but does give voters a little background about yourself and what you might be able to offer being a Board member.
The statement may include: your experience, qualifications, occupation, interests, children at school, and reasons for standing for election.
If you require further information about being on the Board, please feel free to contact me- Ph.2664079 or email pjcortesi@hotmail.com, or Carmel Stewart, our Returning Officer– Ph.2969039 or email cstewart@holytrinity.school.nz
WE LOOK FORWARD TO YOUR NOMINATION by Wednesday 3 August 2022 at noon.
Blessings to you all.
Philip Cortesi
Presiding Member of Holy Trinity Catholic Primary School Board
Staffing Update
It is with regret that we share with you the staff resignation of Mr Andrew Malele, one of our Deputy Principals. Andrew is pursuing an opportunity to be in a leadership role working with older students at another school.
He has taken on the new role of Assistant Principal at South Auckland Middle School, Manurewa and commences this new role in Week 3 of Term 3. Andrew's last day at Holy Trinity will be Friday 5th August.
Andrew has made a significant contribution to our school during his time as Deputy Principal and is a highly valued member of the Holy Trinity team. We are proud of the work that Andrew has undertaken in his leadership and teaching roles. We thank him for his strong catholic faith, his rich relationships and his pastoral care of our children, our whānau and our staff – all of which has been a special gift to our school.
Andrew will be greatly missed and we look forward to farewelling him in a "special Holy Trinity way" this coming Friday 5th August at 9:45am in Taamaua/school hall.
We invite all of our Holy Trinity whānau to our 'Liturgy of Farewell and Thanks' and then to join with Andrew and the staff for morning tea in the staffroom following our liturgy. WELCOME ALL!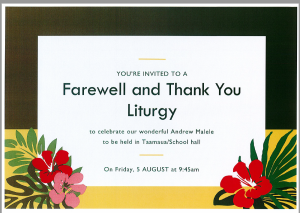 New Staff
We are pleased to warmly welcome new staff members to the Holy Trinity school community this term …
Mrs Bronwyn Sewell and Mrs Theodora Ah Wong. Bronwyn is a Learning Assistant that is working in Learning Community Moana and Theodora is a Learning Assistant working in Learning Community Whenua. We are grateful for the opportunity to work with these fabulous people who have much knowledge, skill and experience to share with us and our children. Thank you to you both for joining our awesome team!
DRS Report
Caring Foundation Mass
The annual Caring Foundation Mass was celebrated this week on Wednesday 27 July at Christ the King, Owairaka. It was a beautiful celebration where students were acknowledged for their vital and important part of our church community of care and support. We congratulate our five candidates who received Caring Certificates which was made extra special when it was presented to them by none other than Bishop Steve Lowe.
Congratulations to: Trey Hennessy, Mikayla Duya, LJ Delubio, Abigail Moorthy and Tony Chau.
St Mary's Parish Feast Day Mass
On Sunday 14 August, we will be having a combined Mass with St Mary's School to celebrate the Feast of the Assumption. Even though the Feast of the Assumption is celebrated on Monday 14 August, both schools will minister to the Parish on Sunday. The Mass will be at 10:30am and all are welcome to attend and celebrate the Feast Day of the Parish.
The Assumption of the Blessed Virgin Mary is a day we celebrate our Mother Mary being assumed into heaven. Being the first disciple, we remember Mary's total sharing in the new life won by her son's death and resurrection. It is also the national Feast Day of New Zealand as Mary is the patron saint of Aotearoa New Zealand.
Priest Visits
This week, on Wednesday we had the pleasure of having Father James Mulligan of St Mary's Parish, Papakura visiting our junior students in their Learning Communities. It's always wonderful to have our Parish priest visiting us and spending some time in each of the Learning Community. Students from LCs Awa and Whenua were able to share what they were learning in Religious Education and to ask questions of Father James.
Parish Bulletins
Please click on the link for St Anne's Parish, Manurewa Bulletin Bulletin #27 – Sunday 31st July 2022 online
St Ignatius of Loyola Catholic College Planting Day
Our Holy Trinity students, whānau and staff have been invited to participate in the St Ignatius of Loyola Catholic College Planting Afternoon on Saturday 30th July from 1:00pm.
This is a wonderful opportunity to see where the new Catholic College is being built in Drury and to be part of the planting of the first section of the College's landscape and gardens!
1.00pm WELCOME
1.05pm BLESSING
1.10pm Priests Planting (4 trees)
1.15pm Medal Ceremony (Jesuit Ritual)
1.20pm Ignatius Prayer of Generosity
1.30pm General Planting by all the School and Parish groups.
Some Food & Coffee/Drinks will be provided.
if you are able to come along with your family to join in with the fun!
God Bless
Apaula Fruean-Lautua
Holy Trinity Board Member and St Ignatius Establishment Board Member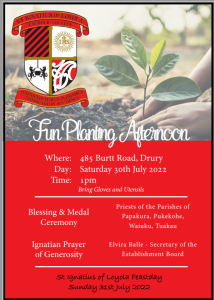 Mahi Tahi Parent/Teacher/Student Conferences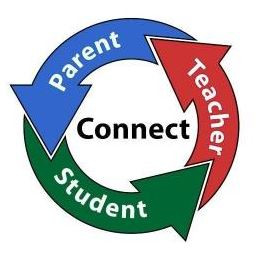 Mahi Tahi Conferences will be held next week – Wednesday 3rd August and Thursday 4th August from 3:15pm – 6:30pm each night.
On Wednesday 3rd August we will offer 15 minute interviews for those families who prefer to meet for the Mahi Tahi Parent/Teacher/Student Conferences in this way … the school interview portal is set up for you to access to make your appointment time. You can use the following link to book a slot to meet your child's kaitiaki: www.schoolinterviews.co.nz and select the 'make a booking' button. Enter the event code 88xx5 to make a booking (it's really important that you enter this code). Online bookings for Wednesday will be closed on Tuesday the 2nd Aug at 4.00pm.
AND on Thursday 4th August we will offer an open, informal Mahi Tahi Parent/Teacher/Student Conference time for those families who prefer to meet with the teachers in this way.
The Mahi Tahi conference times are a chance to discuss the recent HERO mid year reporting for your child/ren and to answer any queries or questions you might have. It is also an opportunity to build on our home school partnership and a great time to identify learning steps moving forward and to celebrate successes.
We are very much looking forward to being able to meet with our families face to face and to have rich learning conversations about our students' learning progress and achievement.
'Epetoma o te reo Māori Kūki 'Āirani
Cook Islands Language Week Sunday 31 July – Saturday 6 August
This year's theme for 'Epetoma o te reo Māori Kūki 'Āirani – Cook Islands Language Week is 'Ātuitui'ia au ki te Oneone o tōku 'Ui Tupuna which means "connect me to the soil of my ancestors".
'Ātuitui'ia au ki te Oneone o tōku 'Ui Tupuna reflects on the journey of Cook Islands peoples in New Zealand, as well as the longing of young Cook Islanders to connect with their language, culture, and identity. Acknowledging that while community elders are fundamental to the teaching and sharing of Cook Islands language, the leadership of young people as the next wave of cultural and language experts is also critical in keeping the connection to their homelands alive.
The theme reflects the overarching 2022 Pacific Language Week theme of Sustainability, by linking the importance of language sharing and cultural heritage being handed down over generations.
We will be growing our knowledge around Cook Islands Language next week at school. Students and staff will be immersed in learning activities to celebrate Cook Islands culture, identity and language. We wish our Cook Islands whānau a very happy Cook Islands Language Week – Epetoma o te reo Māori Kūki 'Āirani.
Community Hui for Māori Whānau

and Pacific Peoples Aiga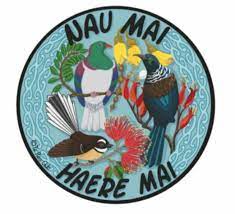 We are looking forward to gathering with our Māori Whānau and Pacific Peoples Aiga again, on Thursday 11th August here at school in Taamaua/school hall from 6:00pm -7:30pm. This is a time to enjoy a shared meal together and to also enjoy and participate in home learning activities.
This time together will be a FUN learning time of experiencing activities that can support learning at home. You will be able to have a go with the bee bots, and sphero balls as part of learning about maths geometry and measurement. We will share some great tips for maths, reading, writing, spelling and phonics learning at home as well as trying out some STEM experiments – being a scientist!
Please come along and have some learning fun with your child/ren. 
We would be grateful if you could please bring some food to contribute to the shared meal. Looking forward to seeing you there!
PTFA News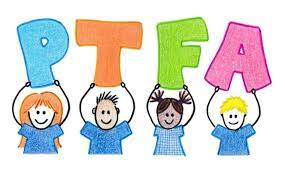 Your PTFA is in need of a new Treasurer! As the wonderful Fiona and her family move on from the school at the end of the year, we need someone to help us with the PTFA finances and basic reporting. Please consider this extremely rewarding position on our fabulous committee if you have any accounting experience so we can keep bringing great events to the school community, running the wonderful second hand uniform shop and fundraising for school improvements – like the playground and upcoming sacred space! Full training for this role will be provided.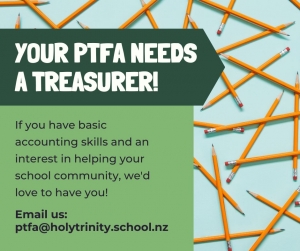 Email us at 
ptfa@holytrinity.school.nz
, or come along to our next meeting to see what it's all about. Our next meeting will be: 
Tuesday, 23 August at 7:00pm in the school staffroom.
Second Hand Uniforms
The second hand uniform shop will be open on the following dates:
Friday 26 August  2:15pm-3:00pm
Friday 30 September 2:15pm-3:00pm
Please come through to Taamaua/school hall and head upstairs to the mezzanine where the uniform area is.
Upcoming events
Tuesday 23 August     – PTFA meeting in staffroom 7pm – all welcome.
Friday 26 August         – Pizza lunch at school.
Friday 30 September  –  Wave Rave fundraiser at Massey Park Pools, 7pm – 8.30pm.
Friday 11 November    – FUN RUN.
Warmest regards,
Laura Cooper and Michelle Porter
Co-Chairpersons
Holy Trinity Catholic Primary School
Parent, Teacher & Friends Association
Learning Community News
Learning Community Whenua
Street Racket
Our children were actively engaged in the street racket programme which started this week. The focus being on hand-eye coordination and having fun alongside their peers. We feel incredibly lucky to have Coach Brian who has traveled the globe as a professional squash player as well as an elite coach at World, European and International championships. We are excited that he will coach us for street racket learning for the first five weeks of Term 3.
Holiday Learning
It has been great to see some work coming through around our Journey concept curriculum learning. We have had many interesting topics. Some children have had questions about the water cycle, life cycle of a plant and the solar system. Some have found information about:-
Why flamingos stand on one leg? Why do some plants have fruit and others do not? How does the earth protect itself from solar flares and how tall is a giraffe?
It has been great to see our LC Whenua learners researching things that they would like to know more about. We are looking forward to more learners completing this task and seeing their scientific thinking in action.
Calendar Art
Our LC Whenua children were very excited about completing their calendar art and are proud of what they have completed. They look forward to showing their parents the finished product once they are published and ready to be purchased. They look fantastic and will become a keepsake to treasure!
Learning Community Moana
LC Moana learners have enjoyed a great start to Term 3! We have been learning all about how to keep safe around fire and the difference between safe and unsafe fires. Moana learners are keen to take their learning home and create an evacuation plan with their whānau in the event of a fire.
We have also been learning about the Commonwealth Games and are very excited to cheer on the athletes representing our country, in the many different sports in the weeks to come. We have learning about the different sports that are played in the Commonwealth Games and have created our own medals representing the sports.
Duffy Book in Homes Programme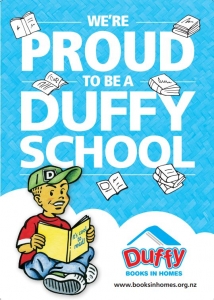 Holy Trinity Catholic Primary School is now a Duffy Books in Home, School! Once a term, your child will have the chance to choose two books that they will be able to keep… and it won't cost you a cent! Then at the end of each term, we will have a very special assembly with a 'Duffy Hero' who will present each learning community with their free Duffy books.
Keep an eye out for HERO and Facebook posts for more details about our Duffy Assembly coming up later this term.
A huge thank you to Scholastic for their support of the Duffy Books in Homes programme. To find out more about the Duffy Books in Homes Programme, visit 
www.booksinhomes.org.nz
Ngā mihi,
Kirstie Gill
Duffy Books in Homes Coordinator
Book Club News
Kia ora whānau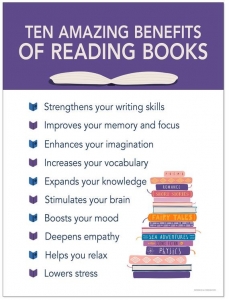 Issue 5 of the Book Club catalogue is out now, and your child will have brought a copy home today. This issue is a perfect excuse for stocking up on birthday presents or Christmas presents, or for adding to your home library, as Scholastic is running a special promotion:
Spend over $30 and you will receive a free book.
Spend over $50 and you will receive two free books.
Spend over $70 and you will receive three free books.
This offer is only available if you place your order online at Scholastic Book Club
Orders close at 3pm on Friday 5 August. 
As always, thank you for your support of the Book Club. Your purchases help generate reward dollars for the school to use to buy resources for the library and learning communities.
Ngā mihi,
Kirstie Gill
Book Club Coordinator
School Visitors …
On Thursday 4th August, our own little school has been chosen as one of 3 Catholic schools to be visited by the NZ Marist Colts Rugby team. Team members will speak to all of our students about the importance of our own school Gospel Values, and how they still apply outside of school and anywhere we go. The team will also spend time with our students, playing a little bit of the game with sports gear donated by the organisation – of which we are very honoured and sincerely grateful to receive.
The NZ Marist Colts are a combination of elite rugby players who represent the many Clubs that fly the Marist Banner. It is also worth knowing that some of our greatest All Blacks have played in various Marist Clubs, such as recent All Black, Hoskins Sotutu.
Many thanks to the NZ Marist Colts for their amazing gift and for offering their time and service to our very lucky school!
Sports News
StreetRacket Skills – Brian Barnett
Every Tuesday until Week 1 of Term 4, our students will go through a series of drills and skills when it comes to a very bouncy ball and racket. With hand and eye coordination, manipulation of hands and wrists, control of a bat and ball at the same time, our students will learn to navigate the many skills (and patience) needed to engage sports that use a racket and a ball. As part of the programme, our school has been gifted bats and balls (as pictured) for our students to follow up on after the lessons on the Tuesday. The motivation of course is to encourage our students to take on a racket sport such as squash, badminton and tennis!
Sincere thanks to Brian Barnett, our coach, for these Tuesdays, whose wealth of knowledge and experience is very much appreciated by all!
Year 7/8 Inter School Cross Country – Wednesday 3rd August
Wednesday 3rd of August is the annual inter school Cross Country event for our Papakura Schools. Playing host this year is Strathallan, where our student representatives will need to navigate 3.3km of high, low and often muddy terrain. Of course the students will be blessed with a beautiful view of the Karaka harbour.
Congratulations to the following students who have been selected to represent our School at the annual event:
Year 7 – Konrad Karena and Sebastiano Simonetti
Year 8 – Georgina Lautua, Lianna Delubio, Dk St John and Trey Hennessy.
Those who make the top 10 finish, then qualify as representatives for the North Counties team at the Auckland Event held at the Pukekohe Showgrounds, which Lianna Delubio competed in this time last year.
We wish our competitors all the best for next Wednesday!
Reminders!
School Enrolments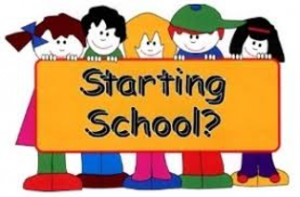 It is really important that we know of all younger brothers and sisters that are commencing schooling with us in 2023. If you have little ones at home, please contact the school office to make a time to meet with Miss Lindstrom so they can be assured of a placement at Holy Trinity School for when they are ready to start in 2023.
School enrolments for 2023 CLOSE by 31st August 2022 and
placements for 2023 will be confirmed by 30th September 2022.
Teacher Only Day – Friday 2nd September 2022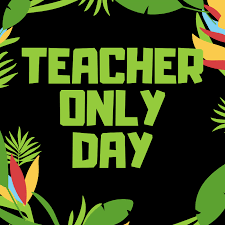 School will be closed for students on Friday 2nd September. Teachers and Support Staff will be involved in a workshop day with our South Auckland Catholic Schools Kāhui Ako. 
Please make alternative arrangements for your child/ren for this day – Friday 2nd September.
AND please note students will be able to go home early from school at 1:00pm on Tuesday 23rd August so that all Holy Trinity staff can attend a seminar on Te Tiriti o Waitangi in preparation for the implementation of the Aotearoa New Zealand Histories curriculum in 2023.
World Scout Scarf Day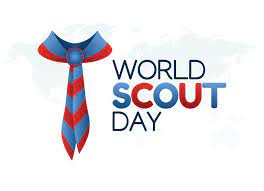 Monday 1st August is the celebration for World Scout Scarf Day and our students who are scout members are being encouraged to wear their scarves to school for the day.
This is one of the ways Scouts Aotearoa raises awareness about the unique opportunities Scouting offers youth and adults alike. Scouts Aotearoa is a growing and vibrant Movement offering adventure and skills-based learning for anyone aged 5-26. Scouts Aotearoa firmly believes that every child has the right to adventure.
If you have any questions or would like to know more about Scouting, please call 0800 SCOUTS or visit their website.
Upcoming School Events and Dates!
St Ignatius of Loyola Catholic College TREE Planting Afternoon
Saturday 30th July at Burtt Road in Drury
Cook Island Language Week learning activities
Monday 1st August – Friday 5th August
School Community Police Officer Visiting
Monday 1st August – Constable Kelly Davys visiting Leaning Communities
Year 7&8 Interschool Cross Country
Wednesday 3rd August @ Strathallan
Mahi Tahi Parent/Teacher/Student Conferences
Wednesday 3rd August 3:15pm – 6:30pm – 15 minute booked interview slots
Thursday 4th August 3:15pm – 6:30pm – open interview times 
NZ Marist Colts Rugby Team Visit
Thursday 4th August 9:00am – 9:45am in Taamaua/school hall
School "Farewell and Thank You Liturgy" for Mr Andrew Malele (Deputy Principal)
Friday 5th August 9:45am in Taamaua/school hall with morning tea to follow
School Gathering Liturgy and Assembly – led by Learning Community Moana
Monday 8th August 9:15am in Taamaua/school hall
Māori Whānau Hui and Pacific Peoples Aiga Fono
Thursday 11th August 6:00pm – 7:30pm in Taamaua/school hall
COMBINED SUNDAY SCHOOLS MASS "Feast of the Assumption"
Sunday 14th August 10:30am Mass at St Mary's Parish, Papakura
School Board Community Evening
Tuesday 16th August 7:00pm – 8:00pm in Taamaua/school hall
School Closing EARLY – students may go home from 1:00pm
Tuesday 23rd August
Teacher Only Day – school closed for students 
Friday 2nd September
Term 3 Concludes
Friday 30th September
Term 4 Commences
Monday 17th October
Job Vacancies
Kia ora koutou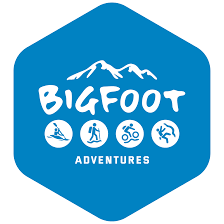 Bigfoot Adventures are recruiting Bike Skills Instructors to deliver their Bike Skills programme. If you think that this could be of interest, then please follow the link below for more information. 
https://www.seek.co.nz/job/57735459?type=standard#sol=2e365ab82c4937f170a9e1ffda8db7cb0b285fcb 
In this roll you'd be required to undergo the Bike Ready training course and have a valid first aid certificate by an accredited first aid provider. Bigfoot Adventures regularly runs the Bike Ready course and can recommend first aid providers and when they have courses running. 
We're keen to recruit individuals who'd be interested in delivering to their local community but maybe have limited availability. We'd be very interested to hear from people who have free time within school hours.
Beginning Experience Grief Resolution Weekend Retreat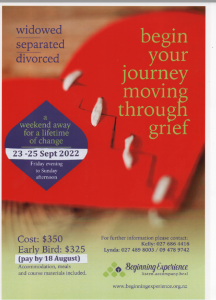 Beginning Experience Grief Resolution Weekend Retreat on 23 – 25 SEPTEMBER 2022
ALONE AGAIN? Widowed, Separated or Divorced? The Beginning Experience is a non- profit organization with the motto a "Weekend Away for a Lifetime of Change" for adults.
The retreat will help you work through your painful loss. The participants find new hope, increased emotional health and renewed energy. Date Friday evening to Sunday afternoon 23-25 Sept. Cost $350 or early bird price of $325 if paid by 18 Aug. Includes accommodation, meals and materials. Contact Lynda 0274898003 and (09)478-9742 or Kelly evenings 027-686-4416 www.beginningexperience.org.nz
Community Basketball Opportunities
Community basketball activities for this term … participation and development opportunities for players, coaches, and referees.
Upcoming Community Events
Kuraconnect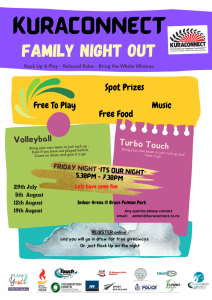 Our vision is to seek to see that whānau in Papakura are thriving, safe, with a clear sense of belonging and are contributing to holistic wellbeing, through active engagement, in sport, recreation, performing arts and culture. Te Kaha Te Tautoko Me Te Oranga 0 Papakura E Tu Whanau.
Our mission is to connect the Papakura Community through fun, culture, opportunity and togetherness, and create a network of organisations focused on "Whanau wrap around community services" for at risk youth and families. To educate people about the connection between sport and the creative arts wellbeing and mental health, and to Improve communication between organisations, community members and government departments.
Kuraconnect is running 4 weeks of activations of Turbo Touch and Volleyball at this stage. This will be held at Bruce Pullman Indoor Arena FRIDAY NIGHTS
Friday 29th July through to Friday 19th August 2022, from 5:30pm to 7:30pm.
This is FREE!!!
FREE Whānau Event – Rock up and Play 
FREE FOOD
FREE GIVEAWAYS
COME AS A TEAM
COME AS A INDIVIDUAL (Kuraconnect will pop you into a team)
We have an online link to register a school team/s all ages and genders This is ALL ABOUT CONNECTING AND HAVING FUN!!
https://www.sporty.co.nz/viewform/201312 
Tutoring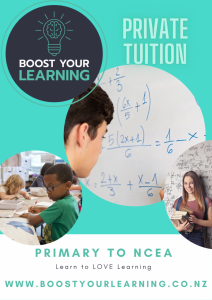 Does your child require further support, over and above what can be offered at school? Would your child benefit from bespoke and nurturing learning sessions from a highly experienced teacher designed to accelerate learning and boost confidence? We would love to help. We are a team of dedicated teachers, specialising in English and Maths support, for primary, intermediate and college students. Visit www.boostyourlearning.co.nz for more information or contact Jenny 021 223 3349 to book a free consultation.

Print or Save this Post