Greetings, Kia ora, Kia orana, Talofa, Mālō e lelei,  Namaste, Ni Hao, Bula, Hola, Kumusta
Dear Families,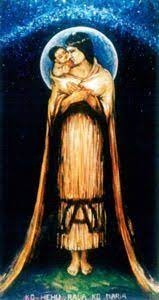 This Sunday 15th August, the Feast of "The Assumption of the Blessed Virgin Mary," every Catholic Parish in New Zealand, at all Masses, will be rededicating our country to Mary's loving care. Our first Catholic Bishop in Aotearoa New Zealand, Bishop Jean Baptiste Pompallier, dedicated New Zealand to Mother Mary, under the title of her Assumption into Heaven.
From his arrival Bishop Pompallier sought to foster a relationship with the tangata whenua. In responding to a Māori tradition for music the bishop offered a hymn, composed in the māori language. Bishop Pompallier's hymn was Mō Maria. We often sing Mō Maria here at school!
We celebrate Mary as a Mother to all
Mary in heaven above
God's Faithful disciple watching over us
Mary in heaven above
(Mary, a Woman of Faith by John Burland)
We are indeed truly blessed to have Our Lady as our special patron.
The New Zealand bishops have chosen Te Ara a Maria: Mary's Way as the name for the rededication.
A website has been created to help promote the Bishops' renewal of the dedication of the country to Our Lady Assumed into Heaven.  The renewal project has the title Te Ara a Maria: Mary's Way and runs for 12 months from 15 August.
Go here for the website: www.tearaamaria.nz
School CLOSED MONDAY 23rd AUGUST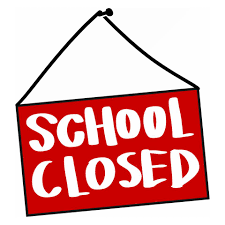 School will be closed for students Monday 23rd August. Teachers will be involved in a final day of study –  RE/Health Seminar "Having Life to the Full" – session 4.  This is a wonderful opportunity to learn and share alongside each other.
Please make alternative arrangements for your child/ren on this day. sKids will be operating a "Bricks and Blocks" programme day in the school hall on this day. Please go to sKids.co.nz/book and search for Holy Trinity Catholic Primary School to make a booking.
Please take note of the Teacher Only Days for the rest of this year.  These days are part of the Primary Teachers Collective Agreement and are used for teacher professional learning and development. This means that schools can close on a day to allow for all teachers to attend various professional development.
In 2021 – Holy Trinity Catholic Primary School will be closed:
Term 3 Monday 23rd August – RE/Health Seminar "Having Life to the Full" – session 4
Term 4 Friday 22nd October – RE/Health – writing development of the health curriculum
Community Hui/Talanoa Evening
Kia Ora (Maori), Talofa lava (Samoan), Malo e lelei (Tongan), Bula vinaka (Fijian), Kia Orana (Cook Islands), Fakaalofa lahi atu (Niuean), Fakatalofa atu (Tuvaluan), Malo ni (Tokelauan), Mauri (Kiribati)
Tuesday 17th August 6:00pm-8:00pm in the school hall
Welcome All! Please come along to our combined Whānau Hui & Aiga Fono.
To carry on with the great work from our time together at the end of Term 1, we extend a warm invitation to our Māori whānau and to our Pacific Peoples families to share in a combined time together. We will commence with a shared dinner at 6:00pm followed by the introduction of our draft curriculum – Aotearoa NZ Histories. We are very keen to hear the stories from our own families about shifting to NZ … and shifting around NZ … as part of our own great migration story and histories. Please do come along and share with us!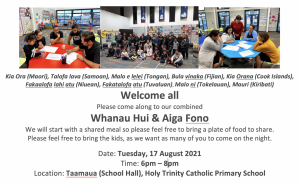 Rejoice: Auckland Catholic Festival
Attached is a personal invitation from Bishop Pat to the 
Rejoice: Auckland Catholic Festival  on Saturday 16 October.
It is a free admission, family friendly event.  You may like to shoulder tap families you know would enjoy the day and invite them to make up a party with other families.  There is also a young people focus throughout the day, and a Youth Festival in the evening.
From Bishop Pat ….
Dear Friends,
I am writing to invite you to the Rejoice: Auckland Catholic Festival to be held on Saturday 16 October 2021 at Sancta Maria College / St Luke's Church, Flat Bush.
Come and gather to be affirmed, inspired, encouraged and strengthened as Catholics so as to continue to love and serve as missionary disciples in parishes, ethnic communities, schools and our wider society.
All are welcome. Everyone in the Diocese, no matter how young or old, is invited to be part of this exciting event. Here is an opportunity for the Diocese to come together to rejoice in the Lord – the source of our joy. As Pope Francis says "Now, more than ever…we need a movement of people who know we need each other, who have a sense of responsibility to others and to the world." (Let us Dream, 2021)
So please bring your community to join Bishop Michael and myself in Flat Bush for this all-day event on Saturday 16 October. As a Diocese, let us take this opportunity to encounter Christ afresh and celebrate our Faith.
We begin with a Festival Mass at 9.00 am and the day concludes at 5.00 pm. There will be talks, workshops, prayer fellowship and fun. A separate programme for children will be offered alongside the main programme. This is a family-friendly event! Lunch will be provided and the whole celebration is free. Registrations open in August and further announcements will be made on the line-up of speakers.
In the evening, a Youth Festival will be held from 7.00 pm-10.00 pm at the same venue.
Yours sincerely in Christ
Patrick Dunn
Bishop of Auckland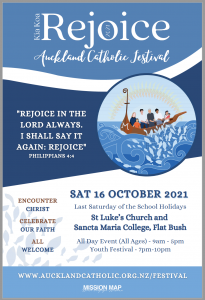 DRS Report
School Mass
This week on Tuesday 10 August, Feast Day of St Lawrence, Patrick Dunn Whãnau led our school's Beginning of Term 3 Mass with Father James Mulligan as our celebrant. Father James spoke about service and told the story of the bravery of St Lawrence who was a Roman deacon under Pope Saint Sixtus II. St Lawrence lived out his life in service to God's people. A well known story of St Lawrence was his courage when a Roman prefect challenged him about the church's treasures in which he, in three days, rounded up all the sick, the lame, the blind, the orphaned, the marginalised and the forgotten and presented them as the 'treasures of the Church'. This story reminds us too of our own calling to serve in love and compassion. As we journey through this term, we ask for God's guidance to help us serve each other.
Feast of the Assumption
New Zealand's first bishop, Bishop Jean Baptiste Francois Pompallier dedicated our country, Aotearoa New Zealand, to our Mother Mary, Assumed into Heaven. This year the Feast of the Assumption of the Blessed Virgin Mary (a holy day of obligation), will be celebrated this coming Sunday 15 August. Most of our bishops will be gathered in Wellington for a special ceremony to re-dedicate Aotearoa New Zealand to our patron Saint Mary Assumed into Heaven. Parishes throughout the country will be invited to join in prayer for the renewal of the dedication.
Congratulations!
Congratulations to the following students who received their First Holy Communion at the Parish of St Anne's Manurewa on the 8th of August. In the presence of a full church, hall and atrium, these wonderful students participated in the feast of the Eucharist. Congratulations to them, their family, their sponsors, and all who have supported them in this leg of their faith journey:
Lianna Delubio
LJ Delubio
Mikayla Duya
Marielle Gayatin
Raphael Gayatin
Alexei James
Maddison Briones Ochoa
Chelsea Winston
Thank You!
This week, our students have been bringing home their Religious Education books to share their learning with their families/whānau. It's been wonderful to read all the positive affirming comments that were shared by families in celebrating their children's learning around Religious Education. Thank you for taking the time to read through our children's RE books and constructing a family comment to be shared with the kaitiaki/teachers. God Bless You!
Sunday School Mass
On Sunday 5 September, we will have a combined Mass held at St Mary's Church in Papakura at 10:30am. This Mass will be led by both Holy Trinity Catholic Primary School and St Mary's School, Papakura. It would be fantastic if our families could join us in celebrating Father's Day on this special Sunday at the Parish. We look forward to celebrating another special Mass in our local Church with you all!
Can Drive for Christmas
This term, in Week 7 commencing Monday 6 September, we will be running our annual school "Can Drive for Christmas" as part of our lead up to Social Justice Week. Our Can Drive Week is when students and staff donate a can or cans of food throughout the week. On Friday 10 September, volunteers will be coming around to collect the can of food and deliver them to St Vincent de Paul. These cans are then boxed and distributed to our Auckland families who need food, especially during the Christmas season. It's one of our own local outreach activities that we do every year to help our brothers and sisters in need.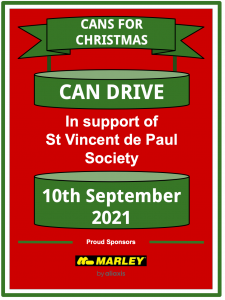 Holy Trinity School Cross Country – Friday 20th August
Kia Ora Whānau,
On Friday 20th August, we will be having our annual Holy Trinity School Cross-Country event.
VENUE: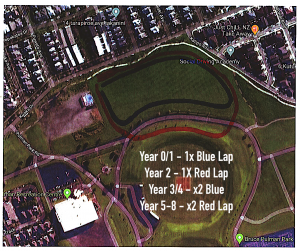 This event will be held at Bruce Pulman Park, directly behind the school. Refer to map above (subject to change).
We will walk as a whole school to Bruce Pulman Park leaving school at 11am.
Times:
Races will start from approximately 11:30 in the following order.
Please note we are unable to provide exact start times for each category.
Outline of the day:
11:00am: Gather at school
11:15am: Walk to Bruce Pulman Park
11:30am: Races begin (order subject to change prior to day)
1. Year 4 Girls
2. Year 4 Boys
3. Year 2 Girls
4. Year 2 Boys
5. Year 5 Girls
6. Year 5 Boys
7. Year 0/1 Girls
8. Year 0/1 Boys
9. Year 8 Girls
10. Year 8 Boys
11. Year 3 Girls
12. Year 3 Boys
13. Year 6 Girls
14. Year 6 Boys
15. Year 7 Girls
16. Year 7 Boys
12:30pm approximately: Races conclude
12:45pm: Certificates awarded
1:00pm: Pack up and walk back to school
1:20-2:00pm Lunchtime at school
What to wear … All students are expected to wear their House Whānau colours for the day.
PATRICK DUNN WHĀNAU = YELLOW
MACKILLOP WHĀNAU = RED
AUBERT WHĀNAU = GREEN
POMPALLIER WHĀNAU = PURPLE
Bring a jumper / jacket or both on the day. It is advisable to keep warm prior to the event and also after the event.
Footwear: All students must wear appropriate footwear i.e. running shoes and socks.
Certificates: At the conclusion of the races, we will award certificates for top place getters.
Helpers: If you are able to assist with marshalling and checkpoint supervision duties on the day, please let me, Mr Malele know – amalele@holytrinity.school.nz.
Medical: Any student who normally uses an asthma inhaler while undertaking exercise is expected to bring their personal inhaler on the day.
Many thanks in advance, and looking forward to what will be an amazing day!
Water Safety Skills Swim Programme
In Weeks 6 and 9 of this term, the whole school will be timetabled to visit Massey Park Pools Papakura, to attend Water Safety lessons delivered by trained and qualified Water Safety instructors.
Students from Learning Communities Ngahere, Maunga and Moana will attend in Week 6 from Monday 30th August and students from Learning Communities Awa and Whenua will attend in Week 9 from Monday 20th September.
Students will learn skills and techniques to help them stay safe in the water – whether it be at a local swimming pool, your own swimming pool, river, lake, estuary, beach – any where that you will find water.
More detailed information will be sent closer to the time, but it is important that all our children attend these sessions. These lessons could potentially save their lives if they get into trouble or even someone else's.
In the meantime, if you do have any queries or questions, please email Andrew at amalele@holytrinity.school.nz
PTFA News

As always, thank you all for your continued support!
Movie Night!
The PTFA have decided to run a Movie Night event for students in Term 3. Confirmed date of: Friday, 17th September 2021. The tickets will be designed by senior students for pre-sale and on the night.
We would appreciate ideas for movies for both the Junior and Senior sessions, please email ptfa@holytrinity.school.nz with your ideas, and we'll then get the kids to vote!
Twilight Market!
We have started planning for our Twilight Market. Proposed date: Friday, November 12th 2021, we are looking for some support for the Food stalls and donations for raffles items.
Second Hand Uniform Shop!
Our second hand uniform shop has been extremely successful. We need more donations! Thank you to those who have already donated!
Next PTFA Meeting!
Scheduled for Tuesday 31st August 2021 – 7:30pm in the staffroom
Learning Community News
Learning Community Whenua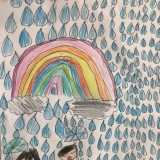 In LC Whenua we have been learning how to write poems. We practiced writing an acrostic poem about rain as there is a lot of it in the wintertime! We are also learning about why it's important to be kaitiaki of God's creation and appreciate what God made for us.
Picture drawn by Mele K.
Reflection in a puddle

Always raining

If no rain, no water

No rain, no life

By Liam C.

Rain is so fresh

A rain drop is water

I eat some soup

Now I run in the rain.

By Elijah T.

Run in the beautiful rain

Always wet but it's okay

I like it when the rain comes down

Nice rainbow from the sky

By Mele K.
Learning Community Moana
The learners in LC Moana have been using their curiosity to help them identify different problems around our school. They have looked at the causes and effects these problems have. Our learners have been working hard to follow the technological process to come up with possible solutions to help solve these problems. They are ready to take action and be kaitiaki of God's creation – we can't wait to test our solutions.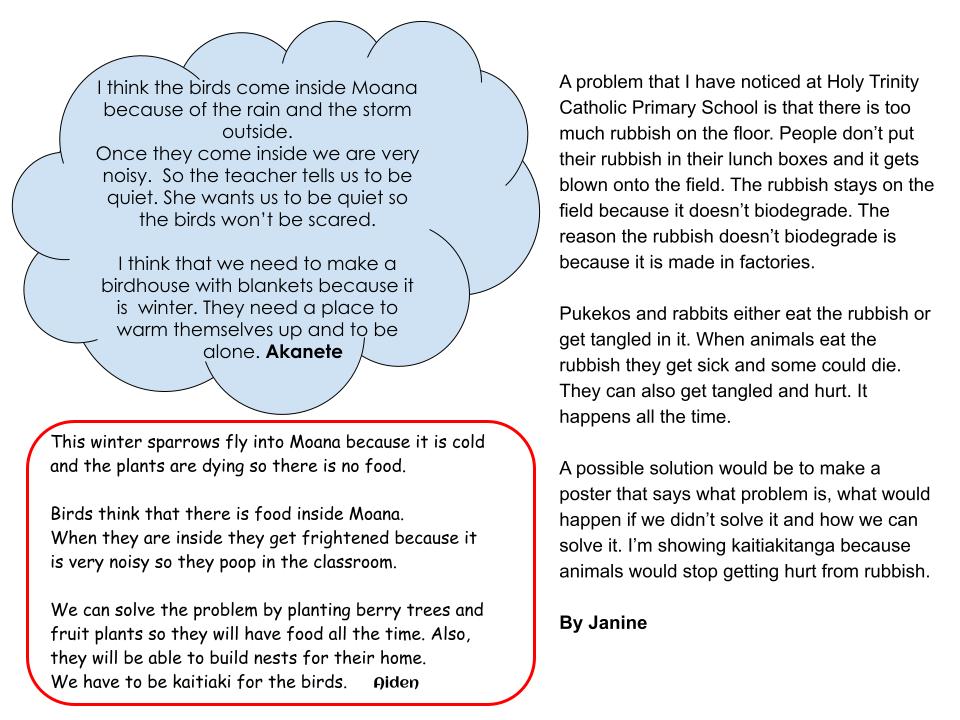 Lunchtime Theatre Club
On a Wednesday lunchtime in Taamaua, Lani-Bella Winter and Rebecca Thorpe facilitate Theatre Club for any members across the school who would like to engage in activities that would help them embrace the Arts.
Their first gathering saw close to 40 students attend and participate in a range of activities that challenged the students to test their comfort zones, and/or enabled them to share their interest for drama.
The girls had them all engaged which was a fantastic sight to see. Great acts of service all round and amazing to see aspiring leaders in the making.
Congratulations to Lani and Rebecca for taking the initiative and for doing a great job – ka mau te wehi!
Curriculum News
Cook Islands Language Week -'Epetoma o te reo Māori Kūki 'Āirani
'Ātuitui'ia au ki te Oneone o tōku 'Ui Tupuna which means, connect me to the soil of my ancestors.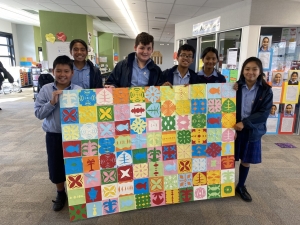 Our students, in their whānau groups, were immersed in activities to celebrate Cook Islands culture and language. It was great to see colour on our students as they proudly wore their creations throughout the day.  The learning experiences and activities were centred around 'ei kata, tivaevae and the national flag of Cook Islands. It was great to grow our knowledge about the Cook Islands flag and the significance of tivaevae and 'ei kata when celebrating special milestones and events.
We thank Mavis Chung for organising the wonderful way we celebrated Cook Islands Language Week and acknowledge Ms Drollet for her contribution as well.
Sports News
Year 7 & 8 – Inter School Cross Country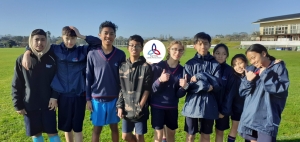 Last Wednesday, 10 of our Year 7 and 8 students competed in the annual Papakura Inter-Schools Cross Country event, that was held at Strathallan in Karaka.
On a mildly cold day, the students had to traverse 3.5 km of high and low terrain, with students from other schools in the area. It was an intense course that the students found difficult, but was worth the beautiful scenery that surrounded the school.
Many thanks to the following students who represented our school in every way, from being a person of great sportsmanship to fine role model ambassadors for the school: Sam Pou-Pomare, Linkin Karena, Trey Hennessy, Jezrain Bustarde, Anastazia Karouta, Zeus Abundo, Mikayla Duya, Simone Gertos and Lianna Delubio.
Thank you to Mr & Mrs Karena who came and helped and supported our students on the day. Your help and support was very much appreciated.
Congratulations to Linkin Karena and Liana Delubio who both qualified for the Counties Zone Cross Country Competition that will be held at the Franklin A & P Showgrounds Pukekohe on Tuesday 17th September. Lianna placed 3rd overall in her age group and Linkin 6th for his year level. They will run on behalf of the North Counties team made up of the top 10 finalists from the Papakura competition. We wish them both good luck for the Counties  competition.
Year 5 & 6 – Inter School Cross Country
On Wednesday the 18th of August, 10 of our Year 5 and 6 students will be competing at the next Papakura Inter-Schools competition. Congratulations and good luck to the following students who will be representing our school at the event:
Konrad Karena
Raphael Gayatin
Rosaria Soo-Choon
Emereziana Lautua
Simone Paterson
Lucas Witehira
Toiaimalo Taimalie
LJ Delubio
Sebastiano Simonetti
Norma Stephens
Senior Basketball – Special Coaching Sessions
Over the last two weeks on a Tuesday, students from Years 5 to 8 have been involved in basic training around basketball, as simple as basic basketball dribbling to manoeuvring with ball in hand to playing and competing in a game.
Counties Basketball provided skilled coaches that not only knew their sport, but had our students engaged. They also spent time coaching our the girls in an extra session, to help build confidence and interest in the sport.
Sincere thanks to Auckland Basketball for providing these wonderful coaches and the opportunity for our students to build more knowledge and skills around the sport of basketball.
Congratulations!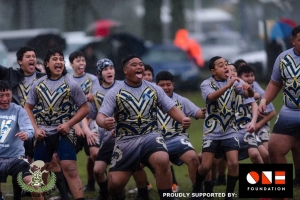 We would like to acknowledge and congratulate Linkin Karena, who competed in the New Zealand Maori Rugby League Tournament, held in the last school holidays in Rotorua.
A day before the tournament, Linkin unfortunately lost his Great Grandfather, which was a hard time for Linkin and his whānau. But the awful weather did not stop Linkin from displaying his fantastic league skills nor playing for his Great Grandfather who would have been immensely proud.
Linkin can be seen in the background performing the haka. Ka mau te wehi Linkin!
Upcoming School Events
Feast of the Assumption Holy Day of Obligation
Sunday 15th August
Combined Community Hui/Talanoa for Māori and Pacific Peoples
Tuesday 17th August 6:00pm – 8:00pm in Taamaua/school hall
Year 5&6 Inter-school Cross Country
Wednesday 18th August @ Te Hihi Primary School
Holy Trinity School Cross Country
Friday 20th August 10:00am-1:00pm @ Bruce Pulman Park
School Closed for Teacher Only Day – no students at school 
Monday 23rd August 
School Gathering Liturgy and Assembly – led by Learning Community Whenua
Tuesday 24th August 8:50am in Taamaua/school hall
Priest's Visit to school – Fr James Mulligan
Wednesday 25th August
School Board Monthly Meeting
Wednesday 25th August 6:00pm in the school staffroom
Kāhui Ako Student Leadership Day
Thursday 26th August @ Holy Cross Primary School
Water Safety Skills Swim programme for Learning Communities Ngahere, Maunga and Moana
Beginning Week 6 Monday 30th August @ Massey Park Pools, Papakura
Combined Schools Fathers Day Mass
Sunday 5th September 10:30am @ St Mary's Parish Church, Papakura
Water Safety Skills Swim programme for Learning Communities Awa and Whenua
Beginning Week 9 Monday 20th September @ Massey Park Pools, Papakura
Term 3 concludes
Monday 1st October
Term 4 commences
Monday 18th October
sKids Programme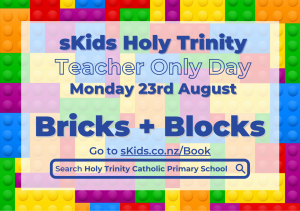 Print or Save this Post