Greetings, Kia ora, Kia orana, Talofa, Mālō e lelei,  Namaste, Ni Hao, Bula, Hola, Kumusta
Dear Families
A special blessing for all our families this Christmas Season …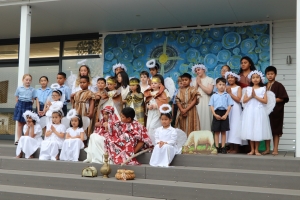 "Whenever we gaze into a crib this Christmas season
May new hope and joy flood our spirit
whenever we watch babies and young children playing
May a new energy delight our hearts
Whenever we are tantalised by the aroma of a bbq
May we unwind, relax and enjoy time off
Whenever the crush of family and friends overwhelms us
May the hospitality of our hearts expand
Whenever we provide a meal or bed over the holidays
May we experience love and appreciation
Whenever we spy our reflection in the mirror or pool
May we find ourselves to be images of God
Whenever we put our feet up for leisure
May the humble presence of the Incarnate One companion us
Whenever we feel our distance from each other around the world
May the Christ child draw us into unity."
Amen
(source: act Love Walk – Praying in the Josephite Spirit)
THANK YOU!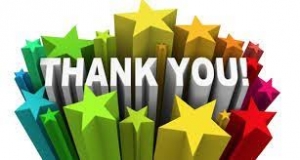 Thank you to our fantastic community who have walked alongside us this year. Along with the children and staff, you too are the heartbeat of Holy Trinity and we salute you for the many ways you have supported us throughout the year to make it the success it has been, for all. It has been wonderful to celebrate our achievements at the various end of year school events … Mahi Tahi Parent/Teacher/Student Conferences, Praise-giving, Family Picnic and Nativity Play and our End of Year Mass.
Although this has been an unusual year and we have had to take many health and safety precautions with various Alert levels, we remain filled with gratitude for the way you support with Language Weeks, sports events, community hui, community surveys, Twilight Market Day activities, EOTC activities, Mufti Day activities, BoT and PTFA meetings and activities, Learning at Home schooling etc – school is all about partnership and working together to enable the best opportunities for our children, so we are truly blessed with our school community and the significant contributions that you make to the daily life of our school. 
Thank you also for the way you give strength and unity to our school through the sharing of your own identity, culture and language. We hope to go from strength to strength in this respect – celebrating our diversity as we build our unity. We are very proud of you and are looking forward to all we can achieve together in 2021!
There are many people in our school community who enact our vision of SERVE Ka manaaki. On behalf of the school community, we acknowledge and thank …
Our Governance Team, the Board of Trustees – Philip, as Chairperson and our BoT members who ably lead our school, who embrace and honour their respective governance roles and work tirelessly on our behalf.
Our PTFA for being so active! Thanks to Laura Cooper and Michelle Porter who willingly stepped into the Co-Chairperson's role and continue to lead the PTFA team with energy and enthusiasm. 
Fr Peter and Fr James (St Mary's Parish) and Fr Brian and Fr Rob (St Anne's Parish) – we give thanks for another year of their presence with us in so many ways throughout this year. We are grateful for the love, care and spiritual guidance they share with us. 
Finally …
May the promise of hope, peace, love and joy be with you this Christmas Season.
Wishing you all a Holy and Blessed Christmas and restful, relaxing and safe holidays!
Peta Lindstrom
Last Day School Organisation
Final Assembly
Wednesday 16 December 12:30pm in Taamaua
This will be our final gathering as a 2020 school family before we head off to a well deserved Christmas Season and the summer holidays.
School concludes for 2020 Wednesday 16th December 1:00pm
SKIDS After School Care will be operating from 1:00pm if you are unable to collect your child/ren from school at 1:00pm – please call Rose on 021 289 9939 to make a booking.
Please note ALL staff will be off site from 1:15pm therefore after school duty /supervision of remaining students will conclude at 1:15pm.
DRS Report
Family Picnic and Nativity Night
What a beautiful night it was on Wednesday to see all our families/whānau gather together to enjoy their picnic and watch the retelling of the special story of the birth of Jesus Christ. Our children from across the different Learning Communities did a fantastic job in reminding us how special Christmas time is to spend with families and loved ones. They shared a special message of Christ's love for us all and the reminder for us to share that very special love with others through our actions and interactions. What a wonderful message for us all during this Advent time as we look forward to the lighting of our JOY candle on the Advent wreath this coming Sunday. As we get closer to Christmas time, let us continue to pray for each other and especially for those who will be spending Christmas away from home, that through us, we can bring joy and friendship to each other.
Whānau Patron Portraits
It has been an unprecedented year but finally with such relief and pride we have completed our Whānau Patron portraits. Hallelujah! Thank you to our dedicated art students: Paea Nau, Abigail Moorthy, Simone Gertos, and P'torio Taimalie who through their shared talents, their love and attention to detail, have captured the essence of Bishop Jean-Baptiste Pompallier, Venerable Suzanne Aubert, St Mary of the Cross MacKillop and our beloved Bishop Patrick Dunn.  We are so blessed to have such taonga to be shared for many years at Holy Trinity School, as a visual image of our spiritual whānau patrons and as an inspiration for future generations of student artists.
End of Year Leavers Mass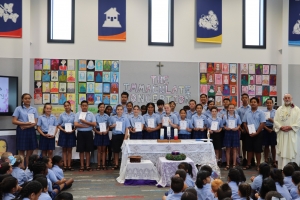 Tuesday morning saw a very full Taamaua with our final Mass of 2020. It was here that our Whānau Patron portraits were blessed, and our Senior Student Leavers blessed for both their time here at Holy Trinity and for the next step in their journey of learning at their new school. We also bid a fond farewell to Father Peter Murphy, who has been more than our priest – he has been a great shepherd and teacher whom we will miss dearly. It was also Fr Peter's birthday, which we were more than happy to celebrate! As Tuesday was the Feast Day of the Immaculate Conception of our Mother Mary, it was only fitting that we asked her to intercede for all these wonderful people who we will all miss dearly and we wish them well in their future endeavours.
Sacramental Programmes
Enrolments are now open for the baptised children who belong to St Mary's Parish, Papakura, for the Sacraments of Reconciliation, Confirmation and First Holy Communion. Children are to be at least 8 years old or Year 4. Please visit St Mary's Parish website: papakuracatholic.org.nz for enrolment details and more information.
Learning Community Changes

The relocatable building project will be completed at the end of this year with the two classrooms sited on the school field, ready for use in Term 1 2021.
This is a positive impact on our 2021 learning spaces but does mean that to accommodate our school roll, there will be changes to the placement and use of the physical spaces next year. We have also reorganised the composition of learning community year levels in response to our growing numbers.
2021 Learning Community Organisation
Learning Community Awa – New Entrants/Year 1 students
Learning Community Whenua – Year 2/3 students
Learning Community Moana – Year 3/4 students
Learning Community Maunga – Years 5/6 students
Learning Community Ngahere – the relocatable rooms – Year 7/8 students
Students have had an opportunity to visit with their Kaitiaki/teachers in their new learning communities today!
2021 Staffing and Learning Communities
Our staffing is confirmed for 2021 and the Learning Communities and kaitiaki/teachers have been organised as:
Learning Community Awa – New Entrants/Year 1 students
Mrs Susan Champion, Mrs Lainee Davies and Mrs Mavis Chung
Learning Community Whenua – Year 2/3 students
Mrs Kirstie Thorpe and Ms Laura Ahern
Learning Community Moana – Years 3/4 students
Mrs Maria Speechlay, Miss Alana Gaynor, Miss Samantha Connery and Ms Rochelle Drollet (part time)
Learning Community Maunga – Years 5/6 students
Mrs Lynn Rhodé and Mr Quenten Brown and Mr Andrew Malele (release teacher)
Learning Community Ngahere – Years 7/8 students
Mrs Mel Notley, Mrs Ana Silva and Mrs Kay Hey (part time) and Mr Andrew Malele (release teacher)
2021 New Staff
We welcome Laura Ahern and Samantha Connery as they join our teaching team. It is exciting for us to see our teaching team growing and we are very much looking forward to the contributions of each new staff member as together, we strive to provide effective teaching and learning programmes that best meets the needs of our children.
Farewell to 2020 Staff
We acknowledge and farewell Mrs Hannah Lendrum, Mrs Hilda Pritchard (Nikolao) and Mrs Ranjini Devi,  significant members of our school team. We are so thankful for each of these wonderful staff members  and the generous sharing of their own gifts and talents and contributions made to our school community during their time with us. Thank you Hannah, Hilda and Ranjini for supporting us to grow in our teaching and learning, in our Holy Trinity culture and in our way of being! We are proud of you and we value and treasure your work, your care and your friendship. Our love and God's Blessings go with each one of you as you head to new ventures in 2021. 
Another mention of our dear Mrs Quarterman who is retiring at the end of this school year. We thank Jennifer for the many years of service she has given to school education. And although there are tears, they are happy tears of gratitude and thanks for all Jennifer has contributed to, in the establishment and development of our school office administration operation and as a much loved staff member. THANK YOU Jennifer!
Thank you to our School Staff!
Our staff is our best resource …  our teaching staff AND our support staff (learning assistants, our office administrators, our caretaker) together, they form the backbone of our school and epitomise service, dedication, commitment, a passion for teaching and learning and a genuine care for our tamariki. We thank you all for the way you serve with generous hearts.
I especially mention our Senior Leadership Team, our Manutaki – Maria Speechlay, Andrew Malele, Ana Silva and Susan Champion for the way they have led alongside me and carried out their respective roles especially in this year of uncertainties. Thank you team!
Senior Award Recipients 2020
Congratulations to our senior student recipients:
Excellence in Leadership – Tiana Tewake
Excellence on Sports – Charlita Agafili
Excellence in Cultural Activities – Alexander Timeni
Excellence in the Arts – Abigail Moorthy
Excellence in Catholic Special Character – Destin Barte and Franxon Villa
This year, 2020, our Catholic Special Character Trophy has been commissioned by the Board of Trustees. Thank you to our Board for this generous gift that is so representative of who we are and what is important to us as a Catholic School.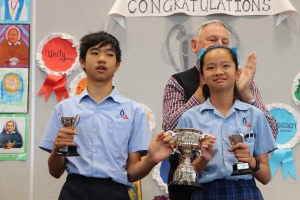 We also congratulate our Year 8 students who have been awarded scholarships to their respective Colleges for Year 9 schooling. This is a wonderful achievement and a huge honour for the students and their families … we are extremely proud of you!
P'torio Taimalie – An Arts Scholarship to Kings College
Lucas Hancy-Scott – a Māori Scholarship to Sacred Heart College
Paea Nau – a Chromebook Scholarship to Papakura High School
2021 School Dates
Term One Tuesday 2nd February – Friday 16th April
Term Two Monday 3rd May – Friday 9th July
Term Three Monday 26th July – Friday 1st October
Term Four Monday 18th October – Tuesday 14th December 
School Holidays 2021
EASTER Friday 2nd April to Tuesday 6th April
End Term One – Saturday 17th April – Sunday 2nd May includes ANZAC Day Sun 25th April
End Term Two – Saturday 10th July – Sunday 25th July
End Term Three – Saturday 2nd October – Sunday 17th October
Student Enrolments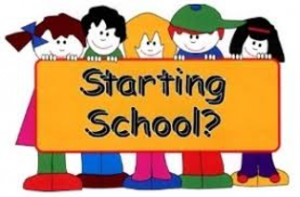 It is really important that we know of all brothers and sisters that are commencing schooling with us in 2021. If you have little ones at home, please submit an enrolment form for them so they can be assured of a placement at Holy Trinity for when they are ready to start. If you have any queries about enrolment, please contact the school office by email office@holytrinity.school.nz or by phone 09 296 9039.
Learning Community News
Learning Community Awa
Mrs Thorpe read the NZ Kiwi and Canadian versions of "The 12 Days of Christmas" to the students in Learning Community Awa. Some learners then had a try at writing their own versions of this traditional song. It was great to see the learners being so creative and different cultures being represented!
The Filipino 12 Days of Christmas
On the twelfth day of Christmas my true love gave to me…
Twelve bowls of rice
Eleven traditional churches
Ten hot suns
Nine flags waving
Eight delicious carabao
Seven people dancing salip
Six acacia trees
Five beach resorts
Four coconut trees
Three cyclones
Two roasted ducks
And a parrot in a banaba tree. By James Santos
Kiean's Kiwi 12 Days of Christmas
On the twelfth day of Christmas my true love gave to me…|
Twelve flags a-waving
Eleven kiwis hunting
Ten souvenirs
Nine native birds
Eight amazing landscapes
Seven rugby balls
Six Silver Ferns
Five chocolate fish
Four sailboats sailing
Three koru
Two New Zealand maps
And a meat pie from the dairy. By Kiean Platon
Learning Community Ngahere
In Ngahere, we have been learning about Advent. The children have made individual Advent wreaths which we then put together to make a learning community wreath. The tamariki made paper hearts and discussed how they are going to prepare their hearts for the coming of Jesus. For each week of Advent, we have 'lit' a candle on our learning community wreath
"Advent is about preparing our hearts for Jesus," said Summer.
"Advent means waiting for Him (Jesus),"said  Sierra – Marie.
"Advent is about Jesus coming," said Caleb.
"Advent is preparing for baby Jesus' birthday," said Aki.
Learning Communities Maunga & Moana
Mātātoa is a group of young and young at heart people, who advocate Te Reo and Te Ao Māori through traditional Māori games and sports. Yesterday this group visited our school. Right from the get go, they caught the attention of all our students with their fun and humour, and their passion for the promotion of well being through their various traditional games and bike safety.
Franxon Villa said it best in his 'thank you speech' them, that it is great to experience physical and mental challenges to nurture the mind and spirit anchored by their Māori culture.  It was fantastic to see students who wouldn't take on such challenges … take a risk and give it a go. All in all it was a successful day enjoyed by everyone. Sincere thanks to Whaea Krissy Bishop and to Matua Frank Haimona for allowing this fantastic opportunity to happen for our students.
New Knitting Blanket for Health Room – Camille Altimirano
In LC Moana w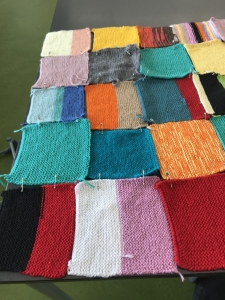 e have been learning about 'soft materials' technology. We have been learning how to sew and knit. Each student sewed  a face mask to stay safer in crowded places and  we also decided to knit a blanket for the Health Room.
We learnt how to knit garter-stitch and to make a peggy square each.  Some of the squares didn't look like a square so we decided to make a patchwork blanket instead! Most of the class have contributed a square to this quilt.
We want to thank our teachers and Mrs Harvey for making this possible. It is 2020 LC Moana's gift to the school for the Health Room.  And this is what it looks like!
Learning Community Maunga
Over the past week or so Maunga students have been re-creating the traditional Christmas wreath. Instead of using the usual green mistletoe and Christmas type decorations, students have been asked to reflect on their own cultural patterns, colours and motifs and use these to design their own wreath. The results have been outstanding with beautiful Pacifica, Maori and Filipino inspired wreaths that truly reflect students' cultural heritage and background. Well done to all students for your artworks!
Sports News
Year 5 – 8 Inter-school Sports
This year has been filled with many challenges for Holy Trinity School as we have moved into  alert levels and lockdowns. Firstly, I would like to thank all students who have participated in the few inter school sporting events that we have participated in. The lack of sporting opportunities has been frustrating for us all but I thank you for your patience and understanding through what has been an extraordinary year.
Sport Monitors and Helpers
At this time of the year I would like to give a huge thank you to all of our senior students who are both official sports monitors and the many that help out with the collection and maintenance of our sports equipment and our sports shed. This work is hugely appreciated by myself and other students as it allows us to operate an effective system within the busyness of school life.
Thanks to our Parents!
I would also like to acknowledge parents and family members for their help in assisting with supervision and getting students to some of these events. Once again without your valuable support we would struggle with doing as much as we do. 
Thanks to our Student Leavers
To those students who are leaving HTCPS at the end of this year, I hope that you keep up participating in fitness, sporting related activities in the future which will enhance both your personal health and sporting opportunities.
Sports in 2021
Looking ahead to 20201, HTCPS staff remain committed to providing opportunities for our Year 5 – 8 students across a number of different sporting codes. As Term 1 starts, key dates and events will be advertised to students. As always we value whānau involvement and would like to extend a warm welcome to all parents, caregiver who would like to support in whatever way they can.
Kind regards
Quenten Brown
Sports Co-ordinator
2021 School Stationery Orders
Back to school stationery – order now!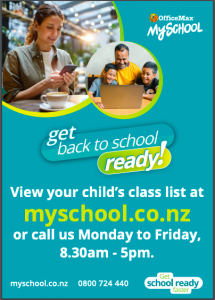 We've teamed up with OfficeMax to make getting school ready faster! Your child's class list is available now on the OfficeMax MySchool website – https://www.myschool.co.nz/ Type "Holy Trinity Catholic Primary School" in the search space. Please click on the Year level that your child will be in next year to access the stationery list requirements for 2021. All of the children spent some time today getting to know their kaitiaki for next year in their respective learning communities. 
Here are the learning communities and the names of teachers for 2021:
Learning Community Awa – Years 0/1  Mrs Susan Champion, Mrs Lainee Davies and Mrs Mavis Chung
Learning Community Whenua – Years 2/3 students Mrs Kirstie Thorpe and Ms Laura Ahern
Learning Community Moana – Years 3/4 students Mrs Maria Speechlay, Miss Alana Gaynor, Miss Samantha Connery and Ms Rochelle Drollet
Learning Community Maunga – Years 5/6 students Mrs Lynn Rhodé and Mr Quenten Brown 
Learning Community Ngahere – Years 7/8 students Mrs Mel Notley, Mrs Ana Silva
We encourage you to order early to ensure your child has all their stationery requirements ready to go for the start of Term 1. Don't wait until mid-January when the 'team of 5 million' get home from holiday – order now and avoid the back to school rush.
 This year OfficeMax have introduced Laybuy*, so you can pay in 6 weekly, interest-free instalments – and still get your order right away. Or you can pay by internet banking, credit card or debit card.
 When you shop on myschool.co.nz you'll receive free delivery on orders over $46*. You will also help our school earn school rewards* that we use to purchase much needed extra resources for our school.
 * Terms & Conditions apply, see myschool.co.nz for details.
Upcoming School Events
Board of Trustees Monthly Meeting
Sunday 13th December 6pm 
FINAL School Liturgy and Assembly – led by Mr Malele and Learning Community Moana
Monday 14th December 8:50am in Taamaua/school hall
Papakura Community Dinner Service
Tuesday 15th December 5:30pm Crossroads Methodist Church, Broadway, Papakura
School Assembly – led by the School Support Staff Team
Wednesday 16th December 12:30pm in Taamaua/school hall
Term 4 concludes
Wednesday 16th December 1:00pm
Term 1 2021 commences
Tuesday 2nd February 2021 8:50am
English Language Partners New Zealand
English Language Partners is a not for profit, award winning education provider with NZQA Category 1 endorsement, that has been providing English language and settlement services to adult refugees and migrants in South Auckland.
We offer a variety of classes which are easily accessible for parents and grandparents to learn English. We have highly qualified and experienced teachers. Our classes are free to all NZ residents.
Classes available are:
Manurewa –  Baptist Church, 9 Lupton Road and Manurewa Methodist Church, corner Alfriston and Great South Road Tuesdays to Thursdays from 9:15am- 1:15pm for 20 weeks
Papakura – Sir Edmund Hillary Library, 209 Great South Road
Contact us: Phone 09 278 9009
Email: aucklandsouth@englishlanguage.org.nz
website: www.englishlanguage.org.nz

Print or Save this Post