Greetings, Kia ora, Kia orana, Talofa, Mālō e lelei,  Namaste, Ni Hao, Bula, Hola, Kumusta
Dear Families
This week and next, as a Catholic faith community, we celebrate two women who are great examples to us of Discipleship – St Mary of the Cross MacKillop and Mary, the mother of Jesus and the one whom we often name as our first disciple.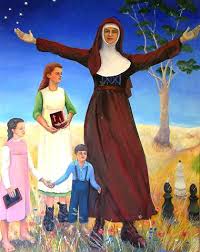 St Mary MacKillop's Feast Day was celebrated on Thursday. She is one of our Whānau patrons and we look to St Mary MacKillop as an inspiration to us because as an ordinary Australian women she did something very extraordinary! As a young woman, she listened to and recognised God's call to serve in an area of need. So along with Fr Julian Tenison Woods, they founded the Religious Order of the Sisters of St Joseph – a teaching Order. The Sisters travelled to the outback areas of Australia and also to the rural settings of New Zealand to establish schools and pastoral care for those who were most in need of education and care. St Mary MacKillop had a wonderful saying …"never see a need without doing something about it!" This is a great mantra for us to live by as well.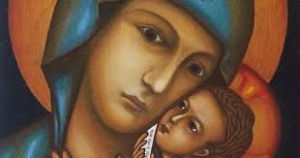 This coming Thursday 15th August, all catholic people attend Mass as it is a Holy Day of Obligation to celebrate the Feast Day of the Assumption of Mary. We believe that Mary, the Mother of our God, was "assumed" into heaven, body and soul after her death. Pope Francis talks about Mary "as the first influencer", "the first disciple" who showed through her actions what it means to listen to God's Call, to be obedient to God's desire for us, to love with all our hearts and to respond to what God asks of us. Mary did this in a number of ways … by saying Yes to God's messenger, to be the mother of Christ, by visiting her cousin Elizabeth (the mother of John the Baptist), by asking Jesus to perform his first miracle at the Wedding of Cana and by being with the apostles in the Upper Room when God sent the Holy Spirit to be upon them.  Pope Francis says we need to "be amazed by Mary, the Mother of God, allow her to gaze on us, embrace us and take us by the hand."
As we strive to live out our Holy Trinity vision statement of learn ka ako, love ka aroha, serve ka manaaki, we look to the example and discipleship of Mary, our Mother and St Mary MacKillop and try to do the same in our homes, in our school, in our parishes and in our communities.
Staffing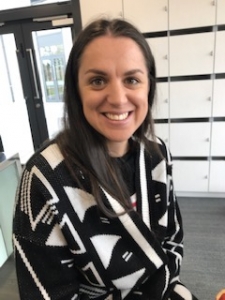 This week, we've managed to capture a 'snaphot' of Mrs Hannah Lendrum. Hannah is the Kaitiaki/Teacher in Learning Community Maunga and will generally work with us each Friday. Hannah is an experienced teacher who also works part-time at other local schools. We are very much looking forward to Hannah sharing her teaching gifts and talents with our children and staff.
We also extend our thanks to two wonderful Teacher Aides who have been working in a relieving position, in the learning communities these past few weeks. Thank you to Miss Theodora Lautua and Mrs Nellie Roebeck for your professionalism and dedicated work with our students – the extra pair of hands has been most welcome!
DRS Report
Feast of the Assumption Mass
Next week on Thursday 15 August, our whole school will be gathered together in Taamaua at 9:00am to celebrate the holy day of obligation in the solemnity of the Feast of the Assumption of our Mother Mary. Pompallier Whānau will be leading us in this special Mass alongside Father Brian Prendeville, of St Anne's Parish, Manurewa who will be the celebrant. Please join with us for this very special Mass.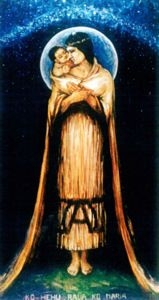 Join Us For Morning Prayer!
Each morning when the 8:50am bell goes, our students gather together in their Learning Communities to begin their day with prayer. Prayer is the time we spend with God. We do this through singing (waiata), Christian Meditation, reflecting on the Scriptures etc. It is important for us to take some time out of our day to sit and spend time with God. To grow in love and friendship, we need to communicate honestly and often. When we pray, we express our desire to grow closer to God. When we pray, we become closer to Jesus who gives us the grace to be good, holy people. We invite you to join us in our Learning Community morning prayers as we begin our day by placing our needs before God. We welcome all our families and friends to pop in for morning karakia with us.
John Burland Concert
John Burland is an educator and composer who has been writing and recording religious music for children and adults for over 20 years. During this time, John has written over 200 songs and released 14 music collections as well as working with children, schools and Parish communities across Australia, New Zealand, America, England and Canada promoting celebration through song, movement and story. Our school will be hosting John on Tuesday 20 August in Taamaua, as we explore and celebrate our Catholic faith through the performing arts of singing and dancing. You are welcome to join with us in Taamaua at 9:00am for this very exciting visit.
Fathers' Day Liturgy
On Friday 30th August our school will be gathering in Taamaua at 2:15pm for a special Fathers' Day Liturgy to celebrate Father's Day, which falls on Sunday 1st September. We invite all our fathers and father figures of Holy Trinity whānau to join us in this special Liturgy led by the student Catholic Special Character Team. It is a way for our school to celebrate and thank all our fathers for the many things they do for us and for the many roles they take on to support us on our life's journey.
Priest's Visit to our Learning Communities
This week, on Wednesday, Father James Mulligan of St Mary's Parish, Papakura visited our Learning Communities. He explored the Gospel values and focused on the story of the Forgiving Father that expresses the Gospel value of compassion/arohanui. Father James talked about the importance of the sacrament of Eucharist with the senior students and how we need to prepare our hearts to be open when we receive the body and blood of Christ.
Religious Education and Health Survey
We are currently gathering whānau voice on our Religious Education and Health & Wellbeing  programmes here at school. We have a very short survey to collect parent ideas, questions and comments. If you could please take two minutes to complete the survey we would appreciate it very much. To date, we have only received 35 responses – it would be wonderful if we could double this to 70! Please take time to complete the google form survey – THANK YOU!
Wanted: Surplus Fruit
If you have overladen fruit trees and would like to donate excess … St Vincent de Paul Foodbank would be very grateful for any donations. The fruit can be dropped off at the Foodbank on Tuesdays and Thursdays or at the St Mary's Church office on other weekdays.
St Mary's Parish Office Papakura: (09) 299 6056
St Vincent de Paul Papakura: (09) 296 5052
NZEI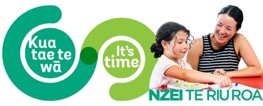 We're standing up for our principal! This week, all over Aotearoa, communities are standing up for their primary and intermediate school principals.
Why? After a long campaign, our teachers recently received an offer from the Government that recognised their skills and qualifications, and gave them pay parity with their secondary school colleagues. But the Government refused to do the same for about 2000 principals in primary and intermediate schools.
Principals do an amazing job for their schools and communities, and they deserve a collective agreement offer that reflects their considerable skills and responsibilities. And we need to value and support the role so teachers actually want to become principals – especially in our small and rural schools and kura.
If pay parity is fair for teachers, as the government has acknowledged, then surely it is fair for principals too.
What can we do? School communities are urging the Government to move quickly to propose a settlement that will address the issues that principals face and ensure we can attract and keep excellent leaders in these vital roles.
School communities can support our principals by writing to our local M.P. and sharing concerns on social media – THANK YOU!
Learning Community News
Learning Community Moana – Rotary Visitors
On Friday 9 August, Learning Community Moana had a couple of special visitors from the Rotary Club Manurewa/Takanini. Each year, they select a school which they donate dictionaries to and this year for the second year in a row, Holy Trinity Catholic Primary School has been selected. Our Year 4 students were presented with a Rotary Dictionary by Mr Murray Browne and Mr Simon Gleeson. These dictionaries are the children's personal property which they can take home or use at school . We thank the Rotary Club for their generosity!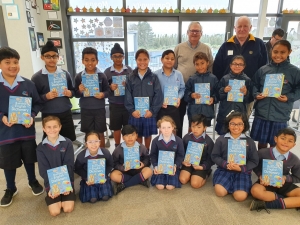 Learning Community Awa – Systems Learning
Our learners in Awa have been learning all about different systems in our world.
We have brainstormed different systems that we are interested in and have formed questions about what we want to know about our chosen system. We have worked hard to research our questions using ipads and chrome books. We were very excited to work collaboratively to create a model of our system!
Learning Communities Awa and Whenua

Next week we will be starting the Get Firewise programme. All students will receive a Get Firewise booklet with follow-up activities that they will bring home to share what they have learned about that day. Please take the time to listen to your child share their learning about Firewise. By the end of the Get Firewise programme students will:
Understand that fire can be dangerous
Have learned behaviours that will:

Prevent fires starting, for example, not playing with matches, lighters and candles, giving matches and lighters to an adult and playing away from fires
Get them out of a burning building quickly and safely.
Curriculum News
Family Learning Maths Information Evening
Ever wondered how our kaitiaki teach maths strategies at school? Would you like to know more about the maths knowledge your child needs to know? In Week 5, at 6:00pm, on Tuesday 20th August we will be holding a Family Learning Workshop focussed on Maths in Taamaua, our school hall. Put it in your diary, more information to be sent home closer to the time.
Cook Islands Language Week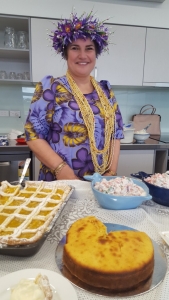 Cook Islands Language Week was held this week and we have had a great few days of learning about the beautiful Cook Islands language, culture and identity!  Our Cultural Student Leaders introduced some phrases to us at Assembly on Monday and we have been greeting each other all week in the Cook Island Māori language. Have a go at home … Kia Orana/Hello, Aere ra/Goodbye and Metaki ma'ata/thank you. 
We would like to say a very big metaki ma'ata to Mrs Mavis Chung who has led many of our Cook Islands Language learning activities this week – Mrs Chung has shown us all how to make colourful 'ei (floral headpieces)  and colourful and symmetrical tivaevae patterns – it has been great for our maths learning about symmetry, enlargement, rotation and tessellation! Thanks for the great lunch of raw fish, hot rice and pineapple dessert shared with the staff at lunchtime today too, Mrs Chung – Cook Islands food is delicious!
Book Week 2019
A huge thank you to all who supported our first ever Book Week. Through the Book Fair sales we made over $500 that will be spent on books and resources to go back into the learning communities. We had a fantastic response to our 'Reading in a Crazy Place' photography competition – they are still up on the library window if you want to see our crazy HTCPS readers!
We had a great turnout of students dressing up – check out the photos below. Hopefully we have inspired Holy Trinity learners to read more – can't wait to see them in the library!
Sports News
Year 7&8 Inter-school Cross Country
Well done to our amazing Cross Country runners who competed in the recent North Counties Year 7 / 8 Cross Country event at Strathallan last week!
On the day the conditions were cold, wet and at times included hail making the course event more difficult to navigate.
Results from the day:
YR 7 GIRLS
Charlita Agafili 14th place
YR 7 BOYS
Hao Bui 20th place
Noah Seluone 12th place
Franxon Villa 16th place
Cruz Elliott 16th place
YR 8 BOYS
Stephen Thomas 30th
Dannel Rajesh 16th place
Year 5&6 Inter-school Cross Country
Inter-school cross country at Te Hihi, was a lot of fun because we had an amazing experience just like last year. The people who went to inter-school cross country tried their very best and all of us did extremely well.The course was 1900m and there were heaps of high hills and down hills, it was a very tiring thing to do but all of us worked very, very hard. We cheered each other on even if we had to run to catch up to others. When we got there and saw all the other schools and all the other kids, we got a little bit nervous.When we started to run our nerves disappeared and we continued on with our race. It wasn't that muddy but we still got dirty. We also want to say a big thank you to Mr Brown and Miss Soon Choon, thank you so much for bringing us to cross country and back to school. We also want to thank Mrs Karena and Mrs Baptista for cheering us on and helping Mr Brown. We are all grateful for their work!
From Eva Seluone and Lianna Delubio.
Placings:
Year 5 Boys:
Zac Baptista 20th
Trey Hennesey 55th
Year 5 Girls:
Freya Petrie Gleghorn 15th
Eva Seluone 7th
Lusia Koloamatangi 14th
Lianna Delubio 8th
Barbrianna Soo Choon 56th
Year 6 Boys:
Linkin Karena 7th
Chris Yu 43rd
Georgie Rajesh 28th
A huge congratulations to our Year 5 Girls team who came 1st place for the team event! Well done!!!
Upcoming School Events
Māori Whānau Hui

We invite our Māori Whānau to come along to our hui next week on Wednesday, 14th of August in Taamaua at 6.00pm. It will be a time of whānaungatanga and sharing kai together. For kai, please bring whatever you have planned on the night for dinner to share with everyone.
There will be an opportunity for you to meet and listen to Rangimaria Hotere, who is our Te Reo Māori Kaiako, share her experience on how she is helping teachers and students here at Holy Trinity, learn about Māori tikanga and

Te Reo.
We look forward to catching up with you all next Wednesday.
Māori Whānau Hui – Potluck Dinner
Wednesday, 14th of of August
in Taamaua at 6.00pm
New Families Meeting

A friendly reminder about our New Families Meeting next Friday, 16th of August 9.00am in Taamaua/Hall. We look forward to seeing you all as we share school information and answer any questions that you may have so that your child/children have the best start to school.
Wheels Day – Friday 23rd August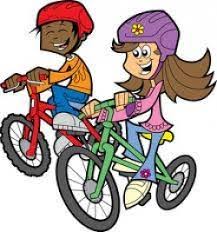 On Friday 23rd August, we plan to run a Wheels Day at school for all the students. The focus will be on road safety awareness and skill development and will help to promote health, fitness and fun! As a Travelwise School we are currently working alongside Auckland Transport personnel and we will have the Travelwise Co-ordinator assisting us with planning for a great day of wheels action! Thanks to Miss Alana Gaynor and Mrs Lynn Rhodé for leading these fantastic learning opportunities for the children. Further information will be shared closer to Wheels Day.
Achievements
Congratulations to our youngest netball team who has completed their winter season of competition – the Year 3/4 "Angels". They were very good and won most of their games. The young Silver Ferns have improved so much over the season and their parents and coaches, Miss Vincet Lautua and Miss Alana Gaynor are extremely proud of them. Thank you to our great coaches and supporters who turned up each Saturday at 8am to cheer on the Angels.
Congratulations also to Luke Champion, Zaria Witbooi and Isaiah Saleutogi who received awards at the recent NZ Junior Chef Competition organised by SKIDS Before/After Care Providers. The children did exceedingly well and look like true experts in the kitchen. Well Done to you all for achieving excellence/hiranga! A BIG thank you to Rose and Luke King from SKIDS for giving our budding chefs such a fantastic opportunity!
PTFA Pizza Lunch
On Thursday the 15th of August, the PTFA is running a Pizza Lunch fundraiser for students. 2 x Slices (one quarter of pizza) will be $2.50 with a range of flavour options available.
Students will have come home with an order form this week – please fill this form in with your child's name, learning community, pizza flavour and the number of slices wanted – send the form back, along with the correct amount of money, to the school office before 9:00am Tuesday 13th August.  If you have any questions please feel free to email or come into the school office for clarification. Thanks PTFA!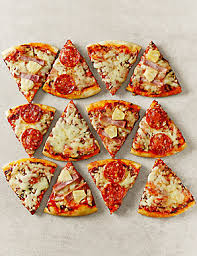 Property News
School Carpark to be Out of Bounds
As you will have observed, there is a major sub division development project happening right next to the school boundary. Part of this work is for the preparation of the new road that is going in, which will come off Airfield Road and run parallel to the school carpark.
To enable the earthworks preparation to be done well and to make way for the new road, the school underground sewerage tank is needing to be relocated to the end of the school carpark. This means that within the next few weeks, it will be necessary to fence off the back part of the school car park and NO school traffic will be able to enter this area. There will only be parking available for staff and visitors. School parents/whānau dropping off and collecting their child/ren from school will need to park in the surrounding neighbourhood side streets and walk to and from school to their vehicles. School will be working with Auckland Transport and Travelwise personnel to ensure a smooth transition from parents parking in the carpark to using neighbouring streets.
Upcoming School Events
Firewise programme commences for Years 0-3
Monday 12th August in Learning Communities Whenua/Awa
Māori Whānau Hui  – Shared Meal 
Wednesday 14th August 6pm in Taamaua/School Hall
Feast of the Assumption Mass – Holy Day of Obligation
Thursday 15th August 9am in Taamaua/School Hall
PTFA Pizza Lunch
Thursday 15th August
New Families Meeting
Friday 16th August 9am in Taamaua/School Hall
Gathering Prayer and Assembly – Learning Community Maunga leading
Monday 19th August 8:50am in Taamaua/School Hall
John Burland Concert
Tuesday 20th August 9am in Taamaua/School Hall
Family Learning Workshop – MATHS!
Tuesday 20th August 6pm in Taamaua/School Hall
Hearing and Vision Testing for Year 7s/New Entrants
Wednesday 21st August
Travelwise WHEELS DAY at SCHOOL
Friday 23rd August
Fathers' Day Liturgy
Friday 30th August 2:15pm in Taamaua/School Hall
Community Events
De La Salle College enrolments for 2020 are filling up quick.  We encourage parents to enrol NOW for 2020.  Pick up an enrolment pack from our school office, print it out from the school websitewww.delasalle.school.nz or we can post you one.
For enrolment enquiries please ph Bianca on 2764319 ext 816 or email: enrolments@delasalle.school.nz

Print or Save this Post