Greetings, Kia ora, Kia orana, Talofa, Mālō e lelei,  Namaste, Ni Hao, Bula, Hola, Kumusta
Dear Families
Earlier this week, a number of staff and Board of Trustees members attended the annual Dedication Mass held at Christ the King Church in Owairaka. Bishop Pat was the main celebrant of this Mass accompanied by other priests from the Auckland Diocese including our very own Fr Peter Murphy from St Mary's Parish, Papakura. This is such a beautiful Mass to attend as we gathered with all staff from Catholic Schools in this Diocese – Early Childhood, Primary and Secondary. We received a special blessing from Bishop Pat as he encouraged us to "go out with hands, hearts and minds to continue the mission of the Church and to spread the Good News".
During the evening, individual staff and schools were also recognised for the Religious Education study they have achieved. It is with great pride, that we were able to acknowledge and celebrate with Ana Silva, our Director of Religious Studies (DRS) as she received her "Diploma in Religious Studies" Award after 670 hours of study! Jerremy Williams was awarded a certificate in Religious Education at Classroom Level, Cheryl Iosefo was awarded a certificate in completion of Religious Education as a Provisional Teacher and I received a certificate of Endorsement of  Leadership in Religious Education. As well, our staff were acknowledged  for the Religious Education study paper we undertook last year "What Catholics Believe". It was a wonderful evening of recognition, celebration and blessings. Congratulations to all of our staff recipients – excellence/hiranga was certainly in evidence!
Ash Wednesday – Lenten Journey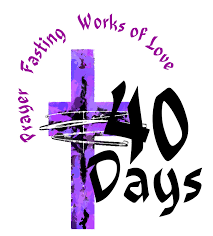 Next week we begin our Lenten Journey with Ash Wednesday celebrations. As families and a school community, let us take this time to reflect on our lives … how is Christ present to others through our own words and actions? Pope Francis asks us to use this Lenten season to strengthen our prayer life, our outreach of alms-giving (sharing with others) and of fasting (going without). May we open our hearts and minds to being the "Body of Christ" to others this time of Lent. Here is a lovely Lenten prayer to pray together as a family …
Open our hearts to you word, O Lord, that we may be renewed
Open our hands to receive and to give, that we may be replenished
Open our minds to the silence of Your presence, that we may be refreshed – Amen
DRS News
Welcoming Staff
We welcome our new staff … Mr Allan Quarterman, who is our part-time Caretaker and doing a fabulous job of keeping our school looking tidy and well maintained – thank you Allan! Mrs Maria Johnson, Maria is a specialist teacher from Rosehill Special School and joins us weekly sharing her expertise with staff and students in Learning Community Whenua. Mrs Mel Notley is a kaitiaki/teacher in Learning Community Maunga Years 6/7/8. Mel works alongside Jerremy Williams and has been sharing her teaching and pastoral care strengths with our staff and students right from the beginning of this term. And we welcome Mrs Hilda Pritchard, who is a new face to our school. Hilda is working as a Teacher Aide in Learning Community Moana Years 4/5, supporting our kaitiaki/teachers and especially our students with their various learning activities. We extend a warm welcome to all of you as you join Holy Trinity school family.
Mahi Tahi "Working Together"
Parent/Teacher/Student Conferences
Conferences will be held Thursday 14th March from 1:45pm – 7:30pm. This is an opportunity for Teachers/Kaitiaki and your child/ren to share their learning maps, recent assessments, results and identified learning strengths and areas of need with you. We would like students to be present too so they can share in and contribute to this learning conversation about their learning goals and also in how they are settling into school life at Holy Trinity. Conference times will be for 15 minutes. School online procedures for booking times will be sent home via LINC-ED next week or please call into the office and use the school ipad to book your time.
Tūrangawaewae Sharing and Welcome Picnic Evening
We would like to welcome all our families to the Tūrangawaewae Sharing and Welcome Picnic Evening on Friday, 8th of March. This event, held at school, will be a way for whānau to enjoy some kai together, informally meet their children's teacher and to learn more about the culture and heritage of the students at Holy Trinity. Bring along your own dinner to eat picnic style at school. The PTFA will also be selling sausages, drinks and ice blocks.
Our concept learning this term is all about Tūrangawaewae. Tūrangawaewae is a sense of belonging to a place, culture or a group of people. It helps us feel important, valued and connected to the world around us.
If you have a dance, game, food, craft or any cultural tradition you could share, please get in touch with the school. We would love to have you here sharing your culture with the school whānau / community.
Key timings:
Friday, 8th March
5:00pm: Picnic time
5:30-6:00pm: Sharing time 1
6:15-6:45pm: Sharing time 2
7:00pm: Head home
We look forward to seeing you at school, building the home-school relationship that will help all our students succeed at Holy Trinity.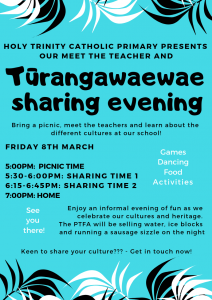 School Start Times
Our school bell times are:
8:50am – 10:30am Start to the school day and First Block
10:30am – 11:00am Break 1 /morning tea
11:00am – 1:00pm Second Block
1:00pm – 1:40pm Break 2/lunch
1:40pm – 2:50pm Third Block and end of the day bell
We are concerned about the number of children arriving at school very early in the mornings which is a health and safety issue for school. The school gates are generally unlocked from 7:30am but there is no staff supervision in the mornings until class commences at 8:50am. Our teachers/kaitiaki are in their Learning Communities from 8:15am for preparation time and to meet with students and families from 8:30am.
Please make sure your children arrive at school from 8:15am. They are able to hang their bags up and play until 8:30am when they are then able to come in to their learning communities to organise for the day ahead and to prepare prayers.
If your require care for your children before this time, Skids (our on site Before/After School Care providers) are operating from 7:00am in Taamaua/Hall.
Please help us to ensure your children are always kept safe and have a good start to their day at school.
NZEI – Teachers and Principals Union

It's Time/Kua Tae Te Wā
You may remember that teachers and principals took strike action twice last year to send a message to the Government that more needed to be done to fix the teacher shortage and make teaching a more sustainable and attractive profession.
After conversations with government in January, our union, NZEI Te Riu Roa, has agreed to return to formal negotiations with the Ministry.  The Government has continued to state that there is no more money to settle the agreements but we are continuing to campaign for a quality public education for every child.  We believe that winning more time to teach, a significant pay jolt to attract and keep people in teaching, and better resourcing for children with additional learning needs is as important as ever.
Any progress in negotiations will be reported to teachers and principals at paid union meetings around the country in the week of March 18-22nd.  These meetings will be held during school time and we will advise you nearer the time about how this will impact on our school community.
Public polling has showed continued strong support for what we are trying to achieve for our students and the future of the teaching profession.  Parents in particular see the struggles we already face in hiring teachers and finding relievers when teachers are sick.
We greatly appreciate your continued support as we continue our campaign to ensure every child gets the best possible teaching and learning.
Tomorrow's Schools Review
The Government's "Tomorrow's Schools Review" is now in a consultation phase. Recommendations have been published in the report "Our Schooling Futures: Stronger Together" and there are now a number of consultation meetings underway. An email will be sent home to all families containing information on the various ways that you are able to have your say  on the recommendations. This is such an important time in the history of NZ Education as this is the largest review to have taken place in thirty years so please do take time to contribute to the national discussion of the future of our NZ schooling system.
Learning Community News
Learning Community Maunga
In Learning Community Maunga we have been learning about Food Technology. Cooking skills, kitchen safety, nutrition and reading food labels. The Heart Foundation will be coming in next week to talk about health diets and food labels, followed up by a trip to the local supermarket. We are having lots of fun cooking and learning new skills. We have even heard of some students making dinners at home!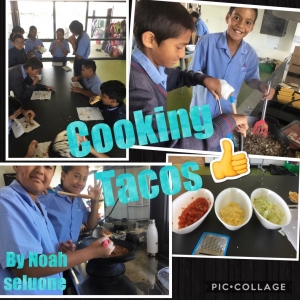 Sports News
Year 5-8 Summer Sports Days
We have groups of students participating in the local North Counties Sports cluster Summer Sports Day. All the events are being run at Bruce Pulman Park.
Our Year 5/6 event is on the 12th of March.
The Year 7/8 event is on the 19th of March.
Permission notices have gone home and need to be returned immediately. We are still looking for a couple of parents to help run teams and support on the day. If you are able to help, please contact Mr Quenten Brown or the school office.
Ultra-Rip
We have a one-off Year 7&8 Rippa rugby event being held at Bruce Pulman Park on the 13th of March. Notices have gone home for this event and need to be brought back to school as soon as possible.
Good luck to all our teams participating over the next few week. We hope you give your best effort and represent Holy Trinity with pride, showing our school Gospel Values in all you do!
Congratulations
Congratulations to Eva Seluone who recently excelled at the Auckland Athletics Championships with her 200m being 3rd overall. Eva has come in the top 3 for the events she entered 1st – Long Jump, 2nd – 60m and 3rd – 100m/200m.  Eva also placed 3rd in the 60m, 2nd – 200m/100m and 1st in Long Jump at the Counties Manukau Champs last weekend. Emereziana Lautua and Georgina Lautua also competed and had successes with Emereziana being placed 3rd in the Year 8 Girls discus, Georgina was excited to beat her previous Year 10 Girls long jump and Vincet Lautua was also very busy volunteering for the AMMI Club measuring the athletes throws at the shot out circle.
Well Done – we all support you in the Gospel value of excellence/hiranga that you are displaying!
Reminders
Digital Citizenship and Responsible User Agreements
At Holy Trinity Catholic Primary School, we believe in a digital citizenship model for supporting the safe and responsible use of devices and the internet for our teaching and learning programmes. An important part of this is that we are able to show others what that responsible use looks like whilst we are using digital technologies.
Recently, we were notified of an online incident where students were found to be swearing and speaking rudely to each other in an online chat situation. This occurred outside of school time, but among Holy Trinity students. For your own parenting awareness, we have also been notified of a "MoMo" Challenge message that is coming up on screens that can be very upsetting with its content and imagery.
Please take the time to monitor your child's use of devices and apps to check that everything they are doing online is appropriate and respectful. Another option is to visit Netsafe, a New Zealand website with a lot of great ideas for parents to help with online safety.
At school, we will be reiterating the expected guidelines with the students, of what it means to be a good digital citizen, as well as co-constructing a Responsible User Agreement with/for each Learning Community so that we can regularly refer to these guidelines and expectations as a school.
Thank you for your support in this matter. Together, we can help grow our learners into responsible, respectful young adults who use digital technologies with confidence and competence in a honest, fair, safe and respectful way.
Lunch Eating
The students have a 10 min supervised eating time both at Break 1 and Break 2 with staff keeping an "eye out" to make sure food is eaten. We have noticed a number of children eating all of their food at morning tea time/Break 1 and then have no food for lunch at Break 2. Please discuss and check with your child that they have enough food and how much they may need to eat at each break time.
With God's Blessings
Peta Lindstrom
Principal
Upcoming School Events
School Assembly and Prayer – Mrs Champion and Mr Williams to lead with students from Learning Communities Whenua and Maunga
Monday 4th March 9:00am in Taamaua/Hall
Burning of the Ashes Liturgy
Tuesday 5th March 12:00 in Taamaua/Hall
ASH WEDNESDAY LITURGY
Wednesday 6th March 11:00am in Taamaua/Hall
Visitors to our School – Springboard Trust
Thursday 7th March 8:00am
Learning Community Maunga visiting Pak'n'Save
Thursday 7th March 9:30am
Tūrangawaewae Welcome Picnic Evening for all Families
Friday 8th March 5:00pm – 7:00pm @ school
School Assembly and Prayer – Mrs Rhode and Miss Lindstrom to lead with students from Learning Community Awa
Monday 11th March 9:00am in Taamaua/Hall
Mahi Tahi Parent/Teacher/Student "Working Together" Conferences
Thursday 14th March 1:45pm – 7:30pm @ school
Community Events
Click edit button to change this text.

Print or Save this Post