Greetings, Kia ora, Kia orana, Talofa, Mālō e lelei,  Namaste, Ni Hao, Bula, Hola, Kumusta
Dear Families
What great celebrations we had last week as a Holy Trinity family! We are grateful to all our students, staff and whānau who were able to celebrate with us across the day. The 'wairua' of Holy Trinity's vision statement to learn ka ako, love ka aroha and serve ka manaaki was very evident and contributed to our sense of belonging to Holy Trinity Community.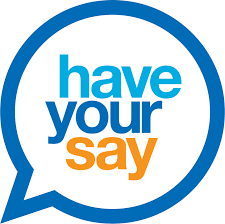 The Holy Trinity School Board continues their programme of providing various opportunities for our community to be engaged and consulted in relation to the improvement and direction of our school. Last evening, the Board met with our Filipino families for a shared meal and then sharing of school information plus the chance to to discuss and contribute responses to some focus questions. It was wonderful to see so many of our families present and engaged.
Please become involved and have your say … all your feedback is captured and considered as we move forward in the development of the school, so we can continue to provide the best Catholic education we can.
Coming Up…
Next week, we continue with the Google survey. Visit the HER0 notification from 30th May to access the online link to complete the survey

Tuesday 16 August, the School Board will report summary findings from the various community meetings & surveys – 6pm in Taamaua/school hall
DRS Report
Holy Trinity Feast Day Celebration
Last week on Friday 10 June, we had an AMAZING Holy Trinity Feast Day celebration. We had a Whakatau in the morning to welcome all our new families to our school whānau followed by a beautiful Mass led by Father James Mulligan of St Mary's Parish, Papakura. The day ended with our children sharing and showcasing their gifts and talents in Trinity's Got Talent performances. It was wonderful to see all our parents and whānau present throughout the day which made our School Feast Day extra special!
First Holy Communion
This Saturday 18 June, some of our students will be receiving their first Holy Communion at St Mary's Church in Papakura at 5:00pm. We look forward to celebrating with them as they receive the Body and Blood of Christ and become full participants of the Church. Let us continue to pray for them.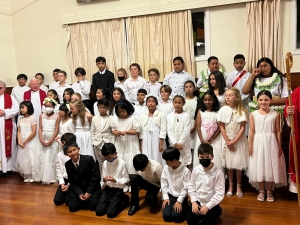 The Body and Blood of Christ
The Solemnity of the Most Holy Body and Blood of Christ, also known as the Feast of Corpus Christi, is a celebration of the real presence of Christ in the Eucharist. On this day, we recall the institution of the Eucharist at the Last Supper. This Sunday, we focus solely on the gift of the Eucharist and celebrate our identity as part of the Body of Christ. It is a special day to reflect on ways we live out the teachings of our Saviour and Redeemer, Jesus Christ.
YCC Mufti Day
Catholic schools across New Zealand have joined with Caritas New Zealand and the New Zealand Catholic Primary Principals Association (NZCPPA) every year since 2007 and raised money to support small schools in need around the world. We celebrate these special fundraisers in our school as Mufti Mania. But this year, the legacy of Mufti Mania continues but with a new name ….YCC.
YCC is an acronym that stands for any and all of the following:
Young Catholics Care
You + Caritas Combine
Youth Creating Change
Your Choice of Clothing
On the last day of the term on Friday 8 July, we will be having our YCC day with the theme of "Pyjama Party"! Our children can come to school wearing their pyjamas or onesies along with a gold coin donation. All proceeds will go to Laura Vicuna School which just so happens to be in Bethlehem, Israel! This small school opened in 1988 and is in dire need of renovation as well as in need of tables and a projector for their children to use in their learning. We look forward to celebrating our last day of Term 2 with a Pyjama Party!
New Zealand Catholic Bishops' Statement
The Catholic Bishops of Aotearoa NZ have issued a statement in solidarity with the victims of the massacre of parishioners at St Francis Xavier Church in Owo, Nigeria, during Mass on Pentecost Sunday.
We have been asked to share this statement with our school community as we all pray for peace, forgiveness and reconciliation in this area of our world. NZ Catholic bishops stand with Nigeria church massacre victims
It is also online here: https://www.catholic.org.nz/news/media-releases/nigeria-massacre/ 
Parish Bulletins
Please click on the link to go to the St Anne's Parish, Manurewa – Sunday 19th June Bulletin
Bulletin #21- Sunday 19th June 2022
Staffing News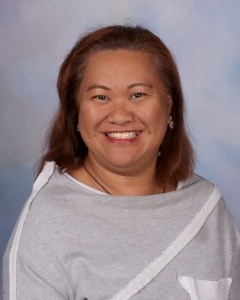 This coming week, we say a heartfelt "good bye and thank you" to Mrs Sahlee Cortez who has been a wonderful member of our support staff team here at school. Sahlee has been exemplary in her role as Learning Assistant working alongside a young child with additional needs to support and develop their knowledge and skills so that their time at school is happy, positive, fulfilling and full of successes. Sahlee has been a true Holy Trinity star and we will miss her collegiality, her corporate contributions and her knowledge and expertise shown in the learning community – THANK YOU Sahlee for your service to our school. We wish you every blessing as you commence your own teaching career here in NZ!
A Liturgy Farewell for Mr Quarterman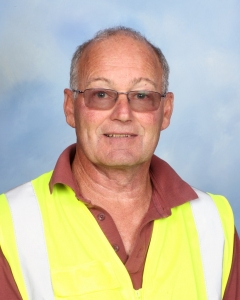 On Monday 4th July 1:30pm, we will hold a liturgy of thanksgiving for Mr Allan Quarterman as a final gesture from our school to say THANK YOU to Allan for his wonderful 3 years of service to our school community in his role as Caretaker. Allan retired from his working life at the end of March and has recently been visiting family in Australia. We would like to take this time as a school family to honour and thank Allan for his many contributions to the operation and life of the school. Further information about this event will be shared through HERO.
National Support Staff Week
Lats week, we celebrated our Support Staff and thanked them for all the work, care and love that they bring to our hard working school team. It is always a pleasure to be able to acknowledge people for what they do and it was extra special to be able to say to our support staff that we are so appreciative of their devotion to their roles and to the life of the school and MOST importantly that we can't be without them! SO THANK YOU to our Office Administrators – Viv Smith and Carmel Stewart, our Caretaker – Stephen Stewart, our Learning Assistants – Carolyn Harvey, Amila Wijesuriya, Angela Aisei, Vincet Lautua, Venus Anand, Luci Penaia, Sahlee Cortez, Grace Drollet and Allwin Shaji.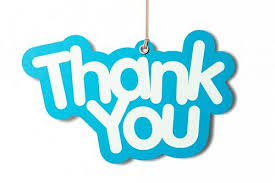 Welcome to a New Family Member!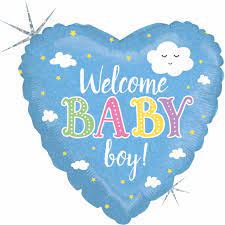 We were delighted to hear the good news from Ms Laura Ahern that her beautiful baby boy had been delivered safely and well. He is a little cutie and his name is Barrett. Laura and her partner Jason are absolutely smitten. We sent hearty congratulations on behalf of our school community and are looking forward to lots of cuddles when Laura and Barrett come to visit us at school!
Term 2 Reporting to Parents
Term 2 digital reporting will be available to families from Tuesday 5th July on HERO through each student's individual learning pages. You will be able to read about the progress and achievement your child/ren are making in reading, writing and maths, to read their progress in meeting learning goals, to explore their reflections on working as a Holy Trinity Learner through their Toku Reo profile and to share learning from their Concept/Social Sciences and Health learning.
Mahi Tahi Parent/Teacher/Student conferences will be offered in Week 2 of Term 3.
Catholic College Information Update
The Establishment Board of St Ignatius of Loyola Catholic College, Burtt Road Drury, is pleased to announce that Mr. Dean Wearmouth has been appointed as the Foundation Principal of the College, a Year 7-13 coeducation school. The College will open in Term 1 2024 with a maximum of 340 Year 7-9 students. The roll will grow to 900 Year 7 to 13 students by 2030.
Dean is currently Principal of Marcellin College in Mt Albert.  He will take up his role as Foundation Principal St Ignatius of Loyola College on day 1 of Term 4, the 17 October 2022.
One of Dean's first tasks will be establishing contact with the wider community but more specifically with the Parishes of St Partick's Pukekohe, St Mary's Papakura, St Andrew's Tuakau and St Anthony's Waiuku, and the local Catholic primary schools, St Joseph's School Pukekohe, St Mary's Catholic School Papakura and Holy Trinity Catholic School Takanini. Through the College's enrolment scheme, priority will be given to preference students from these three schools.  
The Establishment Board is excited to work with Dean to realise the long-held vision and dream of establishing a Catholic secondary school to serve the Counties, Franklin district but also encompassing Papakura, Takanini, Clevedon, and Hunua.
Linda McQuade
Presider of the  St Ignatius of Loyola Catholic College Establishment Board
School Board Elections – September 2022
Over the coming weeks, you will start to get information leading up to the elections on 7 September and about the process involved. You might like to give this special ministry your consideration and when the time comes, put yourself forward for the election.
If you would like to know more about what it means to be a Board member, I am more than happy to talk with you.
Philip Cortesi – Presider of the School Board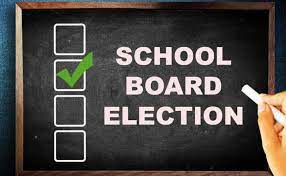 PHOTOLIFE School Photos
We have received the notification below from PHOTO LIFE in regards to ordering the recent school photos taken of the children. Please follow the instructions that PHOTOLIFE have sent you OR will be sending you by email. Thank you.
From PHOTOLIFE …
"Your parents have been emailed their child's unique Key Code to go online to view and purchase 2022 School Photos.       ***FREE DELIVERY EXPIRES Midnight Sunday 3RD JULY 2022 ***
WHY IS PHOTOLIFE EMAILING KEYCODES THIS YEAR?
Easier and more efficient  for Parents 
Free Delivery Expiry Date is highlighted in the email
No administration needed by School Office or Teachers in handing out codes
Emails sent by a "real person" so any queries emailed back from parents are resolved quickly by PhotoLife
100% more environmentally friendly – minimising paper; printing inks and printing process
This year a higher number of Students are Absent so this system does ensure the Key Code gets to the parents regardless
Less chance of transmission of  Covid Virus on physical paper
Learning Community News
Learning Community Whenua – Our Journey Learning
In LC Whenua, the  children have been working in three groups and each group has been investigating a journey. One of the groups has been learning about the solar system. The children have learnt about why the earth has day and night. They have learnt that the earth is always turning and the side that faces the sun is the day and the side facing away from the sun is night. They learnt that it takes 24 hours for the earth to spin all the way around. The children have also been learning about the moon and how it orbits around the earth, taking around 28 days. They have identified that the moon has no wind or water and only has a tiny amount of gravity. They are now exploring planets. They were excited to pretend to be one of the planets in the solar system and walked around our pretend sun so that we could visualize how the solar system works.
Another group has been learning about the journey of the water cycle. The children have shown great engagement and have been learning a range of topic words such as: precipitation, evaporation, condensation and runoff or groundwater. They have been able to identify the 4 steps in the water cycle and are able to complete a range of water cycle activities where they were to identify the steps, talk about them and use their topic specific words. They were also able to share their knowledge and topic specific words with others outside of our water cycle group.
And another group has been learning about the journey of seeds. The interest has been great as they unpacked the changes a seed undergoes on its journey to becoming a plant. They have actively engaged in sequencing the stages in the life cycle of a seed and are able to discuss what plants need to grow.
Ka mau te wehi Learning Community Whenua – amazing learning!
Learning Community Moana
Moana learners have been learning about the journey from paper bags, to plastic bags, to reusable bags. This week Moana learners completed a science experiment to learn more about the effect micro plastics have on our environment.
They worked in groups to rip apart nappies and remove the padding from inside the nappy. They shook the padding inside a plastic bag and noticed small particles that looked almost like salt and were shocked to find out that those small particles were microplastics! After adding water to the micro plastic learners were amazed at the way the microplastics absorbed all the water and looked almost like jelly. Moana learners had lots of fun being scientists and using their "thinking like a scientist" skills to learn more about plastic!
Learning Community Maunga

As a community we've explored patrons, especially patrons closer to our hearts, as a school. Through the example of Suzanne Aubert and Bishop Pompallier, we've discussed how these individuals have been assigned aspects of their work that they championed, and how we can look to them as role models, and people we can ask to intercede on our behalf. There has been an appreciation of what patrons do for us all, and the great insight we've discovered about the things some of these extraordinary people are patrons of. Currently we are looking at Saints, and asking ourselves, what is a Saint? … and what does a Saint mean to me? We're going to explore more about these ordinary people who do and have done extraordinary things for their faith and love of God.
Learning Community Ngahere
Showing our appreciation for the wonderful experience we had at Camp, we've been busy planning fundraising ideas, as our way of saying thank you and giving back to the Holy Trinity community. In small groups, we're currently exploring ways we can help generate money, and in a way that involves our students and student participation. So over these next few weeks, look out for these opportunities to help us give back to those who were our wonderful donors so we could attend Camp.
Curriculum News
Manāwatia a Matariki
Celebrate Matariki – Whānau Poster Competition!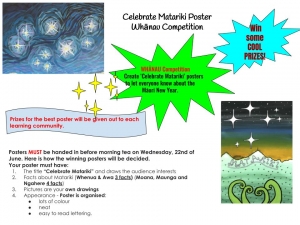 The sighting of Matariki marks the beginning of the Māori New Year, the most significant celebration in the traditional Māori calendar. Matariki is a special time of the year and we will celebrate it in New Zealand by having our very first public holiday on Friday 24th, June 2022.
To mark this wonderful occasion we would like to put out a challenge to you, our whānau, for your participation in the 'Celebrate Matariki' poster competition. We want to fill every window space at school with posters about Matariki.
There will be prizes given out to the best 'Celebrate Matariki' poster to students from each learning community. Please read the detailed information on the attachment about how the winning posters will be decided and the last date for posters to be brought to school.
Good luck everyone and we look forward to seeing your posters!
Matariki Celebration Learning Day
A reminder that our Matariki Celebration learning day is next week on Wednesday, 22 June. It will be a day where students will rotate through the Learning Communities in their whānau groups to celebrate and grow their knowledge about Matariki. Our kaitiaki have planned a fun day of learning and activities around these three principles of Matariki.
Remembrance – Honouring those we have lost since the last rising of Matariki.
Celebrating the present – Gathering together to give thanks for what we have.
Looking to the future – Looking forward to the promise of a new year.
ASB St John in Schools Programme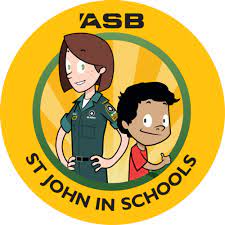 ASB St John's School Programme personnel will be at Holy Trinity School from Monday 27th June to Wednesday 29th June. They will be running a programme called, "Keeping Safe".
The aim of this module is for students to conclude that most injuries are preventable, and to identify methods for assessing and managing risk. We always hope that our students won't be injured. However, there are likely to be times during their lives when they are exposed to a potentially harmful situation, and they need to be able to think about prevention strategies for themselves and others, as well as ways to prevent further injury happening should an accident occur.
Sports News
Year 5 – 8 Papakura Cluster Winter Field Sports Day
Tuesday 14th was the break in weather, the week needed. It was a beautiful day where schools around Papakura were involved in the following codes of hockey, netball and rippa rugby. We were able to send a Year 7/8 Rippa rugby team. Congratulations to the following students who not only represented school well, but won all their games, and made some great relationships with the other teams and schools.
Sebastiano Simonetti, DK St John, Ethan Ellis, Trey Hennessy, Toiaimalo Taimalie, Konrad Karena, Jairus Penaia, Pau Taimalie , Lianna Delubio, Jamera Alosio, Aeva Pihema, Georgina Lautua, Norma Stephens, Emereziana Lautua and Eva Senituli
Sincere thanks to Simon and Cassandra Karena who looked after our students through the day, and to our past student, Linkin Karena, who not only helped with supervision of the team, but refereed their games to a super high standard. We are blessed to have you part of our community and appreciate the wonderful support you gave our school on the day.
Reminders!
Health Safety and Well-Being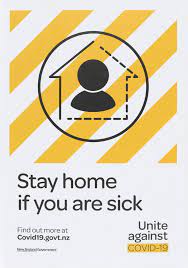 A number of our students and staff have been away recently with a 'tummy bug' illness which can be quite debilitating. The Ministry of Health and Ministry of Education guidelines to schools are …
keep children at home if they are not feeling well
allow 48 hours before children return to school
use diluted bleach to clean surfaces and high use areas
encourage hot soapy water for cleaning of hands
continue good ventilation practices
continue to wear face masks indoors for students from LC Moana, LC Maunga and LC Ngahere
Thank you to our families for the way you quickly respond to the phone calls from school to say that your child is unwell and needs to go home. We understand the pressure this places on parents when trying to fulfil their  work commitments and are grateful for your timely responses.
Attendance Dues Payments
We are nearing the end of the term, therefore Attendance Dues for Term 2 must be paid as soon as possible.
Please note that there are 3 options for payment of the Attendance Dues and Catholic Special Character Contribution
Full amount paid by Internet Banking to ASB school account – details for payment are on the statement.
Automatic Payment to be set up via internet banking to ASB school account
Payment can be made at the school office – cash or Eftpos
Please see Carmel Stewart (Office Administrator) or Peta Lindstrom (Principal) in the strictest confidence if you have any concerns or questions regarding the payment of Attendance Dues.
Financial Assistance is available for payment of Attendance Dues.
School Enrolments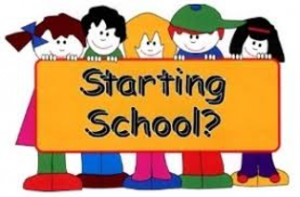 It is really important that we know of all younger brothers and sisters that are commencing schooling with us in 2023. If you have little ones at home, please contact the school office to make a time to meet with Miss Lindstrom so they can be assured of a placement at Holy Trinity School for when they are ready to start in 2023.
sKids Holiday Programme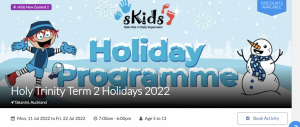 "sKids Holy Trinity is open for the July School Holidays! Visit: www.sKids.co.nz/holy_trinity to book now!"
https://enrolmy.com/skids-sknz2/activity/348-Holy_Trinity_Term_2_Holidays_2022
AND here is a link to our July/Winter Holiday Programme Flyer: DOWNLOAD

Upcoming School Events
MATARIKI LEARNING DAY at school
Wednesday 22nd June 
Monthly School Board Meeting
Wednesday 22nd June in the school staffroom 6:00pm
MATARIKI Public Holiday – NO school Friday 24th June
Friday 24th June – school closed
School Gathering Liturgy and Assembly – led by Learning Community Maunga
Monday 27th June 9:15am in Taamaua/school hall
ASB St John in Schools Programme
Monday 27th – Wednesday 29th June
PTFA Meeting
Tuesday 28th June in the school staffroom 7:00pm
Fr James visiting Learning Communities
Wednesday 29th June 
School Assembly with NANO GIRL
Monday 4th July 9:15am in Taamaua/school hall
School  Farewell Liturgy for Mr Quarterman ( previous Caretaker)
Monday 4th July 1:30pm in Taamaua/school hall
HERO Reporting to Parents published
From Tuesday 5th July 
YCC MUFTI DAY for Caritas – gold coin donation
Friday 8th July
Term 2 Concludes
Friday 8th July
Term 3 Commences
Monday 25th July
Upcoming Community Events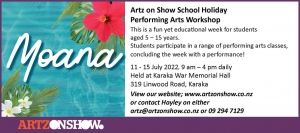 Print or Save this Post