Greetings, Kia ora, Kia orana, Talofa, Mālō e lelei,  Namaste, Ni Hao, Bula, Hola, Kumusta
Dear Families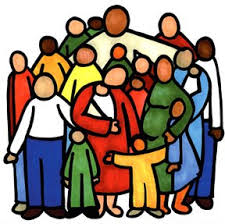 The Board of Trustees extends a very warm welcome to all our families and school community as we begin another school year.
We especially welcome our new families who have joined our loving, caring, Catholic school community. As part of the Holy Trinity Catholic Primary School family, we encourage you to share in your child's/children's education and faith journey, by participating in, supporting and working in partnership with us. We look forward to getting to know you as the year progresses.
Many thanks to you all. There will be a full Board of Trustees newsletter coming out to all our whānau towards the end of the term.
Warms wishes and many blessings
Philip Cortesi
Chairperson
Board of Trustees
Board of Trustees Vacancies
With two of our highly valued trustees having resigned from the Board, we now have two vacancies.
Vavae Nuia, who has been on our Board since mid 2017, has had to resign due to work commitments and Seluone Seluone, who came onto the Board at the Board of Trustees elections last June, has relocated to Tauranga. Both Vavae and Sel were parent elected members.
We thank both Vavae and Sel for their highly valued contribution to the work of the Board, and in particular their great support for our school's Catholic Special Character. They will be missed from the Board and we wish them and their families well. We will look forward to Vavae's involvement in other aspects of school life.
At our last Board meeting on 10 February, and in keeping with Section 105 of the Education Act 1989, we have decided to fill these two vacancies by selection. Below is the required public notice which will be in the Papakura Courier, this coming Wednesday 26 February. It provides you with the details of this selection process.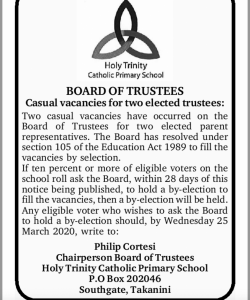 School Closed MONDAY 2nd March 2020
School will be closed for students on MONDAY 2nd MARCH.  Teaching and Support Staff will be on site for this day ONLY.  Teachers will be involved with professional development and learning, continuing with their Religious Education Study paper.
These TEACHER ONLY DAYS are part of the Primary Teachers' Collective Agreement Contract where days are available for teachers to have professional development and learning during the school week.
In 2020 – Holy Trinity Catholic Primary School will be closed:
Monday 2nd March and Friday 29th May … with another date still to be confirmed.
Please make alternative arrangements for your child/ren on this day. SKIDS (Before/After School Care Provider), has advised that they will run a full day's programme at school in Taamaua/Hall. It is up to parents to organise this arrangement with SKIDS. Contact numbers are Rose and Luke King, 021 2899939 or 0800 546 475.

Print or Save this Post