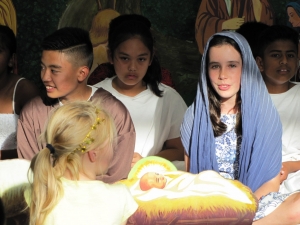 Greetings, Kia ora, Kia orana, Talofa, Mālō e lelei,  Namaste, Ni Hao, Bula, Hola, Kumusta
Dear Families
A special blessing for all our families this Christmas Season …
"Whenever we gaze into a crib this Christmas season
May new hope and joy flood our spirit
whenever we watch babies and young children playing
May a new energy delight our hearts
Whenever we are tantalised by the aroma of a bbq
May we unwind, relax and enjoy time off
Whenever the crush of family and friends overwhelms us
May the hospitality of our hearts expand
Whenever we provide a meal or bed over the holidays
May we experience love and appreciation
Whenever we spy our reflection in the mirror or pool
May we find ourselves to be images of God
Whenever we put our feet up for leisure
May the humble presence of the Incarnate One companion us
Whenever we feel our distance from each other around the world
May the Christ child draw us into unity."
Amen
(source: act Love Walk – Praying in the Josephite Spirit)
THANK YOU!
Thank you to our fantastic community who have walked alongside us this year. Along with the children and staff, you too are the heartbeat of Holy Trinity and we salute you for the many ways you have supported us throughout the year to make it the success it has been, for all. It has been wonderful to celebrate our achievements at the various end of year school events … Mahi Tahi Parent/Teacher/Student Conferences, Praise-giving, Family Picnic and Nativity Play and our End of Year Mass.
We are filled with gratitude for the way you support with Language Weeks, Sports Events, Maori Whānau Huis, Consultation and Workshop Evenings for families, Mission Market Day activities, EOTC activities, Mufti Day activities, BoT and PTFA meetings and activities, etc – school is all about partnership and working together to enable the best opportunities for our children, so we are truly blessed with our school community. We are very proud of you and are looking  forward to all we can achieve together in 2019!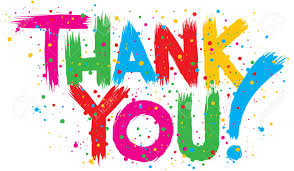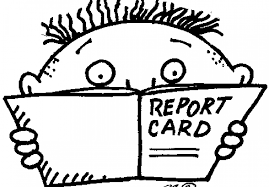 Digital On-Line Reporting
My sincere apologies for not alerting our school families to the fact that the Linc-Ed individual student achievement reporting information had been published and was available for viewing and commenting on through the Linc-Ed parent portal. We were only made aware of this fact during the Mahi Tahi Conferences so do apologise to those parents/families who had not had time to share learning progress and achievement information with their child before the Conference time. The Linc-Ed system has a facility to publish all comments "en masse" which is what we did but unfortunately didn't realise this doesn't send an automatic email alert to parents (which normally happens when we post notices!). To view and share your child's on-line reporting information, please access the Linc-Ed parent portal using your own password. Please do contact me at school if you have any further difficulties.
2019 Teaching Staffing
Our staffing is confirmed for 2019 and the Learning Communities and kaitiaki/teachers have been organised as …
Learning Community Whenua Years 0/1
Mrs Lainee Davies, Mrs Mavis Chung and Mrs Susan Champion
Learning Community Awa Years 2/3
Mrs Maria Speechlay, Mrs Lynn Rhodé, Miss Alana Gaynor and Mrs Kirstie Thorpe (release teacher)
Learning Community Moana Years 4/5
Mrs Ana Silva and Mr Quenten Brown
Learning Community Maunga (Years 6/7/8)
Mr Jerremy Williams
We welcome Quenten Brown, Alana Gaynor, Susan Champion and Mavis Chung  as they join the teaching team.  It is exciting for us to see our teaching team growing and we are very much looking forward to the contributions of each new staff member as together, we strive to provide the effective teaching and learning programmes that best meets the needs of our children.
We say "Thank You" to Mrs Michelle Clissold, Mrs Joy Treasurer and Mrs Katie Williams who complete their fixed term part-time positions at the end of this year. We extend our grateful thanks to them for all they have contributed as Holy Trinity staff and school members. We wish them every blessing and look forward to them working alongside us again in relieving teacher roles.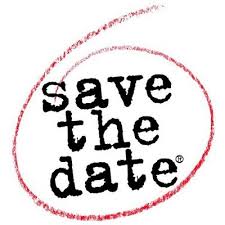 2019 School Dates
School commences for 2018 on Thursday 31st January 
at 8:50am.
Term One – Thursday 31st January to Friday 12th April
Term Two – Monday 29th April to Friday 5th July
Term Three – Monday 22nd July to Friday 27th September
Term Four – Monday 14th October to Monday 16th December
School Leavers
Yesterday at Mass, we acknowledged our school leavers in particular our senior students who are transitioning through to their College years. Exciting times ahead for them! We hope we have equipped them with steadfast Gospel values that will guide them in continuing to learn, love and serve as young people of God in their new settings. We also farewell families to other areas of the Pacific – Samoa and Australia. We thank David Kenyon, as a parent elect BoT member, Karishma, his wife who currently holds the role of Secretary on the PTFA and their dear boy, Seth (Year 2). Thanks for the fantastic work you have done on our school's behalf, which has been so significant during this establishment phase. We wish all our leaving families and students every blessing as they take on new adventures!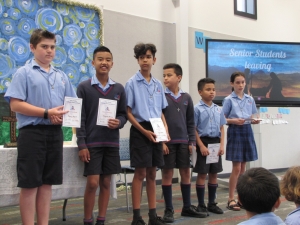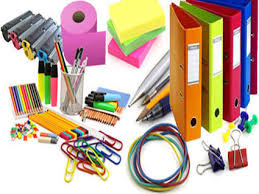 Stationery Orders 2019
Back to School Stationery Requirements for 2019! We've teamed up with OfficeMax to make Back to School easy.  You'll find your child's school stationery list online at myschool.co.nz
Simply search for our school, select your child's Learning Community and follow the instructions on the website.
Buying through OfficeMax MySchool also earns School Rewards for our school which we can redeem for much needed educational supplies, equipment for our Learning Communities or to help those students in need.
OfficeMax MySchool makes Back to School easy for you with these great benefits:
Shop Your Way

– online at

myschool.co.nz

, at your local OfficeMax store or by phone 0800 724 440.

Price Match Promise

– find a lower price and OfficeMax will match it.

Free Delivery

–

for orders over $46. Choose delivery to home or work at a time that suits you.

Save valuable holiday time

– avoid busy shopping malls and traffic queues by shopping online from the comfort of your home so your child starts the year with the correct stationery supplies

.
Multiple Payment Options

–

including secure internet banking, credit/debit card and cash in your local OfficeMax store.
St Mary's Parish Christmas Carols
This year, the Christmas Carols and Christmas Vigil Mass (7:00pm) singing will be lead by St Mary's Children's Choir.
We are calling for more angelic voices to fill our ranks in strengthening our praises to welcome our Lord. We invite parents, families/whānau and grandparents to support their children and encourage them to be involved in the wonderful activity. We are hoping for angel costumes, halos  and uniforms to be worn during the Carols Service.
Practice will be at St Mary's Parish Church this Friday 14th December 6:00pm. The FINAL practice and dress rehearsal will be on Friday 21st December.
All children and families are welcome!
A Blessed Advent and a joyous Christmas to you all …
St Mary' s Children's Choir organiser!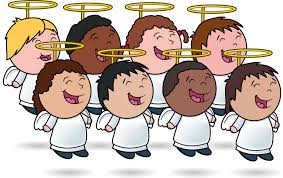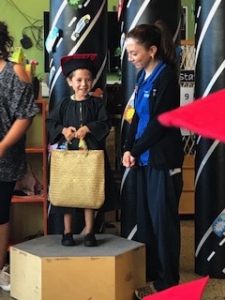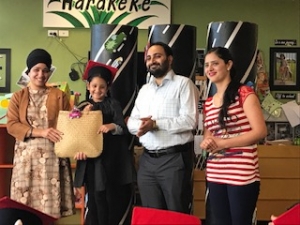 Hippy Programme Graduates
Congratulations to Ashleen Kaur (Year 1) and Aidan Singh (Year 1 in 2019) for their recent graduation from the Hippy Programme. It was wonderful to be involved in their graduation ceremony along with their families, and to hear about all the fantastic learning they have been achieving together. Well Done to all – we are extremely proud of you!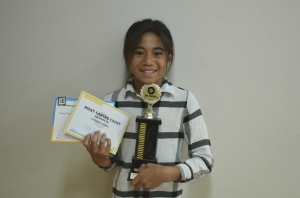 St John's Award
Congratulations to Georgina Lautua and Emereziana Lautua for great results in their St John's exams. Both Georgina and Emereziana were awarded their first badges and certificates. Georgina was also recognised for her caring attitude and received the "The Caring Award" trophy. This is what St John's said about her …
"You would not be able to tell that Georgina has only recently joined our division from the way she fits in with her group. She has such a big impact on our division and when she isn't here, she is definitely missed by the rest of the cadets! She is the first cadet to motivate and encourage others to push themselves, participate and succeed. She is the first to notice when someone isn't their normal self and is compassionate, empathetic and endeavours to put a smile on their face. Thank you for your kindness and amazing personality Georgina!"
WOW Georgina – what an amazing award – you make your Holy Trinity whānau very proud indeed!
 Weetbix Kiwikids TRYathlon
Well done to the students who participated in the Kiwikids TRYathlon on Wednesday. A huge thank you to Sel Seluone for organising the gazebo and leading the Holy Trinity team on the day. He has written up a little blurb about the day below.
Firstly thank you HTCPS for giving the nine students a wonderful opportunity to take part in the Weetbix Tryathalon in Manurewa. They all had smiles and even with a few nerves, still swam, biked and ran their hearts out. I am proud to say they not only had fun but all received gold medals. 
We also appreciated the use of the gazebo. It's nice to have a base for both students and parents. Thank you to the parents, caregivers and supporters who came to cheer the students on. It's make a difference when you are there. 
Lastly thank you to the students who gave it a go, we are all proud of your accomplishment, for representing your school and living the our values –
Kotahitanga – being united as a team
Manaakitia – being respectful to each other and other participants including supporting adults
Arohanui – supporting and encouraging team mates and others
Ngāwari – when the going got tough, you kept going!
Hiranga – Excellence while representing your school, family, Parish
 Next year we aim to have minimum 20 students participate. Not bad for our first year, in fact AWESOME!
Thank you again Sel and thank you to all the supporting parents and to the students who took part – well done!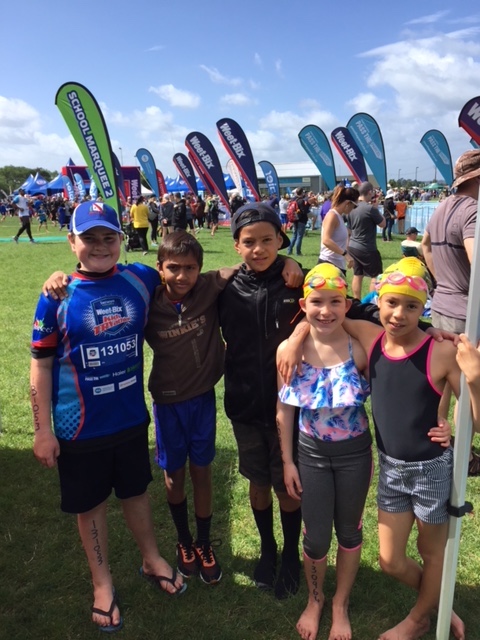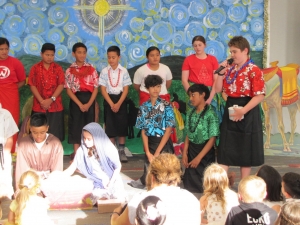 May the promise of hope, peace, love and joy be with you this Christmas Season.
Wishing you all a Holy and Blessed Christmas and restful, relaxing and safe holidays!
Peta Lindstrom
Principal
Community Notices
What's in the latest issue of Tots to Teens Magazine
The new DECEMBER ISSUE digital magazine is available here  issue1812a.totstoteens.co.nz
In this issue, we have great ideas for a healthy twist on "Bring a plate", we ask parents the question "Are you your child's most avid advocate or their candid critic?", and we share "5 steps to managing BIG emotions" to help parents equip their child with the tools they need to handle their big and overwhelming feelings. Check out our a holiday special, including fun things for families to do, big prizes to win, and tips for surviving the summer. And when your kid comes home and announces, "Mum, I'm joining a band!" and tell you they plan to take over your garage, don't panic – we tell you why this is a great idea. Also, we're investigating why reading your children the same story over and over is okay, as there are real benefits to repetitive reading.
We now have a fantastic new smartphone- and computer-friendly digital version of Tots to Teens for parents to view!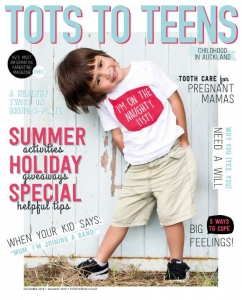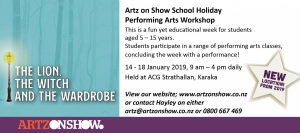 Community Events
 ARTZ on SHOW
ENROL NOW for our Christmas Special Workshop!
17th – 21st of December 2018 – Epsom
ENROL NOW for our The Lion, Witch and the Wardrobe Workshop!
14st– 18th January 2019 – Epsom, Howick and Karaka
21st – 25th January 2019 – Hamilton and North Shore

Print or Save this Post